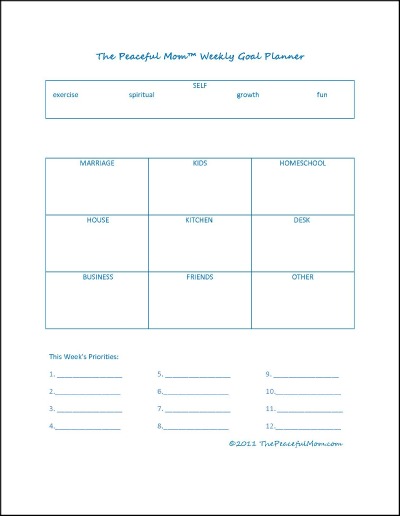 Click each link to print:
TPM Weekly Goal Planner (with my goal areas listed)
Blank TPM Weekly Goal Planner (write in your own priority areas)
One way that I live a purposeful life is to make a weekly goal/to-do list in each of the areas of my life. I spend time every Saturday or Sunday morning planning for the week ahead.
How to Use the Weekly Goal Planner
When I first began planning my weeks, I started with the printable you see above.
First, write your goals and tasks for the week in the categories at the top of the page.
Then choose your top priority for the week and write it by the number 1 on the bottom of the page.
Next, continue writing items in order of priority until you have a list of the top ten to twelve tasks you need to accomplish this week.
You can follow up by adding these to a calendar or your daily plan in a planner.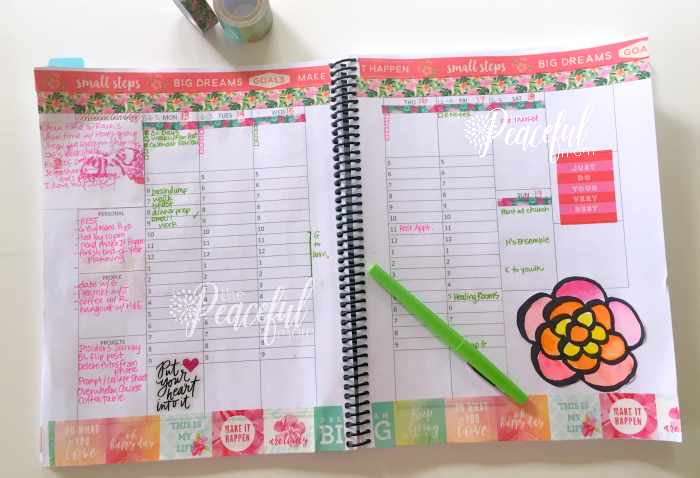 Now I use the Joyful Life Planner Weekly Plan,
but the Weekly Goal Planner is helpful when I have too much to do and feel overwhelmed.
(Tap HERE to see what's inside the planner.)
I don't always get everything accomplished, but having my goals set for the week ensures that I get most of my top priority tasks done and it helps me to drive my life, rather than being driven by it.
Cheering You On!

You May Also Enjoy: