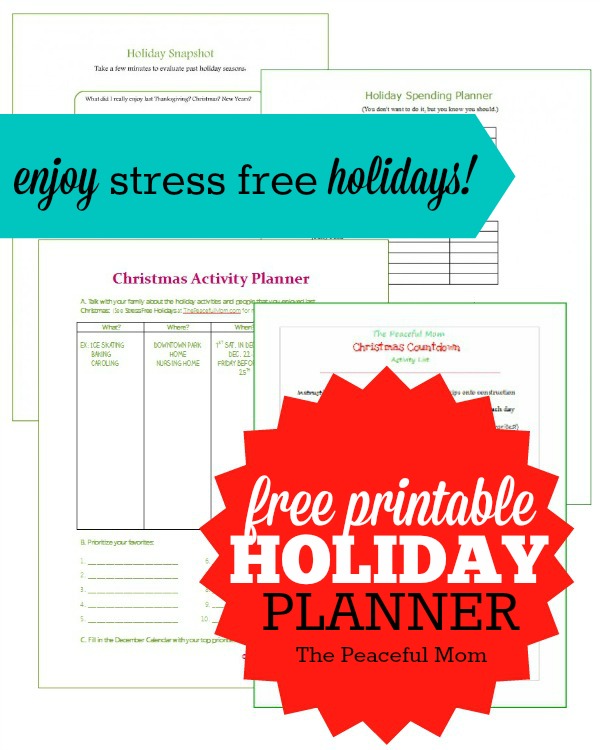 One of my favorite tools for staying organized during the crazy holiday season is my Happy Holidays Planner. It helps me to keep track of my budget and spending, gifts I want to give, events we want to attend and it enables me to stay sane during the hectic holiday season.
Join one of the Peaceful Mom community HERE and download this year's Happy Holidays Planner for FREE! 

I use the printables in a 1 1/2 inch binder with a few dividers as follows:
(This is a great use for binders or folders you bought on clearance during the school supply sales!).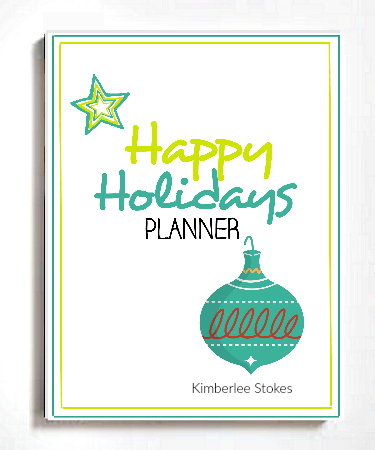 I place the cover in the clear plastic sleeve on the front of my binder. 
In the left front pocket of the binder I have my Holiday Snapshot to remind me of my priorities during this season.
The first page on the right is my Holiday Spending Plan to help me stay on track with spending
I then divide the binder is divided into 5 categories (You can use more if you like.):
Thanksgiving
In this section I have the following (click each purple link to print the planning form):
November Calendar
Thanksgiving Meal Planner (print here)
Thanksgiving Meal Timeline (print here)
Thankfulness A to Z copies (for Thanksgiving Day)
Black Friday Shopping Planner
Christmas Calendar and Activities
The Peaceful Mom Christmas Activity Planner and December Calendar (print here)
Copies of calendars from previous years with notes.
Ideas for activities like neighborhoods with good light displays, ice skating locations, local tree lightings, etc.
Christmas Crafts and Cards
The Peaceful Mom Christmas Countdown Activities List (print here) (click here for the Advent Activities version)
Other Advent Ideas (many came from this book)
Magazine articles with cute crafts
Addresses for recipients of Christmas Cards
Christmas Food
The Peaceful Mom Christmas Menu Planner and Grocery List (print here).
Christmas Dinner Ideas
Recipes for our favorite Christmas desserts
Recipes for baked goodies (like this Cherry Chocolate Chip Bread) to give as gifts
Christmas Gifts
The Peaceful Mom Christmas Gift Master List (print here) and Christmas Gift Purchase List (print here)
My children's current Gift Wish Lists
Children's Gift Wish Lists from previous years (in page protectors)
Instructions for homemade gifts like these Candy Cane Bath Salts (with a free printable label!) 
Other ideas for gifts to make (see 25 Stress Free Christmas Gifts here)
In the back pocket of the binder I keep a master list of everything that I spend and an envelope with all of the receipts for purchases in case I need to return something.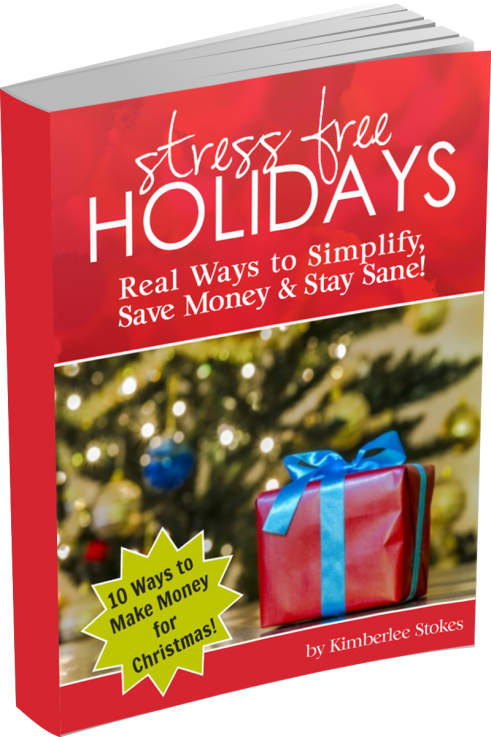 For more ideas to help you organize your holidays so you can simplify, save money and stay sane, check out my Stress Free Holidays e-book. 
Click here to take a peek inside and see what other readers are saying!