Print this One Year Planner and get organized!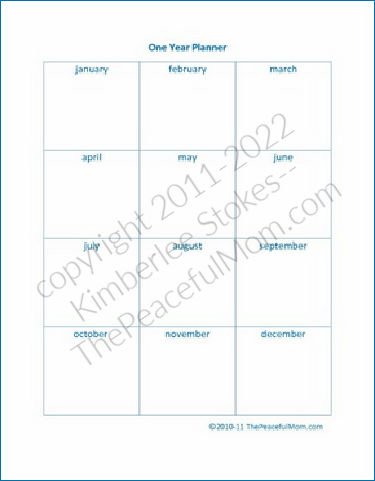 How to use the One Year Planner
This simple yet genius tool can help you organize many aspects of your life:
List Major Events for the Year
Record major upcoming events for the year like graduations, weddings, vacations and holidays so that you can view at a glance the busier times of the year. Try to plan events that are flexible (such as doctor and dentist appointments) during less busy times. The One Year Planner will also enable you to see when you need to start planning for an event.
Record Birthdays
Write down upcoming birthdays for the year so you can see when you need to plan for celebrations, gift purchases or mailing cards.
List Seasonal Tasks
You can also use the One Year Planner to remind yourself of tasks that need to be done seasonally like taking winter clothes from storage, shopping for bathing suits in April, spring cleaning, etc.
Plan Your Finances
Make a list of irregular bills and events that you need to save money for. Seeing upcoming expenses can help you to budget better.
Reader Zoey had a great idea that she shared with me.
"Thank-you" for all your wonderful planners! I have used them in so many different ways. The monthly menu planner, weekend meal planner, pantry list and shopping list.

I recently introduced the One Year Planner to a young family I am working with. Along with monthly budgeting, I had them fill in all the upcoming birthdays, grad parties, weddings, etc for the year.

This planner was quite an eye opener to them!

The family had not stopped to add up all the gifts they purchase through out the year. They were also able to see an event they want to do in December, that requires tickets to be purchased in August. Thank you for all your hard work!
How to Print the Planner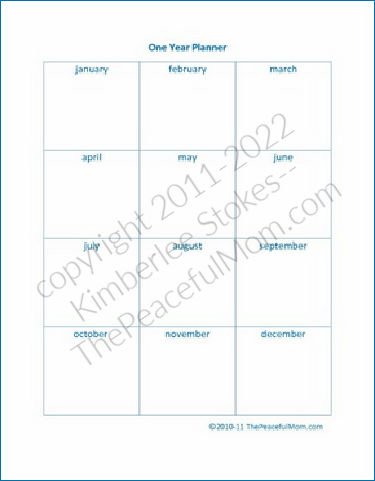 Click HERE to print The Peaceful Mom One Year Planner.
Your PDF download also includes a blank version.
Cheering You On!