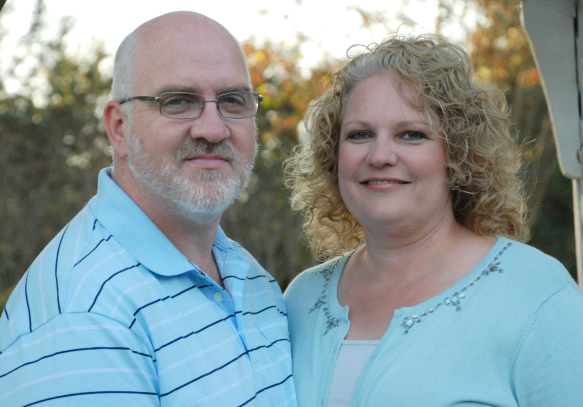 Hi there!
I'm Kimberlee, wife to this very patient man and mom to four children ages 12-17, one of whom has Asperger's Syndrome (an autism spectrum disorder) and another who is gluten free for medical reasons.
I started blogging in 2009 after my husband and I decided to live off one lower-than-average salary, so that I could be more available to our children. I started couponing and friends wanted me to share my money saving secrets. I slowly expanded into other topics like weekly meal plans and organization tips.
Then in 2010 my husband and I did something radical…
We sold 90% of our belongings and moved our 4 children to another state in preparation to do community service work in a foreign country.
We moved from a 6 bedroom, 3 and 1/2 bath, three story house into two rooms and one bathroom of a three bedroom condo, with another couple and their baby in the master bedroom.
During the training we realized that we needed to wait to go overseas, but in the process of rebuilding our life, we were determined to keep things simple so that we could live the life we wanted.
And that's what you'll find here, real-life tips and strategies to help you simplify life so you can save money, get organized and enjoy life!  
I love hearing from my readers. Here are six ways to connect with me:

*Email me using the contact form here.

*Subscribe to my FREE e-notes (daily or weekly email with posts from the website)

*Like me on Facebook (updates from the blog and little peeks into my life you won't see on the site AND you can get a copy of my FREE Customizable Weekly Planner!)

*Follow me on Twitter (updates from the blog and tweets throughout the day)

*Subscribe to my You Tube Channel: ThePeacefulMomVideos (helpful videos on a variety of topics)

*Follow me on Pinterest to see all of the helpful, beautiful, fun and interesting things I find.
Have a Peaceful Day!
Kimberlee