Want More?
more 

happiness

more

hope

more 

life
*Experience more joy.
*Feel calmer every day.
*Focus on what matters.
*See your prayers answered.
​
​The Joyful Life Visual Prayer Journal will enable you to live your most vibrant life!
​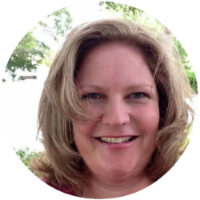 Kimberlee StokesThePeacefulMom.com
I'm Kimberlee, the organizing and money-saving expert behind ThePeacefulMom.com.
As a wife, mom of four, business owner and homeschool teacher, I understand how overwhelming life can be at times. But I also know the incredible power of prayer to bring change.
Over the years, I've seen dramatic answers to my prayers and I want YOU to see the answers to your prayers too.
This simple visual journal will enable you to focus on what you want, then watch God change your life as you pray.
Prayer really does work!
---
The Joyful Life Visual Prayer Journal guides you through nine powerful themes including:
Healing
Courage
Hope
Simply journal your prayers directly on the page,
then pray your prayers aloud to see amazing change in your life!
"Prayer works! Use this journal to make it happen."
Matthew 21:21-22 says,"Jesus replied, 'Truly I tell you, if you have faith and do not doubt, not only can you do what was done to the fig tree, but also you can say to this mountain, 'Go, throw yourself into the sea,' and it will be done.
If you believe, you will receive whatever you ask for in prayer.'"
The Joyful Life Visual Prayer Journal is the tool to help you pray more so you can see your prayers answered.
---
With the
Joyful Life Prayer Journal

you will:

Gain Clarity

Decide exactly what you want in your life based on the prayer themes included in the journal.

Stay Focused

Maintain your focus so you can actually pray for what you want on a daily basis.

Feel Happier

Feel more joy as you connect spiritually and commune with God in a personal and visual way.
"So Beautiful ... "
"The pages of this journal inspire me and remind me to pray for what I want in my life, not just wish for it. It's so beautiful!
- Belinda (Peaceful Mom Reader)
A beautiful reminder to pray your dreams into reality!
FEATURES:
High quality card stock cover for durability.
Glossy, full color interior pages to use for journaling.
Nine powerful themes to guide you in praying.
Flexible coil binding to make writing easier.
Live a joyful life you love!
Pray more and see your prayers answered.
Don't Miss Out!
You Deserve a Joyful, Peaceful Life.