The Joyful Life Planner Weekly Plans are the heavy lifters of your planner. This is where you'll map out your plan for completing those bite-sized action steps that lead you to your big goals, as well as those daily to-do's that everyone has.
Record your blessings, memories and accomplishments from the previous week in the Celebrate Section so you can remember what's good in your life, then plan your priorities for Personal, People and Project goals so you're reminded of your true priorities. Then it's time to schedule your plans into the upcoming week so you know when to do those tasks.
How to Transition to a New Month
Within each monthly section you'll find the Monthly Calendar, Monthly Vision Board then five weeks of undated weekly plans.
IMPORTANT NOTE: Because the planner is undated and months don't always start on a Monday, your weekly plans will overlap at the end/beginning of some months. You can decide if you want to use the Weekly Plan before the Monthly Calendar/Vision Board pages, or after.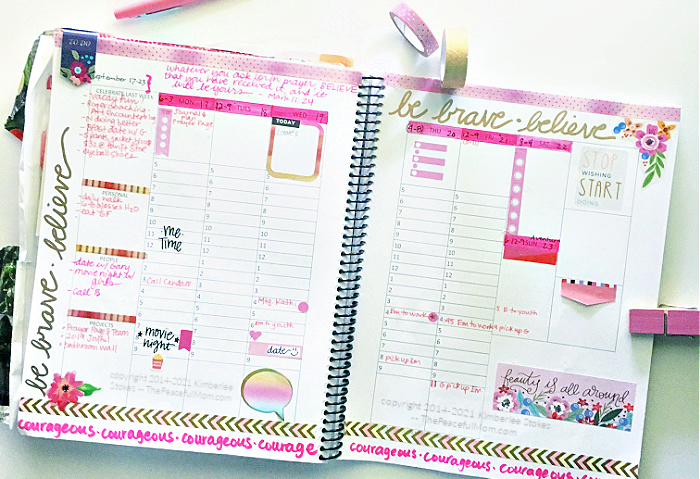 For example, if March 31st is on a Thursday or a Friday, I might:
skip the fifth weekly plan spread for March ( I washi tape or glue the two pages together);
flip through the Monthly Calendar and Vision Board pages;
then start the first weekly plan after the Monthly Vision Board for April.
So my first weekly plan in April will include the last few days of March and the first few days of April.
You can also choose to start the upcoming month in the current month's last Weekly Plan spread before the Monthly Calendar and Vision Board. You will then have an extra Weekly Plan spread in the next month.
The Weekly Plan Sections – Left Side
On the left side of each week you'll see four sections.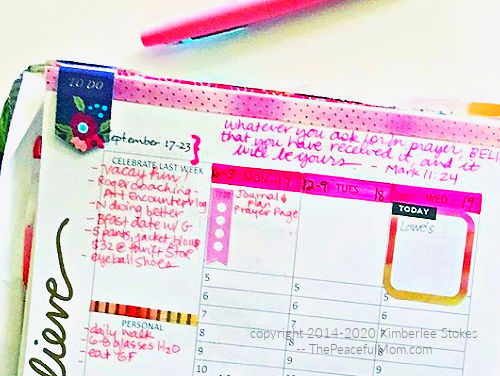 CELEBRATE LAST WEEK
In this section of the weekly plan you can list fun memories, blessings, unexpected happy happenings and the goals accomplished from the previous week. I love reviewing this section throughout the year to remind myself of all the positive things in my life. And I use this section to help me complete the monthly and quarterly reviews.

PERSONAL
In this section record the daily habits and weekly activities to keep you healthy and happy.
Examples:
spiritual health – quiet time to pray, Bible reading and memorization, art journal
physical health – daily walk, drink 8 glasses of water, eat protein, bed by 10
intellectual/personal growth – books to read, classes to take
soulful activities: journaling, reading, artwork, creativity
PEOPLE
In this section list the activities that develop relationship with those you love.
Examples:
marriage – date w/ hubby, write a love note, watch funny videos together
kids – hug every morning, family picnic, ice cream date, pray daily
friends – coffee date, call a friend, girls night out
extended family – call parents, send card to mother-in-law
PROJECTS
In this section list the tasks to take care of your household and move toward your goals.
Examples:
household – meal plan, cleaning schedule, paint bedroom
family – help daughter with school project, write family mission statement
business – create marketing plan, research affiliate companies
service/volunteering – make cookies for bake sale, serve in children's ministry
The hierarchy of Personal, People then Projects reminds you that self-care and relationships are more important than the projects in your life.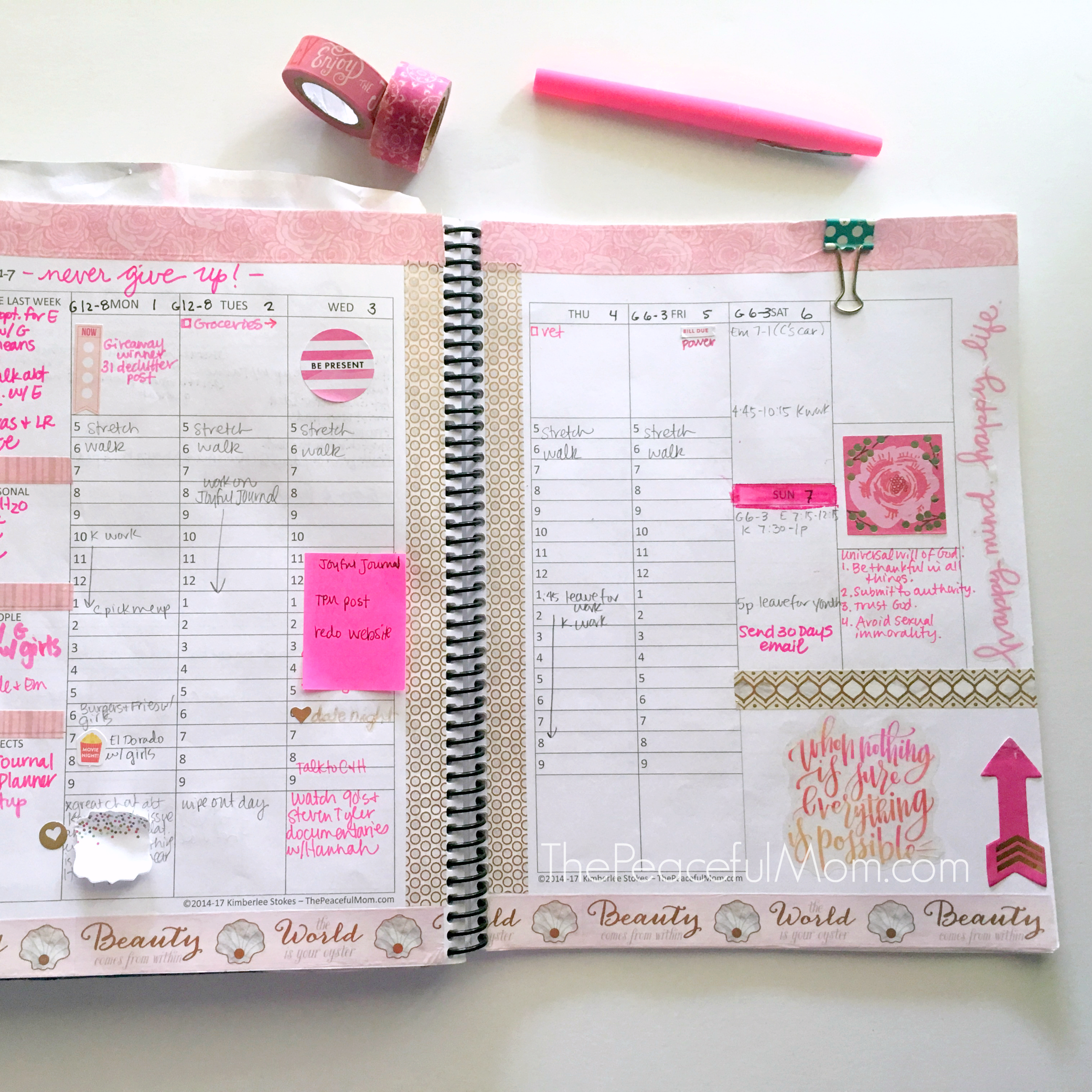 The Daily Section
Next you'll see the daily section of your Weekly Plan.
This is where you can time block your activities and appointments in the hour-by-hour schedule section for each day.
Or, if hourly schedules don't work for you, simply use the daily sections to make a to-do list.
In the top square above each day, you'll find a blank space where you can write your top 3 most important tasks for the day or an inspirational quote.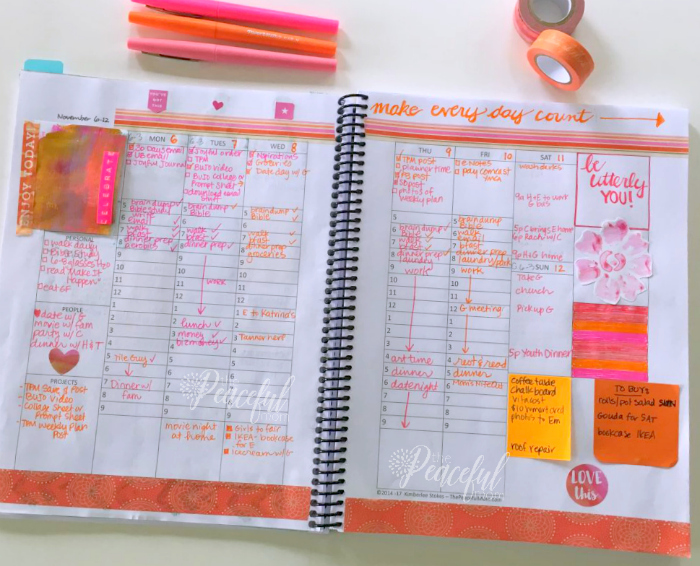 Other Weekly Plan Sections
You will see other blank sections on the Weekly Plan that I've purposefully left open so you can customize the plan each week to fit your needs.
decorate or doodle;
write in inspirational quotes or Bible verses;
list errands you need to run or items you need to buy;
write your menu or
jot notes for what you want to remember.
Use the plan to fit YOUR life and your needs each week.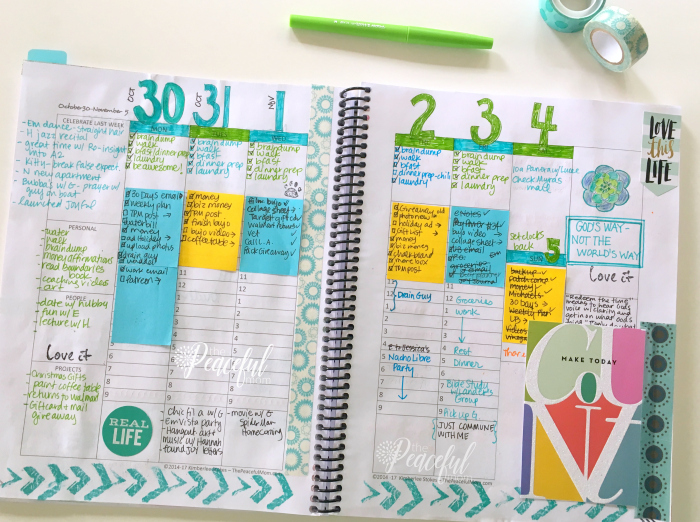 Other Tips to Use the Weekly Plan
I encourage you to use the planner in the way that works best for you, but these tips will help you maximize the Weekly Plans.
Schedule Weekly Planning Time
I suggest making an appointment with yourself every Saturday morning or Sunday evening to review your monthly focus and master task list. Then evaluate the previous week and list your goals and plans for the upcoming seven days using the various sections of the weekly planner (see examples below each description).
This planning appointment should only take 10-15 minutes, but will make a HUGE difference in how smoothly your week goes.
Once you create your plan for the week, schedule and time block everything in the daily sections of the weekly plan, then set alerts and notifications on your phone for important reminders and appointments.
Use the Designated Days System
You may also want to use a technique that I call "Designated Days" to set a theme for each day of the week so that you can focus on one aspect of life at a time.
For example:
Monday – planning, make grocery list
Tuesday – grocery shopping/errand day
Wednesday – creative projects
Thursday – baking and freezer cooking
Friday – bills and paperwork
Saturday – clean house and family fun
Sunday – rest and reset
You can write your theme for the day at the top of each day's section to remind you of your focus for that 24 hour period.
If hour-by-hour scheduling isn't working for you, use the space to list your routines and to do list for the day. You can also use small sticky notes to cover the lines so you can write in a more unstructured way.
Most importantly, make the planner work for you. If it doesn't work, you won't use it.
©2014- 2022 Kimberlee Stokes – ThePeacefulMom.com