At the beginning of every three month period you'll find the quarterly planning section.
This is where the Joyful Life Planner really shines as research shows that creating 12 week or 90 day plans expnentially increases your chances of accomplishing those goals and plans.
This section includes:
Evaluate & Celebrate
This tool includes questions to help you review the previous quarter so you can celebrate your accomplishments and happy happenings. Reviewing your progress enables you to make adjustments where necessary and gives you the opportunity to change your goals if you'd like. It's also a fantastic way to keep a positive mindset as you focus on all the good in your life.
Goals for This Quarter List
On this page use your annual goals to select your goals for the quarter. Limiting your goals will enable you to gain momentum and focus.
IMPORTANT NOTE: Your goals should reflect your personal priorities. For example, spending lots of time snuggling your newborn is a valid and very important goal. Less "lofty" but also important goals might include cleaning your kitchen every night or watching funny videos with your husband. Make your goals fit what YOU want to accomplish most in life.
My Action Plan
In this space you'll translate your big picture goals into action steps that you can incorporate into your weekly plans so you actually accomplish your goals.
The sample plan below will show you how to complete the page.
In the Big Picture column, choose one of your big picture goals for the quarter. Then in the second column write the steps you need to take to get there.
In the third column, write specific bite-sized action steps you can take each day or week. The more specific you can be, the more likely you will be to fulfill your big picture goals and dreams.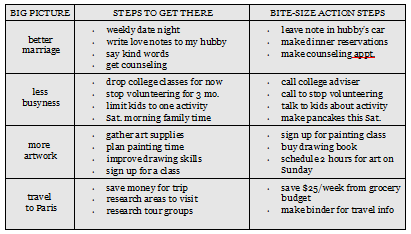 When you plan your week, refer to your action plan for that quarter and schedule some of your action steps into each weekly plan.
©2014- 2022 Kimberlee Stokes – ThePeacefulMom.com