After each quarterly planning section you'll find three monthly sections which include an undated Monthly Calendar and a Monthly Vision Board.
Monthly Calendar
Each month you will be able to use your undated monthly calendar page to schedule appointments, keep track of important dates and gain an overview of your month so you can avoid over scheduling.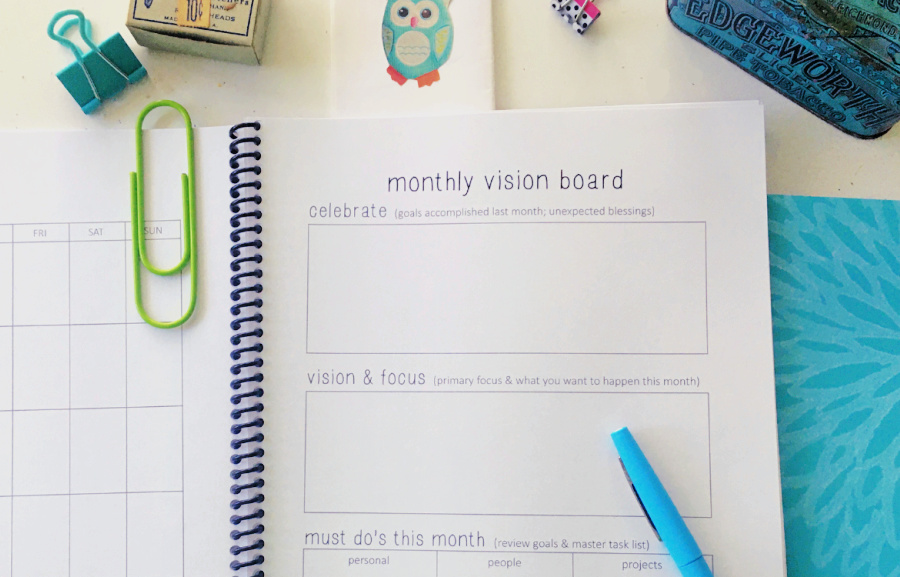 Monthly Vision Board
The Monthly Vision Board enables you to review your previous month and focus on your goals for the upcoming month, which should come from your goals for the corresponding quarter. The Vision Board includes sections for reflecting and celebrating, envisioning the upcoming month and listing must-do tasks. I recommend scheduling a twenty minute session at the end of each month to evaluate if you're staying on track, then decide any adjustments that you need to make.
Completing the Monthly Vision Board in writing has been one of the most beneficial changes I've made in the last couple of years. (I sometimes also tape in a page with words and photos to help me envision what I want to accomplish.) Spending a few minutes each month to reflect on my progress and re-focus on my priorities has enabled me to be far more productive and happy.
See some of my Monthly Vision Boards HERE.
©2014- 2022 Kimberlee Stokes – ThePeacefulMom.com