let's get an overview
The Joyful Life Quarterly Playbook and Planner guides you through:
an overview of your year;
an evaluation of each quarter and month;
a focused and effective weekly plan.
The tools in the Big Picture section will help you develop an overview of your year which you can refer to as you create your quarterly review and weekly plans.
Big Picture Goals
This planner page enables you to think about where you want to be at the end of this year or season. Record your big picture goals for each area of your life on this page, then refer to these big picture goals as you create your quarterly, monthly and weekly plans.
One Year Planner
Use this page to gain an overview of the year. You can plan strategies for each month, choose a monthly theme (abundance, gratitude, simplicity, etc.) or choose a life area on which to focus such as a financial or home improvement goal. You can also write upcoming events, plan for upcoming expenses or write birthdays for family and friends. I've included both dated and undated pages so choose the format that works best for you. The 2×2 square Post-It notes fit perfectly into each monthly section also.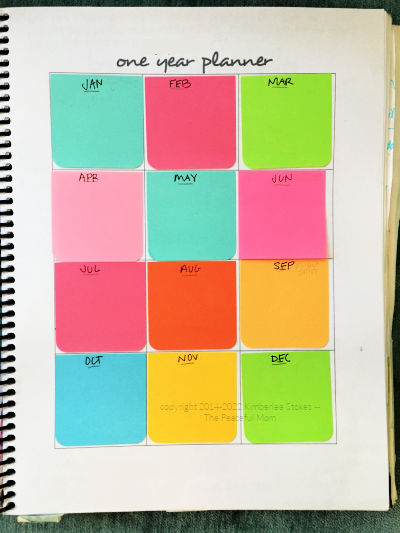 Happy Habits
Choose some positive habits to incorporate into your life each day or choose one habit to focus on each month for the upcoming year.
Master Task List
Use this page to list everything that you want to accomplish this year or this season. Refer to it when creating your weekly plan. If you're worried about "messing up", or you want a flexible list that you can change, use sticky notes. You can also tear this page out and tape it inside the front cover for easy reference as I do.
©2014- 2022 Kimberlee Stokes – ThePeacefulMom.com