Hey Friend!
Some quick clarification on the Overwhelm Breakthrough Brain Dump Printable (available to subscribers in the Resource Library).
This exercise is a quick way to organize your to-do list so you have a visual of what needs to happen next, which can be especially helpful when it seems like there are hundreds of tasks to be done, each with equal importance.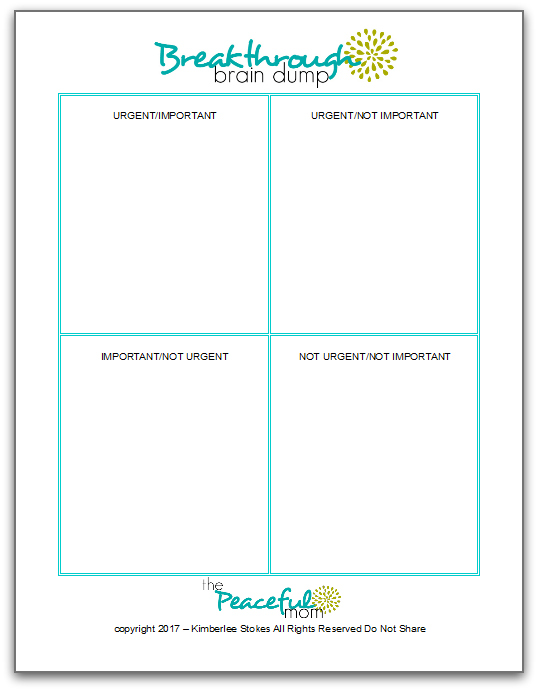 The Eisenhower Matrix
The printable is based on the "Eisenhower Matrix".
Dwight D. Eisenhower, the 34th president who commanded the Allied Powers during WWII, recognized his need to better manage his time during the war. He created a method of time management based on the characteristics of importance and urgency.
Later Stephen Covey, author of The Seven Habits of Highly Effective People, made this quadrant framework popular.
They both realized that great time management means not just being efficient, but also being effective by spending time on important tasks, not just the urgent ones.
So let's define urgent and important.
Important activities help us to achieve our most important goals and priorities.
Urgent activities that demand immediate attention because the consequences of not dealing with them are immediate, and they may be associated with achieving someone else's goals.
How to Use the Breakthrough Brain Dump Printable
To use the printable:
A. On a separate sheet of paper, list all of all the tasks and activities you want and need to do right now.
B. Add each one into one of the four categories on the printable.
Important and urgent.
Important but not urgent
Not important but urgent
Not important and not urgent
These categories are listed in order of priority, so items in the important and urgent category should be dealt with first, etc. For example, changing the baby's diaper is both urgent and important. Spending time with your significant other is important, but probably doesn't seem urgent at the moment.
1. Important and Urgent
Activities in this category are your top priority and should be completed as soon as possible. Examples are:
paying a bill that's due immediately;
picking up a crying baby;
loading the kids in the car to get to school on time;
projects with deadlines;
activities with dire consequences if you avoid them;
and emergencies.
Sometimes these activities are unexpected, require immediate attention and cannot be avoided. For example, if your child falls and breaks his arm you have to push aside all other activities to immediately take your child to the ER.
The best way to handle these types of situations is to have some space in your schedule for unexpected events like traffic jams and meetings running late, and to have backup and emergency strategies in place.
But sometimes, the urgency is created by our own procrastination. These types of activities can be avoided by planning ahead. For example, it's important to pay your rent on time to avoid penalties and extra fees (and ultimately, eviction), but if your rent is due on the 1st and you've spent all your money by the 31st of the previous month, you have now created an urgent problem that you need to solve. Another example is preparing as much as possible the night before to avoid hectic mornings.
2. Important but Not Urgent
These activities help you achieve your goals and live out your true priorities.
But the problem is that they're easy to postpone because they aren't urgent. Examples are:
spending quality time with your partner and/or children
taking care of your emotional needs
taking care of yourself physically and mentally
planning and preparation
steps toward an important goal
It's easy to let these types of activities slide as you take care of the more urgent tasks, but you'll find it difficult to live out your true priorities and achieve your goals if you're constantly moving these kinds of activities to the back burner. Plus, leaving some of these tasks undone can create unnecessary urgency and crises in your life.
Schedule time for important activities like relationship building and self care into your calendar so you actually spend time taking care of them.
3. Not Important but Urgent
Urgent but unimportant tasks are tasks and activities that prevent you from achieving your goals, and are usually created by other people asking us to do something for them. Examples are:
interruptions;
volunteer activities that are not related to your goals;
deadlines imposed by other people.
For these kinds of tasks, ask yourself if you can reschedule or delegate them, or just say "no". You can also schedule specific times to check in with people who need you.
4. Not Important and Not Urgent
These activities are simply distractions so avoid them if you can, or schedule specific times to deal with them. For example:
avoid using your phone for at least an hour in the morning so you can accomplish your most important goals first;
schedule a time twice a day to deal with non-urgent emails and returning phone calls.
set a timer for your social media use so you don't end up wasting endless hours scrolling through your accounts watching other people live their lives instead of living yours.
In other words, as much as possible, try to prioritize the activities on the left half of the Brain Dump page.
As a mom this can be challenging because it seems like every request or need is urgent, but I encourage you to take time to really evaluate if the tasks you think are urgent actually are.
For example, there may be household chores that you can cut corners on to make more time to spend with your children. You can leave clean clothes unfolded in the laundry basket and use paper plates for a few days to give yourself a break.
If your children's basic needs have been met, allow them to have some quiet time in their room or watch a show while you take a few minutes to gather yourself.
Hopefully this helps, but if using this process is more overwhelming, try the Weekly Goal Planning Page HERE.
Cheering You On!

Want a simpler life?
Join our simplifying, organizing, life-changing community!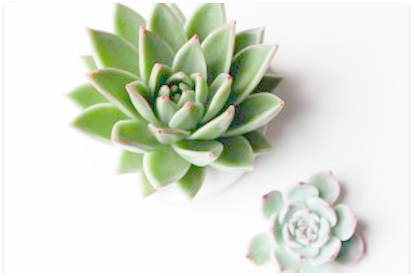 Click here to join The Peaceful Mom Community!
Get weekly encouragement & 10 Minute Organizing Tips
PLUS access to our Organizing and Printable Library including:
10 Minutes a Day Declutter Calendar — focus on one small area each day of the month
Organizing Printables – to organize your life one baby step at a time
Monthly Gifts – because who doesn't love a surprise?

You May Also Enjoy: