How to Start a Blog to Make Money
I've been blogging at The Peaceful Mom since 2009 and I've learned so much since I first started!
Many of you have asked for blogging tips so today I'm sharing some specifics to help you get started.
How to Set Up Your Blog
overview
Sign up for web hosting.
Choose a domain.
Install WordPress.
Start blogging!
1. Sign Up For Web Hosting
The first thing you need to do to set up your blog is to sign up with a company to host your blog. Web hosting is similar to paying rent to give your blog a place to "live" on the internet. There are many free sites available but if you want to make money with your blog you will need to have a "self-hosted" site, which means you pay for hosting.
Bluehost is a great company for those just starting out because they have very reasonable prices and great customer service. I used Bluehost when I first began blogging but now that my site traffic has grown to hundreds of thousands of visitors each month I need a more personalized and customizable service.
Step 1
Start by clicking here to go to Bluehost (this link will open in a new window so you can reference these instructions as you work).
Once the page opens, click the green Get Started Now button.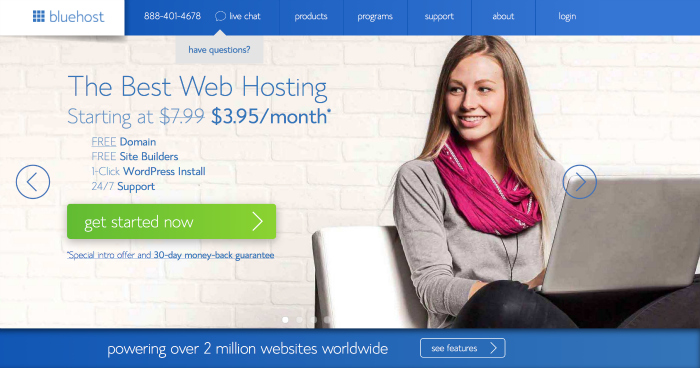 By the way, the images you see here may vary slightly from the ones you see on your screen because they are constantly improving the website. Don't worry though, the process will be the same.
Step 2
Next, you'll need to choose your hosting plan. I recommend going with the $3.95 per month plan as you are starting out. You can move up at any time.
Just click one of the green "select" buttons to move to the next step.
2. Choose a Blog/Domain Name
Once you've selected your plan, you'll then need to choose and type in your domain name. A domain name is the www. link or the internet address for your site. Your blog name should encompass the mission of your blog and should clearly articulate your blog's purpose.
Because your blog name is one of the most important parts of your blog's success, you will want to take some time to choose the one that fits best. Once you have a few ideas you can check Domains.com or GoDaddy.com to see if your domain is available.
If you are definitely considering a couple of names it's better to go ahead and purchase them for a year because domain resellers check the search terms and purchase domains that others have searched for. You can always cancel the domain at the end of the year if you decide not to use it.
Important Note: Blog names can be federally trademarked and/or copyrighted which means that an individual or company owns the rights to a particular name or phrase and it cannot be used to others. To be safe, make sure to do a thoroughly online search to ensure that no one has the rights to the name you want to use.
Tips:
Go with a .com extension whenever possible.
Consider purchasing all major variations of your domain name (.net, .org).
Make the name easy to say and spell.
Do not use numbers, hypens or confusing strings of words.
If you can't find the name you want, consider using a phrase.
Buy the domain for your own name.

Once you've entered your domain name, go to the next page and enter your information. For now you can skip the extra upgrades, although you might consider purchasing Domain Privacy so that your home address or whatever address you use to sign up for your domain cannot be accessed in public records.
Enter your billing information and you're ready to go!
3. Install WordPress
After you set up your hosting and domain name, you'll want to install WordPress on your new hosting. You can do this right from your Bluehost dashboard.
WordPress is the software interface that you'll use to blog so that your posts show up on your Domain. It's very simple to use so that you can publish posts without understanding HTML and CSS coding for your website.
Important note: You must have your own hosting and install WordPress from WordPress.org onto that hosting. While you can set up a free site on WordPress.com, you are not allowed to add advertising or affiliate links if you're hosting your site there — which means you cannot make money blogging!
4. Start Blogging!
Once you've decided on your niche topic and your domain name, you will want to choose 3 – 5 categories for your blog posts. These are the main topics you will be writing about and each post should fit into one of your main categories.
You will want to publish 10 – 15 posts in several categories before you announce your blog and start sharing it with others. Make sure that you have excellent, informative content before you ask others to check it out. You will want them to have a reason to come back!
You can use Google calendar or a simple sheet of paper to plan, but you definitely want to have a plan for your posts and a routine for writing them.
More Resources:
How to Organize Your Blogging (FREE Printable Blog Planners!)
How to I Make Money Blogging (Quick Ideas to Start Making Money)