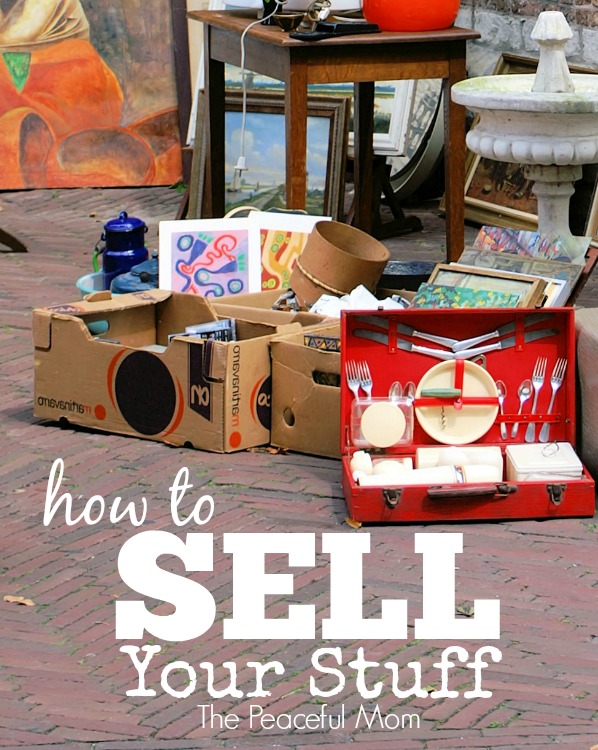 How to Sell on eBay & Craigslist
You've got stuff and you need money. Try these tips to sell your extra household items and put money in your pocket.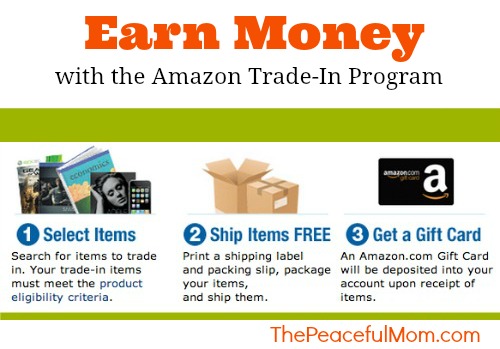 Amazon Trade-In Program – This is a great option for books, cds, dvds, electronics and video games. Trade in your stuff and get Amazon credit which can be used on everything from food to jewelry. Read How to Use the Amazon Trade-In Program here for specific details.
Facebook – If you want to sell locally Facebook is a great place to start. Find a local selling group (ask your friends if they know of one) or list the item directly on your wall. Even if your friends don't want it they may know someone who will. (Use this option sparingly so your friends don't get irritated.)
Read How to Sell Your Stuff on Facebook HERE.
Craigslist – Great for items you don't want to pay shipping for like furniture, toys and large household items.
Tips for selling on Craigslist:
Take good pictures– Photograph your item in natural daylight without a flash and from different angles; make sure that the background is not distracting.
Bundle like items – Simplify by selling items together in groups rather than individually.
Set a reasonable price – Do a little research and see what like items are selling for; set your price 10-20% higher to leave room for bargaining.
Write a good description– Mention brand names in the title of your listing along with the condition and be as specific as possible.
Feel free to say "no" – If a buyer offers less than you think your item is worth, don't be afraid to wait for a better offer. Craigslist is free and you can list your item multiple times.  If you're not desperate for the money, it may be better to wait.
Pay attention to the guidelines – Follow the Craigslist rules or all of your listings will be removed. Check the guidelines for your region but generally items can be listed once every 7 days.
Stay safe- Unfortunately Craigslist has become a place for scammers and thieves to hang out. Use a secondary email address (one not connected to a Paypal account) rather than your phone number. Check out all offers to make sure they are not spam and never accept a Western Union Money order or check for your items. Make sure to meet in a neutral public location with another person to deliver your item. I personally never meet people at my home for security reasons.

eBay- Great for selling popular brand name items that are in very good or excellent condition, or for rare or high-value items. It is free to list your items but you pay a commission when you sell something. The easiest way to ship items is to use a USPS flat rate box and make sure that your item fits in the box before listing it. It is much easier to sell on eBay if you have a reputation so if you have never used eBay before it may not work well for you.
Open an account – Click here to open an eBay account to get started.
Do an initial search – Check to see if there are many items like yours already for sale on eBay. If there are and the bids are low you may be better off selling them elsewhere.
Group Items – Selling items in groups or "lots" seems to be most successful plus you only have to take one photo instead of listing items individually. Include a hot selling item in your lot to increase bidding.
Take good pictures– again, photographs are key – take shots in indirect sunlight without a flash and make sure your background is not distracting.
Write a good description-be sure to mention the brand name in the title, along with the condition.  Be as specific about the details as possible.  If you are stuck for what to write, look up similar items that are currently selling well for inspiration.
Choose a specific category – Choosing the right category means that potential buyers will be able to find your listing.
Charge the USPS flat rate fee for shipping-  USPS flat rate boxes are free and the shipping is s set rate so there are no questions.
"Babysit" your auction – Once your auction is live make sure to answer buyer questions quickly (check your junk folder as well); you may want to post your answer publicly so other potential buyers can see the information.
Wait for payment –  Never ship an item until you have received payment. You can send an invoice to remind your buyer to send payment.  
Ship your item quickly – I prepackage items before listing them so they are ready to go. Once you receive payment send the item as soon as possible to protect your seller reputation. You can pay for shipping and print your label at home through eBay, then take your item to the post office.
Give feedback– once the transaction is complete be sure to leave a positive note on the buyer's feedback page. Hopefully they will return the favor so that you can build your reputation.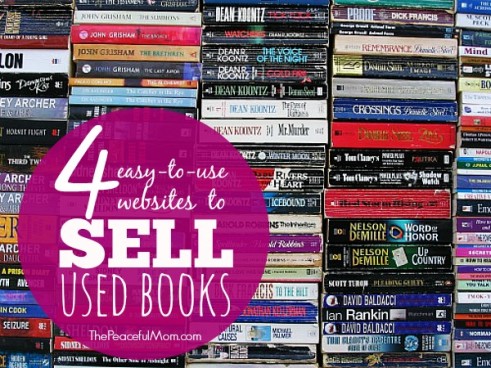 Click here for 4 easy-to-use online sites where you can sell books!
So now it's time to gather your extra stuff and start selling!
 You May Also Enjoy: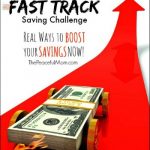 *Affiliate links are included in this post. Read our disclosure policy here for more information.
Make Money Online!
Click here for a complete list of The Peaceful Mom's recommended survey sites.