Need to save money on groceries? Making a weekly meal plan helps you to stay organized and save money, but you might be wondering how to make a menu. Here is an easy, step-by-step tutorial for you.
PRE-PLANNING
Doing a little bit of pre-planning once can save you time each week. Take these steps to make your weekly meal planning a breeze.
Make a List of Your Family's Favorite Meals
Write down 15-20 meals that your family regularly eats and enjoys. Be sure to get everyone's input, so you choose meals they will actually eat! 🙂 If you are new to menu planning, start with dinners only, then add breakfast and lunch ideas at a later time.
If you need some inspiration to get started, check out my RECIPES page and my MEAL IDEAS post.
Organize Your List
Next group the items in your list by the main ingredient. For example, I place all of my pasta meals together, all my chicken meals together, etc. Now when an item is on sale, I can quickly see several recipes to use for that particular food.
You can further organize your list by making a list of Budget Friendly Meals, Quick Meals or Crockpot Meals.
Collect Your Recipes
Gather your recipes together in a Recipe Binder (click here for instructions and free printables!), in a folder on your computer or on boards on Pinterest (See my Pinterest boards here.)
WEEKLY PLANNING
To plan most efficiently, create a menu at least weekly so you can shop for the week on one day and be finished for the week. Use these tips:
Choose a Menu Planner
Making your meal plan each week should be convenient and simple, so it's important to choose a convenient place to make your plan.
You can:
use a meal plan printable (place it in a page protector and use a dry erase marker or print one each week)
create a meal planning notebook or binder
make a note in Evernote
use a phone app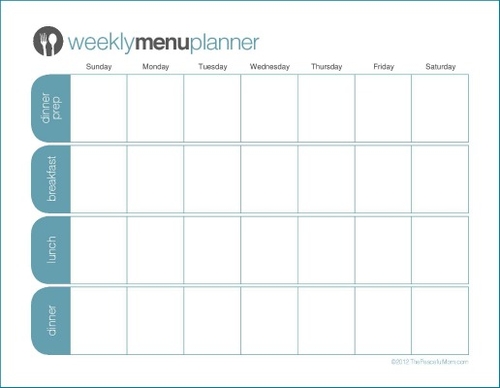 Print The Peaceful Mom Customizable Menu Planners here. If you prefer not to schedule specific meals for specific days, you can simply make a list of your meals.
Check Sales
If you're just starting to meal plan and feel overwhelmed, you may want to skip this step, but if you want to save the most money on your groceries you should take a few minutes to check out your local grocery store sales fliers (or check online) for sale items and start writing down ideas for dinner.
For example, if boneless skinless chicken breasts are on sale, I use my 8 Dinners in 1 Hour Chicken Plan. For ground beef I use my Freezer Cooking Ground Beef plan.
Check the Freezer, Fridge and Pantry
Use what you have on hand to plan your meals for the week and be sure to fill in any ingredients you need on your grocery list. Print my Grocery Shopping List or my Multiple Store Shopping List here.
Fill in the Menu Planner
If you are just starting to menu plan, you may only want to plan five dinner meals. You can eat leftovers one night and plan a potluck with friends or order pizza one night.
Finish Your Grocery List
Check off or write in the items you need for this week's meals.
Click here for a very detailed explanation of what my planning looks like. (If you are just beginning, this might overwhelm you.)
IDEAS TO MAKE MENU PLANNING EASIER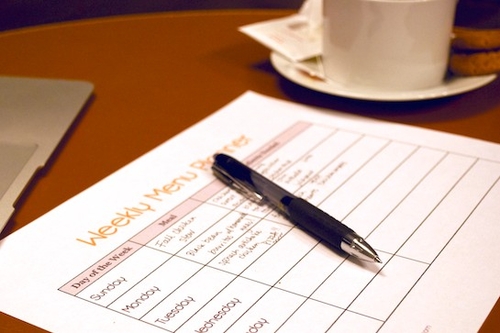 Recycle
Keep your old menu plans to spark new ideas when you are in a rut. Even if you serve the same meals each month, eating them only once every 30 days keeps them from becoming too boring.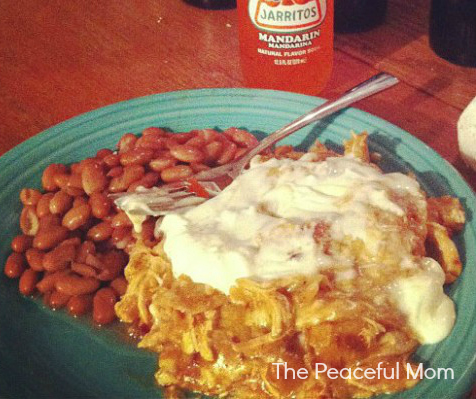 Use Theme Nights
To make your meal planning easier, dedicate each day of the week to a type of food. The simplest form of this idea is to make a list of types of main dishes for each day. For example:
Sunday– soup and sandwiches
Monday– meatless dish
Tuesday– chicken dish
Wednesday– ground beef dish
Thursday – pasta, etc.
Friday – pizza
Saturday – leftovers
For more creative theme night meal ideas, check out this post.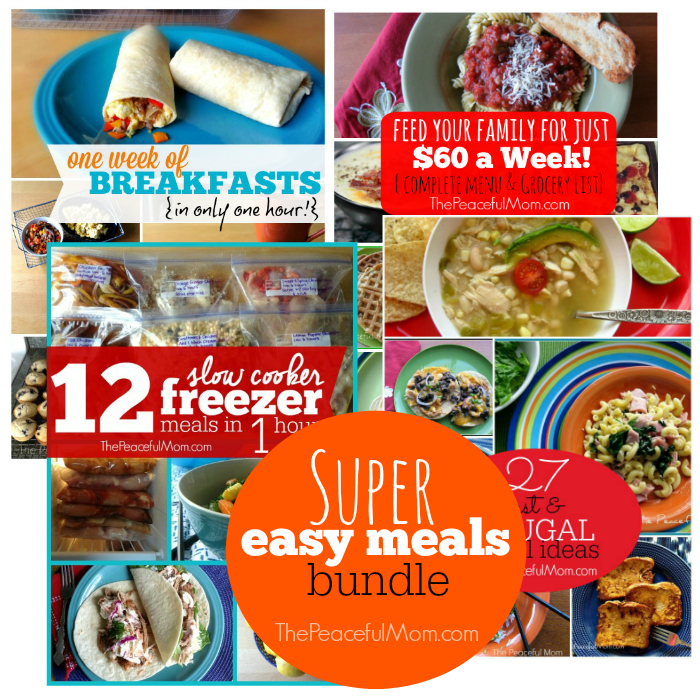 Purchase a Pre-Made Meal Plan
If menu planning overwhelms you at this point, start with a ready-made meal plan. I have several frugal and easy meal plans available to get you started.
Click HERE to see all The Peaceful Mom Meal Plans.
You May Also Enjoy: