Learn How to Clean Out Paperwork Fast with my 10 Minute Paper Pile Fix!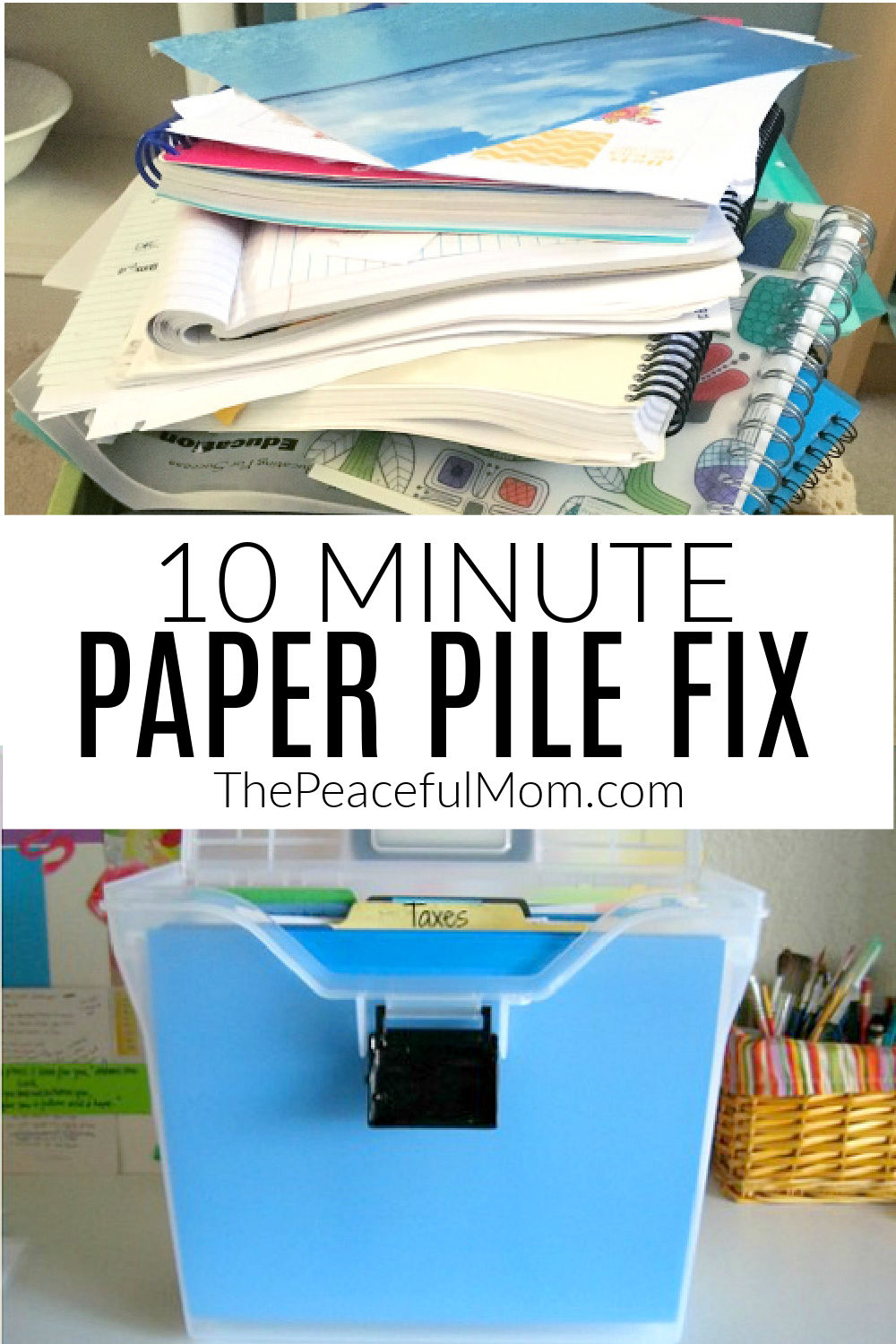 Do you find yourself surrounded by piles of papers?
I've got the solution for dealing with those stacks: my 10 Minute Paper Pile Fix
How to Clean Out Paperwork Fast
Follow these simple steps to take control of your paper clutter.
Gather Materials
First gather the simple materials for this quick project.
You will need:
3 file folders
marker or pen
trash can
recycle bin
your paper pile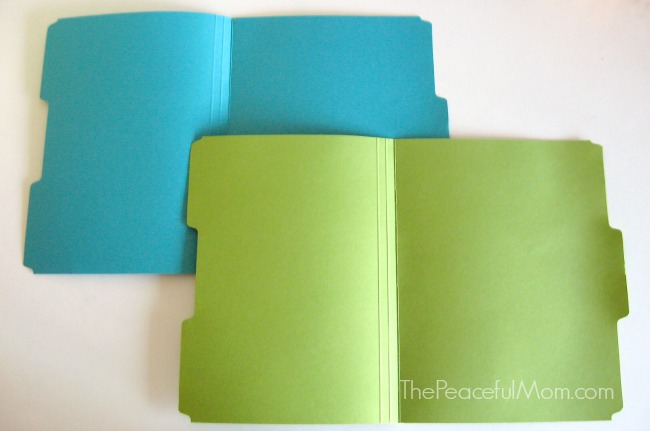 Label Folders
First label 3 empty file folders: NOW, 10 MINUTES A DAY and TO FILE. (I like to use a sticky note on the front because they're easy to see.)
If you have lots of papers you could also use 3 shallow boxes, bins or baskets rather than file folders.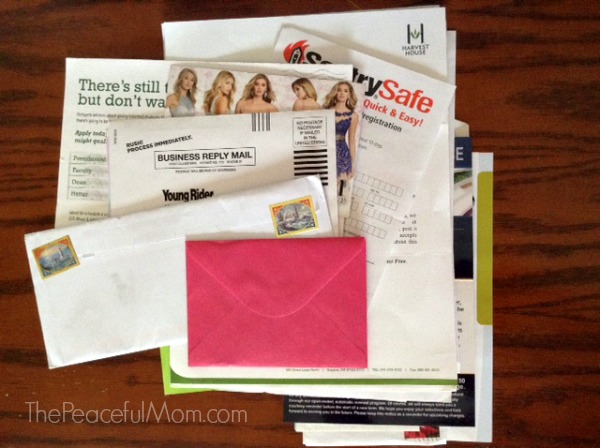 Eliminate Obvious Trash
Next, quickly go through the paper and throw away any item that is clearly trash. Open any envelopes and discard the empty envelopes into the trash or recycling bin.
Do this as quickly as possible. If you're unsure if a paper needs to be thrown away keep it for now.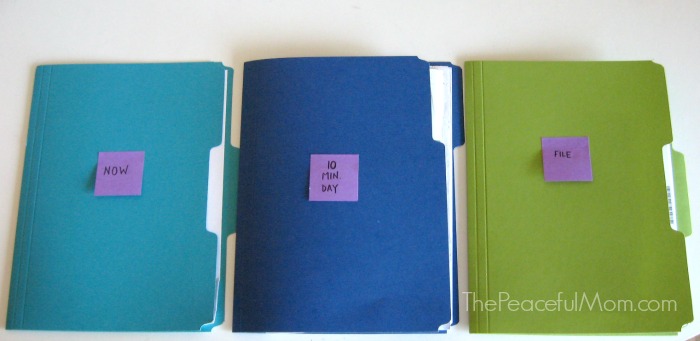 Sort
Next quickly sort each piece of paper from your pile into the appropriate folder.
Now Folder
The Now Folder is for any paperwork that requires immediate attention:
bills
tag renewals
insurance paperwork, etc.
10 Minutes a Day Folder
This folder is for items that require action, but not immediately.
letters to respond to
subscription renewals
paperwork without a deadline, etc.
To File Folder
Items that simply need to be filed away for later go into the FILE folder.
Once you've completed sorting you can set the 10 MINUTES A DAY folder and TO FILE folder aside for later and start on the items in your NOW folder.
How to Keep the Paperwork Cleaned Out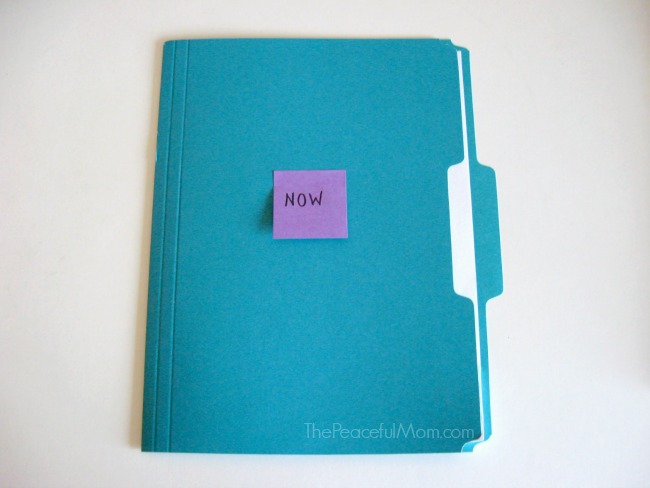 Take Care of the Now Folder
Once you have all the papers sorted into the appropriate folder (or labeled box if you have many papers), place the items in the NOW folder in order by date, for example, the bills that need to be paid first would be at the top of the pile.
When the papers are in order by date start with the top item and take action — pay the bill, etc. As items are completed move that paper into either the FILE folder to file later if you need to keep it or place it in the shredder or trash.
Work on the 10 Minutes a Day Folder
When the NOW folder items are taken care of you can begin working on the items in the 10 MINUTES A DAY folder. Usually by the time I've finished the NOW items I'm ready for a break so I put the folders away until later in the day or the next morning when I'll spend 10 minutes working on the TEN MINUTES A DAY folder. The key is to keep the folder on your desk and spend just a few minutes each day dealing with the papers inside it.
File the Paperwork in the To File Folder
Once the TEN MINUTES A DAY folder is taken care of you can spend a few minutes a day filing everything in the TO FILE folder. These are the Files that I keep:
Active/Now Folder (on my desk) – dental bill that needs to be paid , insurance form to fill out;
Active "10 Minutes A Day" Folder (on my desk) – non-urgent receipts to record and file, a letter to respond to;
Current In-Use Binders (on the shelf next to my desk) – Budget Binder (see details here), Writing Projects (ideas and rough drafts for books I want to write, research articles), Business School (free resources I have printed and want to study to improve my business), Holiday Planner, Blog Planner;
Current Longer-Term Files (in a file box next to my desk) – current year's bank statements, receipts, paid bills, business invoices and receipts, current car insurance, life insurance policy and paid bills, current health insurance/medical information from my daughter's accident, car maintenance records and current year's homeschool records.
Long -Term Storage (in file boxes in my office closet) – tax files for the last 10 years, past writing projects (like printed copies of my ebooks);
Sentimental Items – photos are stored in albums and photo boxes, and I keep a few cards and letters in a box in my closet.
Prevent Future Paperwork Clean Outs
Prevent future paper piles with these habits.
Deal with Mail Immediately
As soon as new mail comes into your home take care of it right away by:
throwing away obvious trash
placing remaining mail into the 3 labeled folders.
Scan and Shred
Converting your paper to digital files is a great way to get rid of the paper clutter in your life. I like using Evernote. (See How to Organize with Evernote HERE.)
I open the Evernote app, create a note then take a photo of items like important documents I want to keep. I can easily reference these items using the Evernote search function.
Once I've uploaded the item, I then shred it and I've eliminated the paper clutter around my house. (Note: Evernote is trusted by millions of users and I've never heard of any problems, but if documents are very important, you may want to additionally back them up to a cloud storage service.)
Stop the Inflow
You can immediately reduce your paper clutter by opting out of advertisements and junk mail. Use the following resources:
Cleaning out piles of paper can be daunting, but with this simple quick plan you can do it!
For more tips to keep your paperwork organized read How to Organize Paperwork and Keep It That Way HERE.
Cheering You On!

Want a simpler life?
Join our simplifying, organizing, life-changing community!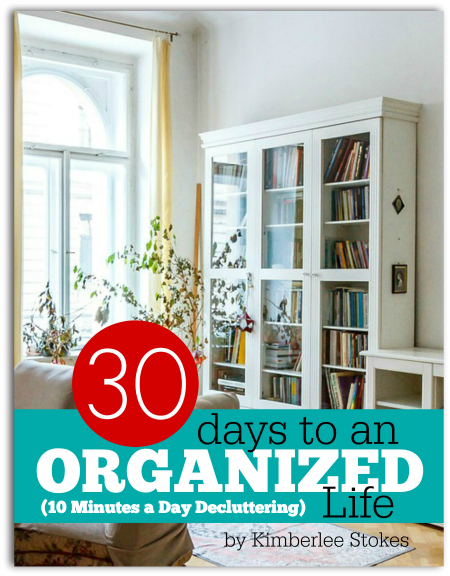 Click here to join the 30 Days to Organized Community!
Get weekly encouragement and real-life strategies to organize your life PLUS receive a FREE 10 Minutes a Day Decluttering Tool Kit!
You'll receive:
10 Minutes a Day Declutter Calendar — focus on one small area each day of the month
50 Ten Minute Tasks – to organize your life one baby step at a time
10 Minute Task Calendar – blank calendar to fill in your own 10 Minute Tasks

You May Also Enjoy: