Digital Declutter Checklist: Let's clean up our phones, inboxes and computer files!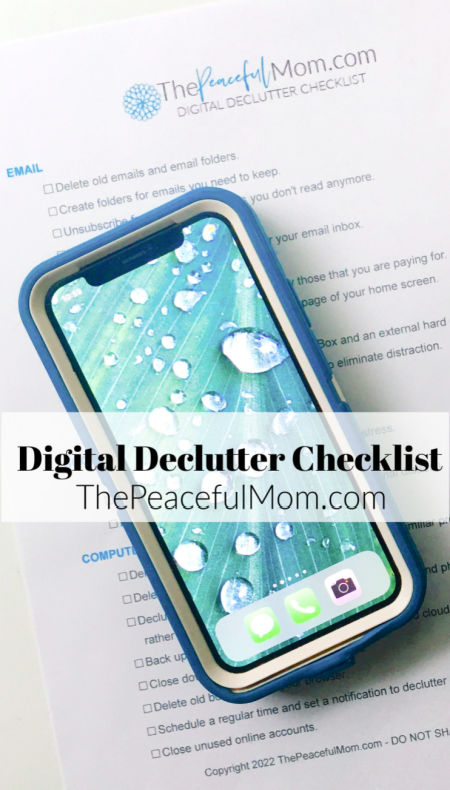 Get the Digital Declutter Checklist HERE.
Why You Need a Digital Declutter Checklist
Are you like me and have hundreds of emails in your inbox? Or maybe thousands?
And don't even get me started on the number of photos on my phone!
If you're lacking energy and clarity it may be because of the clutter in your online life.
Thanks to technology we have more emails, photos, online accounts, passwords to remember and notifications than ever before.
And this digital clutter can be an invisible drain on your mental, emotional and physical energy.
I propose a digital declutter.
How to Do a Digital Declutter
I'll be working ten minutes a day on one digital decluttering project such as:
-deleting old emails
-deleting old photos
-unsubscribing from unwanted emails
I created a checklist so you can move through the steps at your own pace.
Digital Declutter Checklist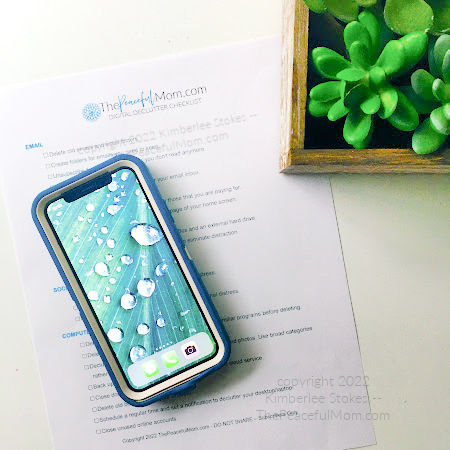 Get the Digital Declutter Checklist HERE.
Move through the steps one at a time for just a few minutes a day and you'll enjoy digital freedom in a short time.
Cheering You On!

Want a simpler life?
Join our simplifying, organizing, life-changing community!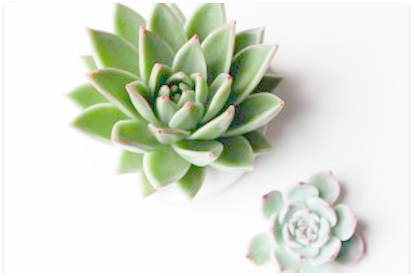 Click here to join The Peaceful Mom Community!
Get weekly encouragement & 10 Minute Organizing Tips
PLUS access to our Organizing and Printable Library including:
10 Minutes a Day Declutter Calendar — focus on one small area each day of the month
Organizing Printables – to organize your life one baby step at a time
Monthly Gifts – because who doesn't love a surprise?

You May Also Enjoy: