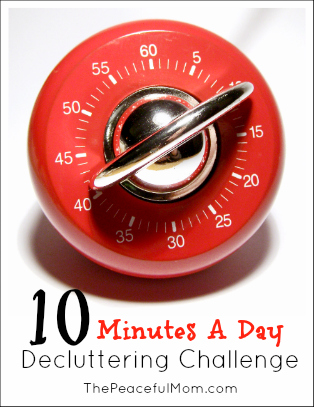 Are you joining us for the 10 Minutes A Day Decluttering Challenge? We are taking just ten minutes a day to declutter one area of our homes to bring peace to our lives and families!
Take a look at these 10 Ten Minute Tasks you can begin right now:
1. Fold and put away a load of laundry.

2. Load the dishwasher.

3. Straighten the linen closet.

4. Declutter one counter top (use the folder method found here)

5. Make a  list of things that need to be done

6. Declutter one surface in the living room (coffee or end table)

7. Re-arrange one shelf.

8. Declutter your entryway.

9. Clear and clean your bathroom counter.

10. Straighten and organize your desk for ten minutes.
What will you declutter for 10 minutes today? Get started!