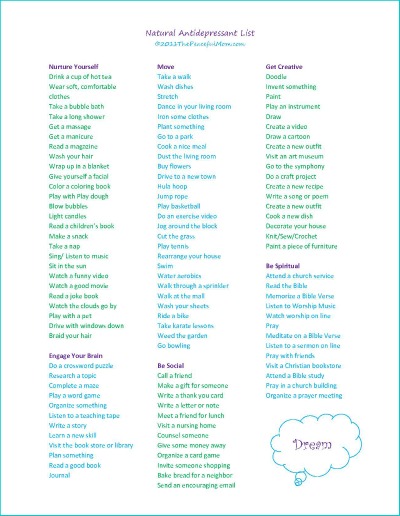 The Natural Anti-Depressant List is a collection of simple activities based on Dr. David Burns short-term strategy to increase positive emotions by engaging in pleasant experiences.
Please Note: This list is not intended as medical advice. If you are struggling with severe depression, please seek the advice of a medical professional trained in the treatment of chemical depression.
Click to print: The Peaceful Mom Natural Antidepressant List
(Click here to print the black and white version–If you print the black and white version, why not hand color or decorate it or at least print it on colored paper so it is attractive to look at.)
Post this list in a conspicuous location like the refrigerator door and try to do one activity a day in order to improve your mood.