Join us for the 30 Day De-Junkify Challenge & get your no-cost de-junkifying checklist!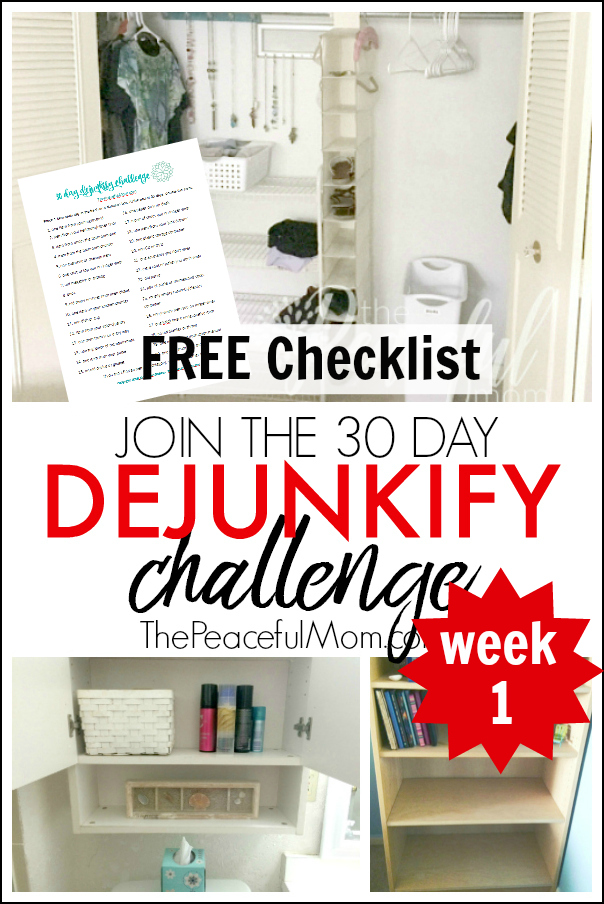 When the world seems crazy and out of control, it feels so good to be intentional with what we can control.
This month we're spending 30 seconds for 30 days in 30 areas of our home to remove the junk. The 30 Day De-Junkify Challenge is helping us to develop the habit of looking for items we can discard on a daily basis — because a little every day adds up to a lot over time.
Sign up HERE to enter to win the 30 Day De-Junkify
Giveaway and grab your 30 Day De-Junkify checklist!
I normally take a photo of each area on the checklist, but we had a very busy weekend so I caught up on days 1-4 today and here's a photo of what I de-junked (minus most of the trash which I just chucked right in the trash can).
From the bedroom/nightstand:
Smoke detector, phone charger and flashlight that no longer work.
Stress ball, phone accessory, eye glass case I no longer use.
Empty gift cards (why were they in my nightstand drawer?).
Decorative tin — I don't even know why I have this.
From the bathroom counter/cabinet:
Soap bottle that should have been thrown away.
(There will be more from the bathroom next week because Day 5 is makeup.)
That's it for Days 1-4. It may not seem like much, but each of these items was in a hidden space that I don't regularly clean so they would have probably stayed there for months or years without this challenge.
I would love to hear how the 30 Day Dejunkify Challenge is going for you, so leave a comment below. 🙂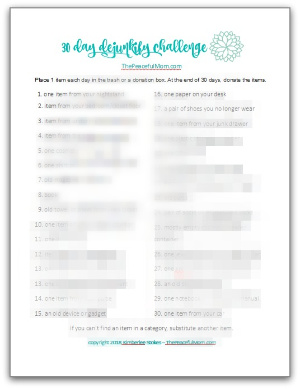 Sign up for the Giveaway and grab your 30 Day Dejunkify Challenge Checklist HERE.
We can do this!

Share the 30 Day De-Junkify Challenge with your friends!
Share the Instagram post HERE.
Use the social buttons at the top or bottom of this post to share on other platforms.
Want a simpler life?
Join our simplifying, organizing, life-changing community!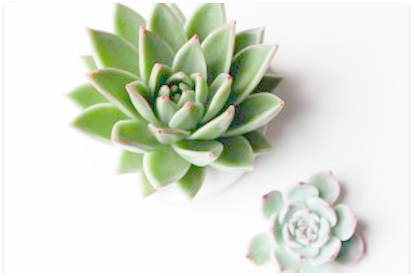 Click here to join The Peaceful Mom Community!
Get weekly encouragement & 10 Minute Organizing Tips
PLUS access to our Organizing and Printable Library including:
10 Minutes a Day Declutter Calendar — focus on one small area each day of the month
Organizing Printables – to organize your life one baby step at a time
Monthly Gifts – because who doesn't love a surprise?