Learn how to survive inflation on a tight budget with these 10 realistic tips.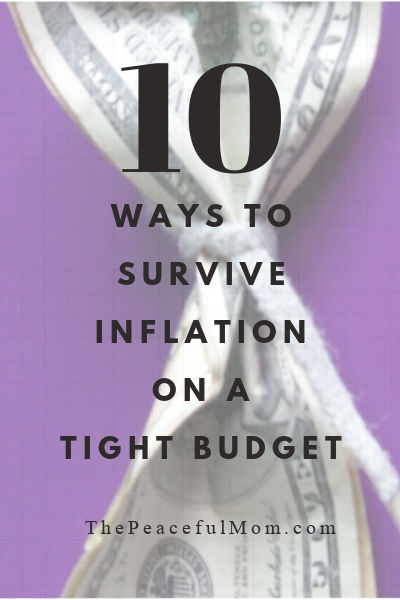 Feeling the pain of rising prices? If you want to know how to survive inflation on a tight budget, I've got 10 super practical tips for you.
UPDATE: My husband is using the Get Upside App to get discounts on gas right now.
Tap HERE to get the app and get an extra 25 cents off per gallon!
How To Survive Inflation on a Tight Budget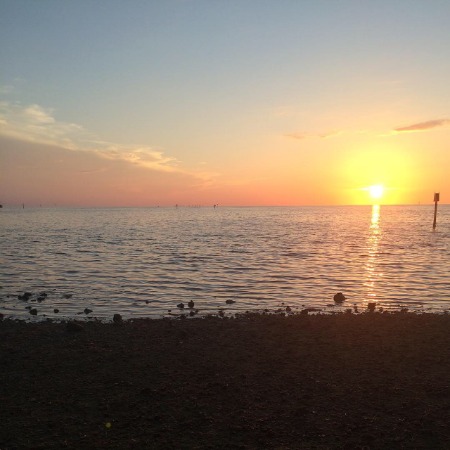 Don't Panic
Constantly watching the news these days can make you think that the world is ending. But the news doesn't determine your personal financial situation – you do!
Take a deep breath and decide right now to calmly assess your own circumstances. Remind yourself that you have resources and you can survive this challenge.
Staying calm can help you to avoid desperate decisions, which will probably end up costing you more in the end.
And maybe avoid the news and any social media accounts that create stress for you.
Pray
Ask God for wisdom and answers for your situation. James 1:5 says,
"If any of you lacks wisdom, you should ask God,
who gives generously to all without finding fault, and it will be given to you."
You can also ask God to provide for you. The Bible is full of examples of God's provision and I have personal stories of God's provision for our family HERE.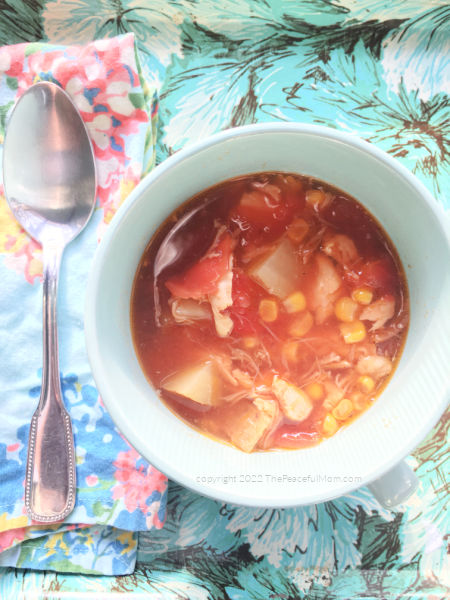 Clarify Your Necessities
In challenging financial times it's especially important to clarify what your actual needs are versus your wants.
Eating every day is a need. Eating out is a want. Drinking water every day is a need. Drinking coffee every day is not (although I admit, some people will disagree with me on this!)
Your true needs are:
shelter (including utilities like power)
basic food
water
basic transportation if you work outside your home
You can read more about the concept of needs vs. wants HERE, but prioritizing what you actually need can relieve some of the pressure on your budget and your mind.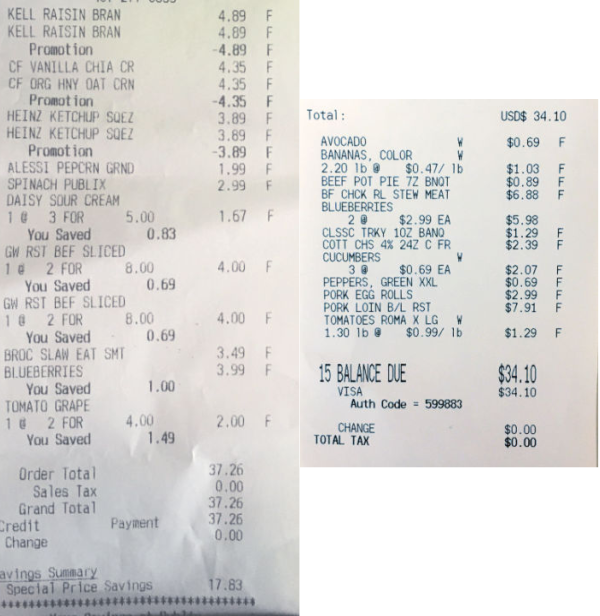 Review Your Spending
Look over your spending for the last couple of months and make a spreadsheet or list of where your money went.
Next make a list of any areas where you can make adjustments. Are you spending money on entertainment that you can use for necessities? Can you cut your grocery spending by purchasing less convenience food?
You're not committing to any changes at this point, simply researching to make a plan.
Seek Alternatives
At this point you can begin to seek out alternatives so you can spend less.
To cut transportation costs, can you carpool or use public transportation some days? Is it cheaper to go to the grocery store yourself rather than using a delivery service? Are there gas discounts offered with your wholesale club membership? (We are currently getting a discount with a program RaceTrac offers. UPDATE: My husband is using the Get Upside App to get discounts on gas right now. Click HERE to read more about the app and get an extra 25 cents off per gallon!)
Can you find a cheaper studio for your child's martial arts or dance lessons? Is it possible to get a roommate? (Many people are looking for housing now that rents have increased.) Use cheaper alternatives for entertainment like free festivals or checking out DVD's from the library rather than paying for streaming services.
Brainstorm all the possible alternatives, then make a list of the most viable changes you can make.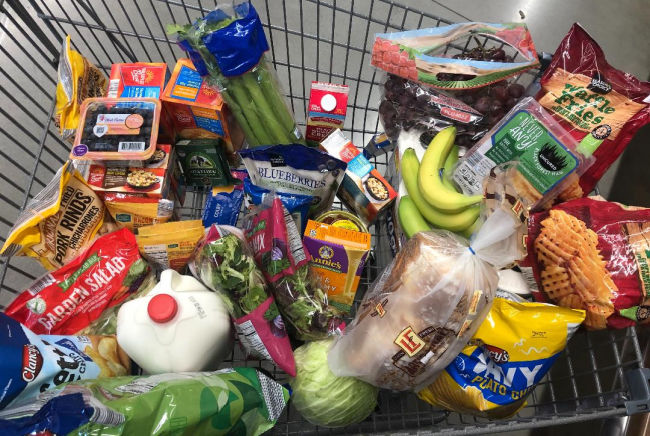 Creatively Face Shortages
Choosing an alternative in order to save money feels empowering. Being forced to make a choice to go without something because of a shortage can make you feel powerless.
Instead of allowing a shortage to frustrate you, think of creative ways you can work around the problem. For example, if you had planned to make a recipe but can't find an ingredient, some options are:
think of an ingredient you can substitute;
decide if the recipe will still work without that one ingredient;
choose an alternate recipe.
Your choices may be limited, but if you can face the challenge with creativity you will thrive in the midst of the hardship.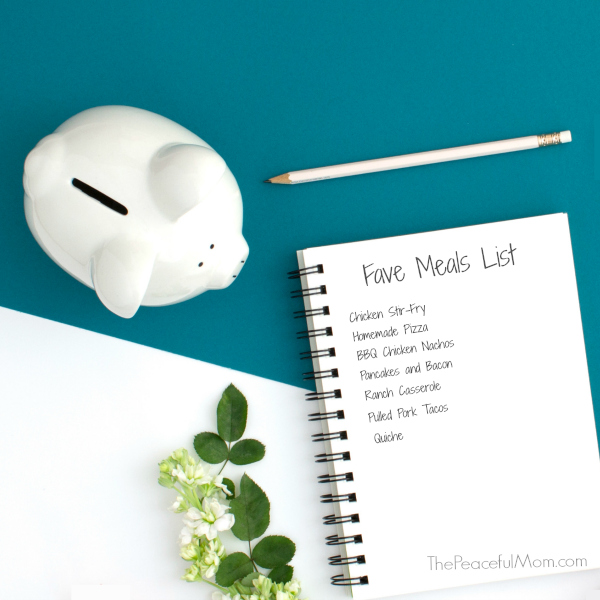 Plan Ahead
Planning is your best friend in times like these, and not planning is definitely costing you money.
Make a grocery list before you go to the store. Plan the route of your errands so that you drive less or take care of them on the way home from work. Plan your entertainment rather than spontaneously going to the movies because it's the easiest choice.
Thinking ahead gives you more choices and enables you to save money.

Limit Waste
Look for ways you're wasting money. Maybe it's buying food and letting it go bad before you eat it because you don't have a meal plan.
Maybe it's paying for subscriptions you're not really using.
Or you may be wasting gas by not planning your driving.
Look for ways to cut out the waste in your life and you will immediately save money.
Utilize Available Resources
Resources like money saving apps can help, and most communities have additional ways to help those who are experiencing financial hardship like rental assistance or food.
Check with local churches and law enforcement offices who can direct you to resources in your area, or you can search for food banks operating close by.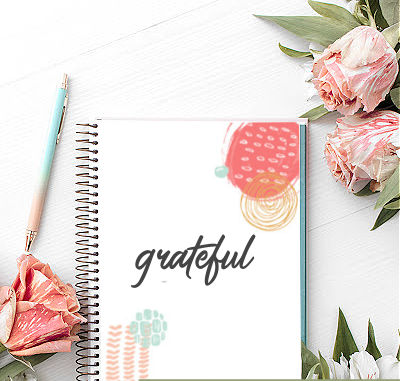 Express Your Gratitude
Finally, be thankful for what you do have. Make a list of all the tiny blessings in your life: running water, air to breath, a place to live, relationships.
While these times are challenging, we each have something for which we can be grateful.
I would love to hear YOUR strategies for surviving inflation on a tight budget, so please leave a comment. 🙂
Cheering You On!

Want a simpler life?
Join our simplifying, organizing, life-changing community!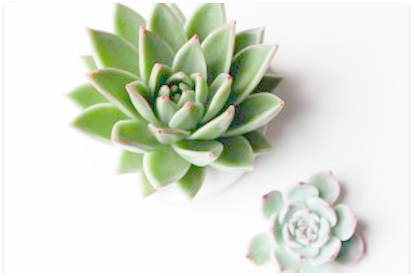 Click here to join The Peaceful Mom Community!
Get weekly encouragement & 10 Minute Organizing Tips
PLUS access to our Organizing and Printable Library including:
10 Minutes a Day Declutter Calendar — focus on one small area each day of the month
Organizing Printables – to organize your life one baby step at a time
Monthly Gifts – because who doesn't love a surprise?

You May Also Enjoy: