Hey Friend!
This month we're taking time to celebrate the good, the beautiful, and the wonderful in our lives and bringing some "happy" back.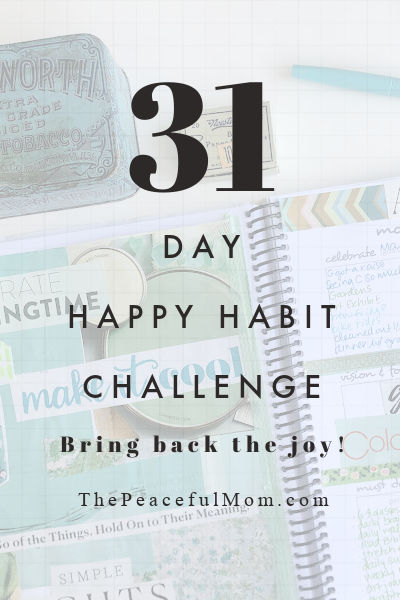 You can join the 31 Day Happy Habit Challenge HERE and get a fun habit tracker printable.
In honor of bringing back the joy I thought I'd share a few things that are making me very happy right now.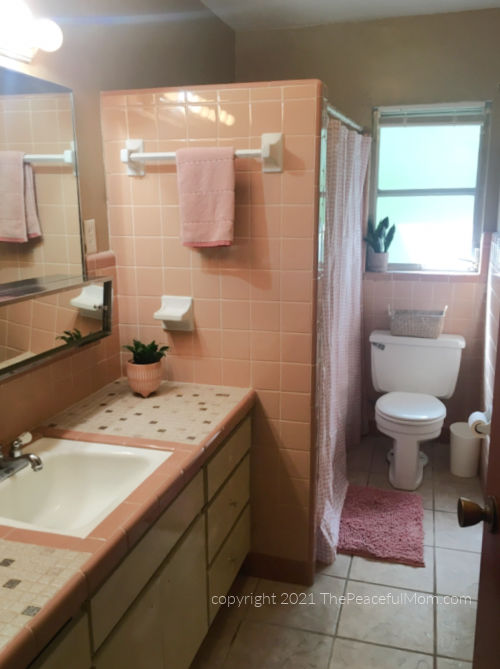 My Vintage 1950's Bathroom
One of the best features of our new house is this mostly intact 1950's vintage bathroom complete with original tile and chrome horizonal mirrored medicine cabinet.
Based on most HGTV shows, vintage is out and needs to be "updated".
Well, I LOVE this bathroom in all it's ancient glory. It reminds me of my grandmother's house even though the colors are different, and nostalgia is a comforting feeling in these times.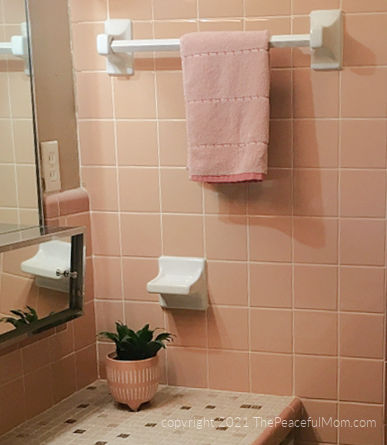 I'm so happy that the tile is a beige-y peach which is an "in" color right now so I've been able to find accessories like the cute planter that matches the tile exactly!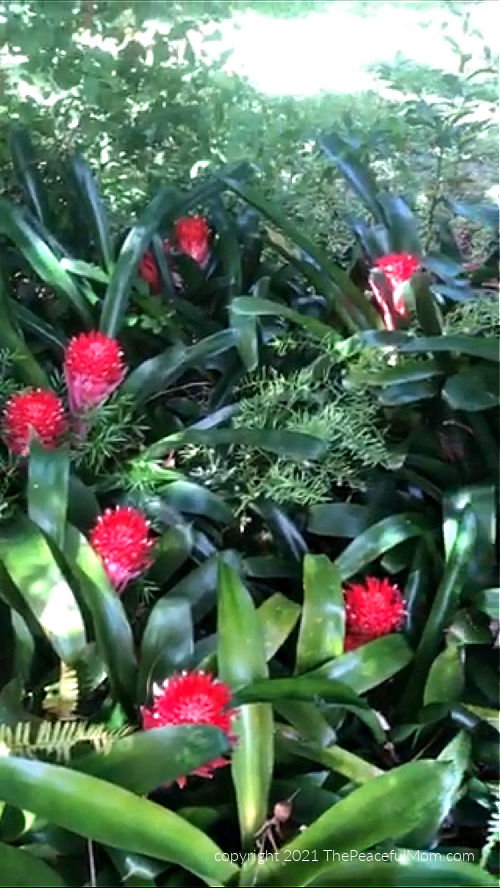 My Garden
Another phenomenal feature of our new house is the beautiful garden the previous owners planted. Every week something new is blooming like these "Flaming Torch" plants that are absolutely stunning.
It's such a blessing to be able to enjoy this beauty right in my own yard.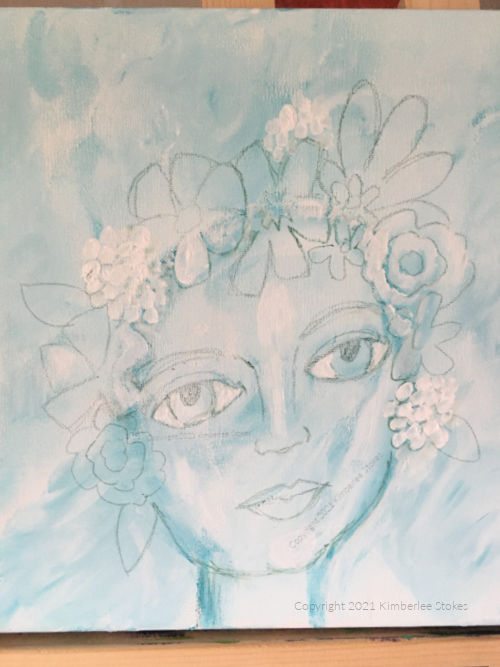 Painting Again
With all of the busyness of decluttering and packing up our previous house, trying to find a new house (which was months of CRAZYNESS!) and then moving, I stopped doing any kind of art work.
And I really missed it.
Recently I began painting and sketching again and it's making me so happy! (The photo above is the initial sketch of a work in progress.)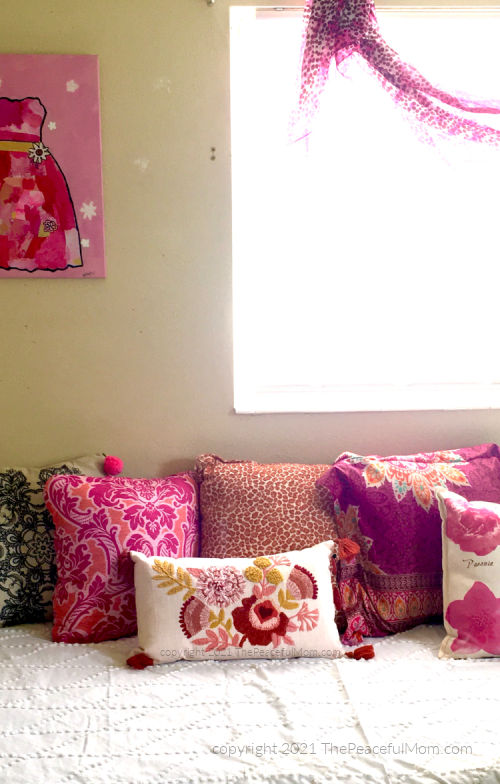 This Corner of My Office
There's plenty in our new house that's unfinished, undone and downright ugly, including these walls that desperately need paint.
But this corner of my office makes me happy every time I look at it.
-My artwork reminds me how much I love to create happy mixed media art.
-The window treatment (a thrifted scarf) reminds me to be content and use what I have.
-The decorative pillows remind me to live a colorful and crazy life.
I purchased most of the pillows at the thrift store for just a few dollars each. (The second pillow from the left is actually a t-shirt.) And when I saw the embroidered pillow in the center at Target last week I knew it would be the perfect addition — so I paid WAY too much for it.
Sometimes you just have to buy the thing.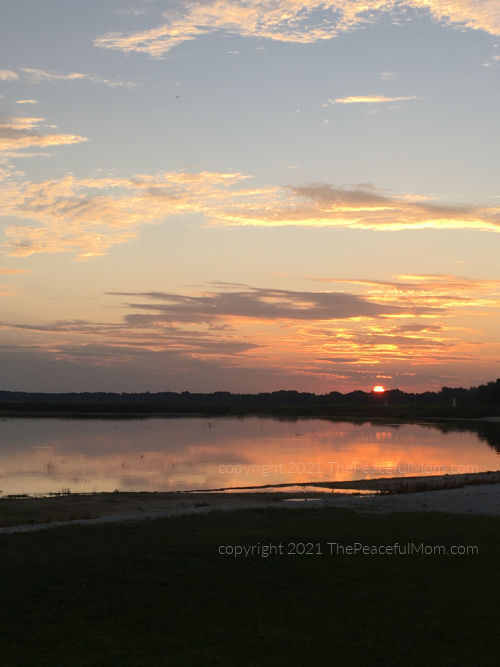 Sunsets on the Lake
We were able to find a home just a short walk to a big beautiful lake. I'm loving taking a bike ride in the evenings to enjoy the gorgeous sunsets over the water. It's a sweet ending to our days.
Yes, all of these things are temporary and circumstantial, but that's what happiness is — enjoying the momentary good in your life. While joy is more lasting and something that we can access at any time through the Holy Spirit in spite of our circumstances, God also gives us tiny blessings that can increase our happiness.
I would love to hear what's making you happy these days so leave a comment. 🙂
Cheering You On!

Want a simpler life?
Join our simplifying, organizing, life-changing community!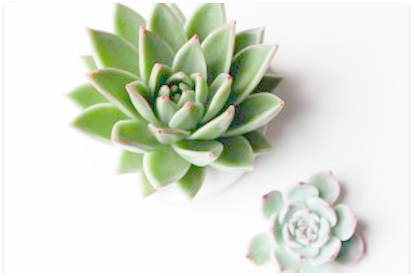 Click here to join The Peaceful Mom Community!
Get weekly encouragement & 10 Minute Organizing Tips
PLUS access to our Organizing and Printable Library including:
10 Minutes a Day Declutter Calendar — focus on one small area each day of the month
Organizing Printables – to organize your life one baby step at a time
Monthly Gifts – because who doesn't love a surprise?