Take a peek at my monthly vision board for March (plus learn how to make your own!).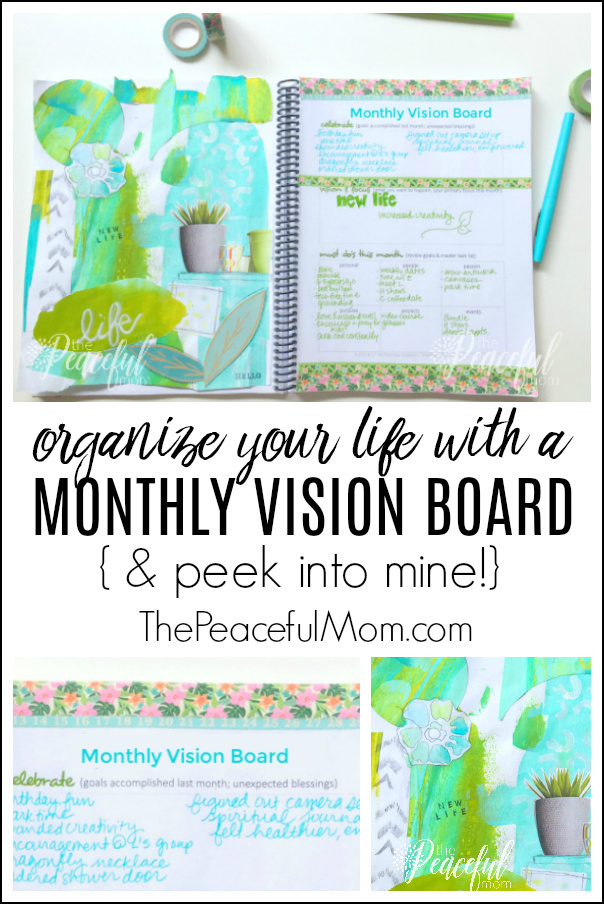 Have you made your vision board for March yet?
Creating a monthly vision board helps you to:
envision what you want to accomplish;
stay focused;
stay motivated.
In the past I created a vision board for the entire year, and while I do have goals for the year, I now create Monthly Vision Boards because the short window of time helps me to create more specific and do-able goals — and actually accomplish them!
My Monthly Vision Board for March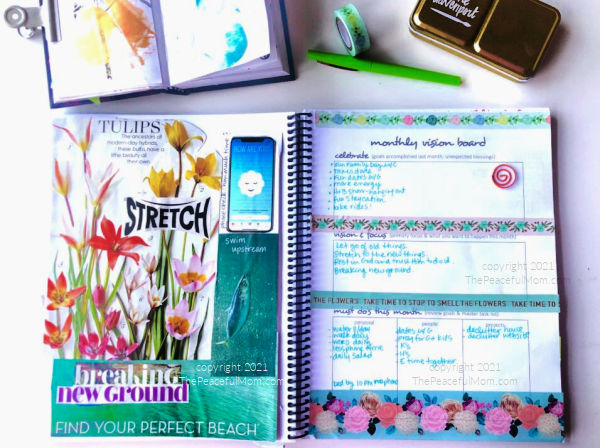 I use the Joyful Life Playbook and Planner because it:
has more structure than a bullet journal (it's too easy to skip days and weeks in a bullet journal);
allows flexibility within the structure because of the many blank sections;
prevents me from being distracted by my phone when I'm planning because it's a paper planner.
See how I organized with a bullet journal HERE. I switched back to the Joyful Life Playbook and Planner because I found that I needed the reminders that a calendar and weekly plan provide, otherwise I lose focus.
This month I created a collage of words and images that symbolize what I want to happen this month and taped the page over the monthly calendar section. I also added washi tape (mostly Recollections brand from Michael's) to the the right side of the vision board.
(See my fave planning supplies HERE.)
HOW TO MAKE A MONTHLY VISION BOARD
To make my monthly vision board work I include three steps:
Celebrate
The first step in making an effective monthly vision board is to take a look back and celebrate all of the blessings, happy happenings and accomplishments of the previous month.
Some of the blessings and successes from February:
fun family day outing
taxes are done — woohoo!
inexpensive dates with my hubby
having more energy
fun staycation with my hubby
Vision and Focus
The next step in creating an effective monthly vision board is to think about what you want to happen in the upcoming month so you can narrow your focus to what's really most important for the next few weeks.
This month I'm:
letting go of old things – continuing to declutter my home and life
stretching myself to do new things
resting in God and trusting Him with everything
Must-Do's for March
The final section of a good monthly vision board is the list of actions you need to take for the upcoming month. I review my goals for the year and quarter then plan my action steps for the month.
PERSONAL
daily brain dump
daily Bible reading
practicing daily gratitude
drinking 6-8 glasses of water daily
walking for exercise daily
eating a salad every day
bed by 10 – 10:30 nightly
PEOPLE
(marriage) weekly dates with my husband ($10 Date ideas HERE)
(marriage) loving and honoring my husband in tangible ways
(young adult kids) pray for my children daily
(young adult kids) text/call each child weekly
(friends) having a get together with two families
(friends) weekly phone call with at least one friend
(friends) coffee date with 1 friend
PROJECTS
(money) give from every paycheck; pay $100 toward debt; save $100;
(home) continue the decluttering and organization of our home;
(biz) post at least once a week on the website and on Instagram;
(biz) clean up old posts and photos on my website;
(personal) gratitude journaling.
If you haven't tried creating a monthly vision board, I encourage you to start this month. You'll be amazed at how it helps you to focus and get those tasks done that really matter the most to you.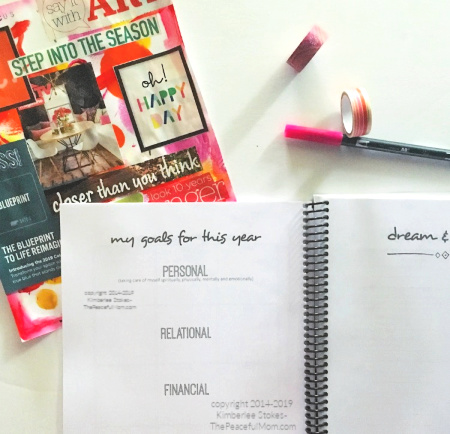 If you want a planning system that incorporates a monthly vision board as well as other creative organizing tools, try the Joyful Life Playbook/Planner.
It's the system I've used for the past six years to create a life I love.

Tap HERE to read more about it.
I would love to hear about your vision for this month, so leave a comment or a link below.
Happy Planning!

Want a simpler life?
Join our simplifying, organizing, life-changing community!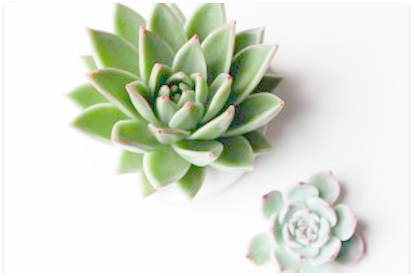 Click here to join The Peaceful Mom Community!
Get weekly encouragement & 10 Minute Organizing Tips
PLUS access to our Organizing and Printable Library including:
10 Minutes a Day Declutter Calendar — focus on one small area each day of the month
Organizing Printables – to organize your life one baby step at a time
Monthly Gifts – because who doesn't love a surprise?

You May Also Enjoy: