Join the 31 Day Declutter Challenge and grab a free declutter checklist.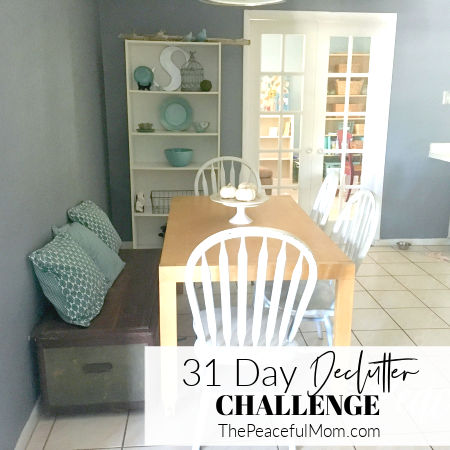 Hey Friend!
Feeling a little overwhelmed by the clutter in your spaces?
Now that we're spending more time at home, it's even more important to have clean, uncluttered spaces.
So let's do something about it!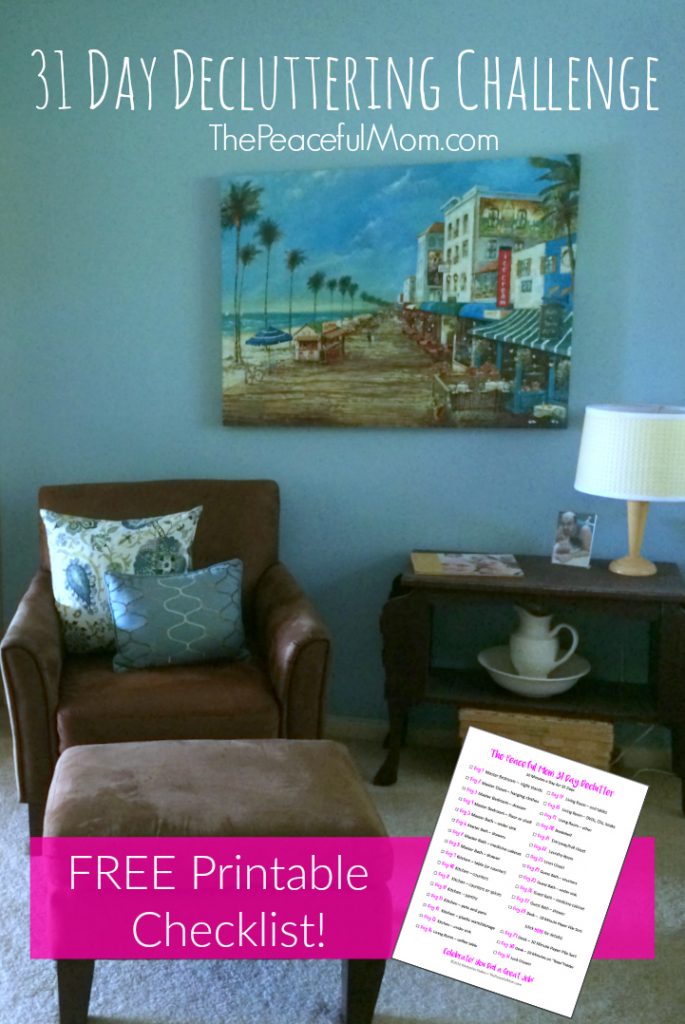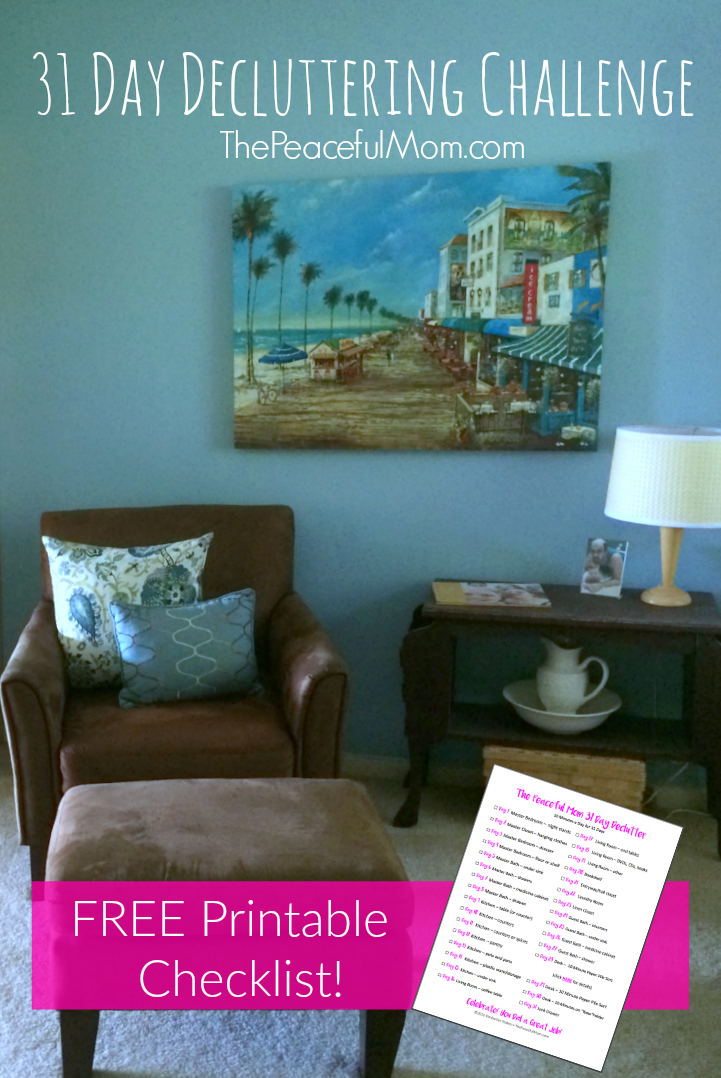 3 Reasons to Join the Spring 31 Day Declutter Challenge
Warmer weather is just around the corner, and now's the perfect time to declutter so we can spend more time outside and not worry about our homes being a crazy mess.
Here are three other great reasons you should join me for the Spring 31 Day Declutter Challenge.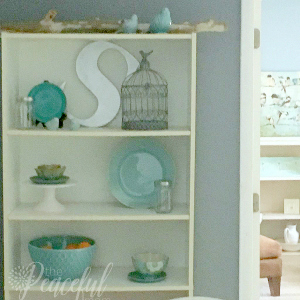 You Need More Space
If you're like me, over the holidays and winter months you accumulated more items in your house.
And you probably didn't take the time to remove any of the items you already owned, so now is a great time to clean out those closets so you can have a more organized space.
You Need More Money
Believe it or not, your clutter is costing you money. You probably buy extras because you can't find items you need. And you may even make extra trips to the store or buy more online because your clutter keeps you disorganized.
If you have a serious clutter issue, you may choose to spend time away from home to avoid dealing with it. Spending time away from home costs money: eating out, gas to drive to different locations and unnecessary purchases because you see something and "have to have it".
And you may be able to MAKE money by selling some of your nicer items on Facebook Marketplace.
You Need More Energy
Clutter not only costs you money, it also drains you emotionally, mentally and even physically. And when you feel drained, you won't take the time to plan and cook meals, or do other money-saving activities.
Maybe you're the kind of person who has trouble remembering things when you can't see them. If you keep piles of stuff lying around as reminders instead of using a calendar or other organizational system, maybe it's time to rethink your strategy.
The problem with the "leave-it-out-so-I-can-see-it-because-when-I-see-it-I-remember-it" method is that each pile represents an undone task, which causes guilt and a mental "tie" to that task. The guilt and mental load drain you, which means that you don't have the energy to actually do something about the piles of stuff. Getting rid of some of those piles and stacks will enable you to be more at peace.
If you're ready to get rid of that clutter, join me for the Challenge.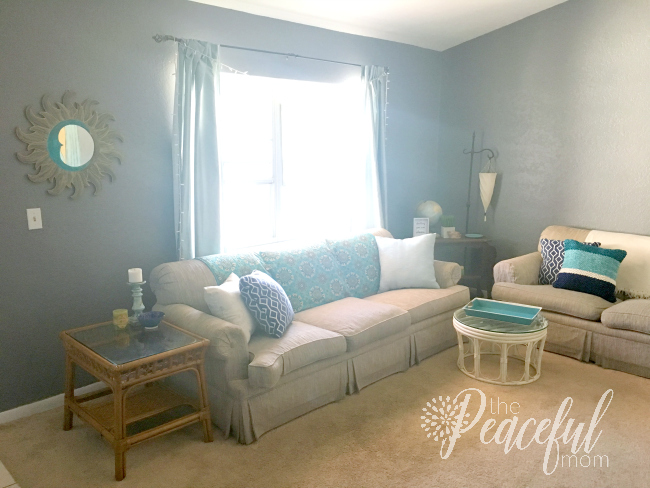 How to Join the 31 Day Declutter Challenge
To join us for the challenge and giveaway: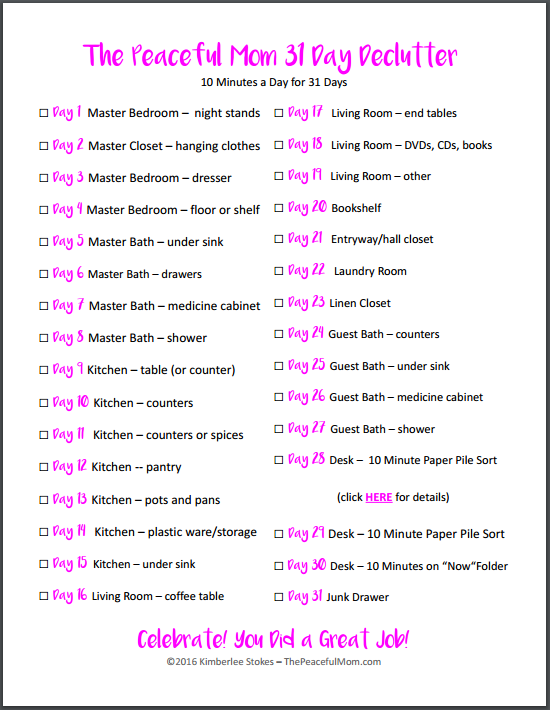 1. Join The Peaceful Mom Community HERE.
If you'd like to join me, you can choose one focus area or room, or you can use my free 31 Day Decluttering Checklist (pictured above) with simple daily 10 minute decluttering tasks for each area of your home.
When you join, you'll receive a confirmation email, then a welcome email with instructions to print your 31 Day Declutter Checklist plus other goodies! (If you're currently receiving my weekly emails, no need to rejoin. The Checklist is in the Resource Library.)
2. Leave a comment on THIS post telling me your goal for this 31 Day Decluttering Challenge.
Everyone who joins and leaves a comment on THIS post will be entered to win:
3. Gather your supplies.
You'll need:
a donate-able box for "GIVEAWAY" items
a laundry basket or bin for "PUT AWAY" items
a trash can or paper bag for "THROW AWAY" items
4. Spend just 10 minutes a day decluttering.
PLEASE NOTE: This is not a comprehensive, whole-house declutter. We're spending ten minutes a day hitting some hot spots with this checklist.
But, of course, you should do what works best for you, so if you want to substitute a different room one day or focus one one room for the entire month, the choice is completely yours.
For this particular challenge:
Commit to 10 minutes a day. Every morning, afternoon or evening for the next 31 days, spend 10 minutes in one room filling those boxes with the clutter that you see.
Immediately disperse the items. At the end of your ten minutes, put the "THROW AWAY" items into the trash immediately. Place the "PUT AWAY" items where they belong. Store the "GIVE AWAY" box in a closet until the next day. On your next errand day take the "GIVE AWAY" items to your local thrift store or donation center. And don't go back through the box again before you donate it!.
If you declutter one area a day for just ten minutes, you'll be amazed at how much you can accomplish in the next few weeks. The clean spaces in your home will fuel your motivation to continue and before you know it, you'll have a clean, decluttered house!
31 Day Declutter Challenge Giveaway Rules

– One entry per household. A comment on THIS post only constitutes an entry. Comments on social media will not count as entries.
— Prizes include $25 PayPal cash, and one DIGITAL product from The Peaceful Mom Shop.
— Contest is open to all U.S. residents. Only U.S. residents in the contiguous United States will be able to receive the physical prizes due to shipping costs.
— Contest ends March 31, 2021 at 12 a.m. EST.
— Winner will be randomly selected from the comments on THIS post using third party software and will be notified by email.
— Winner must reply by email within 24 hours or forfeit prize.
That's it!
I'll update you on my progress and I would love to hear how you're doing as well, so feel free to post on Facebook, Instagram or Twitter with the tags #TPMDeclutter and #31DayDeclutter!
We Can Do This!

You May Also Enjoy: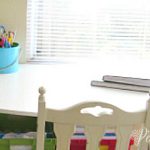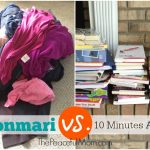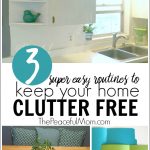 Want a simpler life?
Join our simplifying, organizing, life-changing community!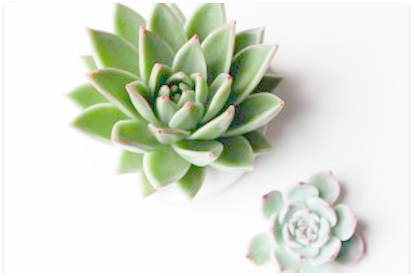 Click here to join The Peaceful Mom Community!
Get weekly encouragement & 10 Minute Organizing Tips
PLUS access to our Organizing and Printable Library including:
10 Minutes a Day Declutter Calendar — focus on one small area each day of the month
Organizing Printables – to organize your life one baby step at a time
Monthly Gifts – because who doesn't love a surprise?