See my progress in the 31 Day Declutter Challenge and share yours!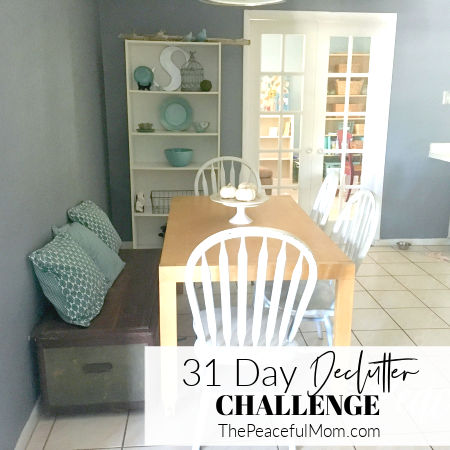 31 Day Declutter Challenge
We're one week into the 31 Day Declutter Challenge so I wanted to give you an update on my progress and hear about yours. (Be sure to leave a comment or a link below.)
Decluttering Challenge Update
I don't know about you, but I find that sometimes the clutter is made up of items I don't want to get rid of, but I just need to find a place for them. (One of the first rules of organization is "A place for everything and everything in its place.")
That was my first problem for this challenge because last month when we visited my mom I brought back several boxes of items that were my grandmother's. I want to keep them, but I hadn't unpacked the boxes so they were just cluttering up our living space.
OFFICE BEFORE
The first area that I addressed was my office.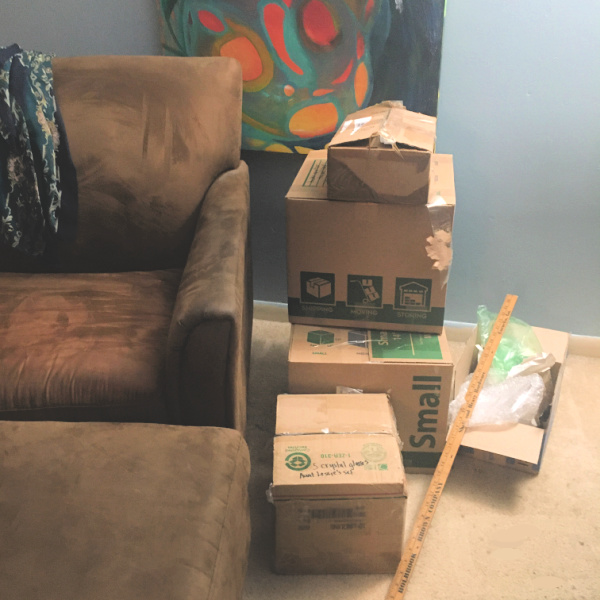 I had stacked several of the boxes here, so I unpacked these.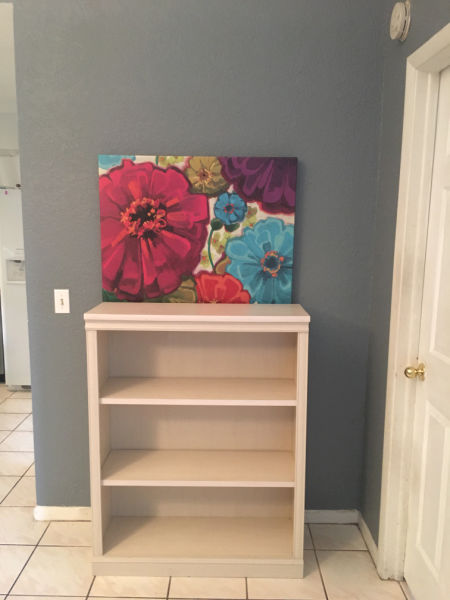 I also cleaned off this shelf.
Unfortunately I forgot to take a before photo but it had become a serious hot spot for clutter. I originally moved it there temporarily when I cleaned out my office a few months ago and then I couldn't decide what to do with it so I left it there on the wall across from the breakfast nook and outside our bedroom.
I decided that I did want to use the shelf in my office so I cleaned it off and moved it back.
OFFICE AFTER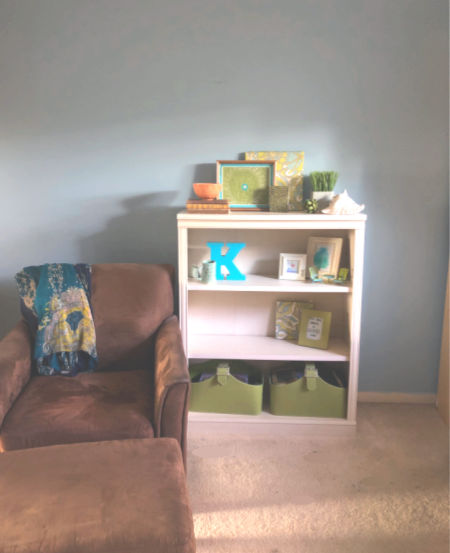 It's not fully "styled" yet, but here's the shelf in my office space.
DINING ROOM WALL AFTER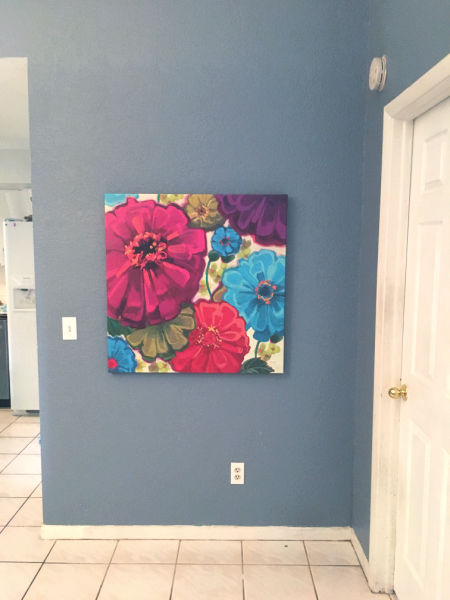 And now this wall is uncluttered …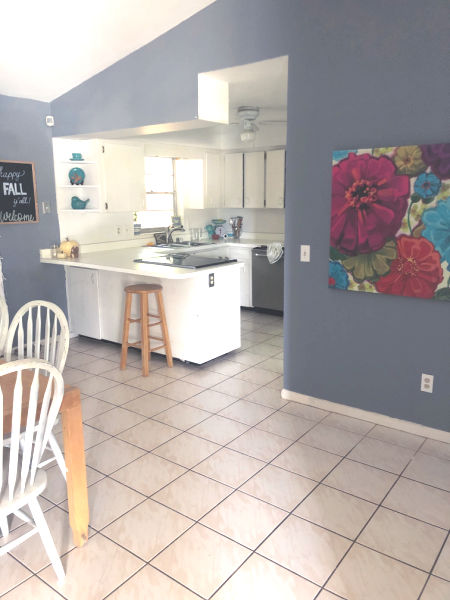 and it really opens up the space.
(Please note our Fixer Upper kitchen that I desperately want to update, but with which I am learning to be content. It could be A LOT worse.)
UNPACKED ITEMS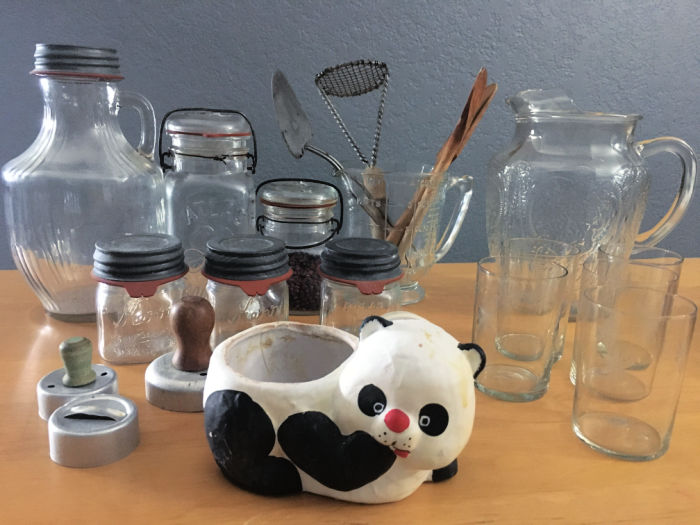 And these are some of the items I unpacked. I just love antique glassware and this vintage panda planter was too cute to pass up.
In upcoming weeks I will actually be discarding items instead of just unpacking them — LOL!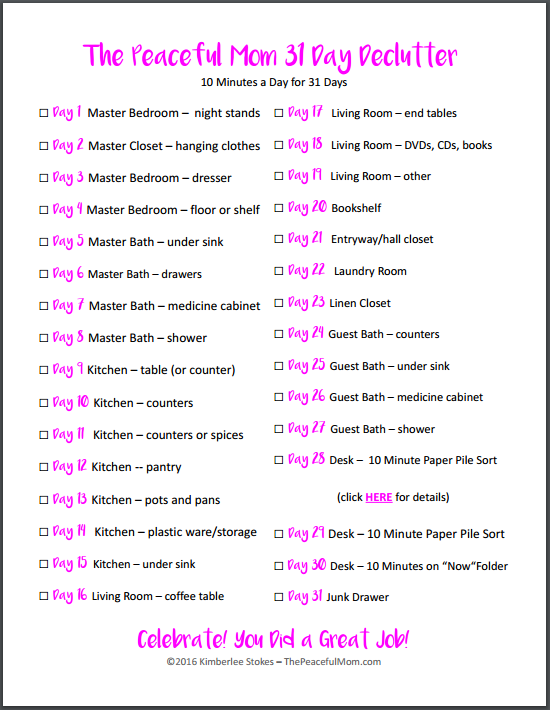 If you'd like to join me, you can choose one or two focus areas like I am, or you can use my free 31 Day Decluttering Checklist with simple daily 10 minute decluttering tasks.
Read THIS POST for all the 31 Day Decluttering Challenge details and how you can win prizes!
Leave a comment to let me know how your decluttering is going — and remember our motto:
Progress, Not Perfection.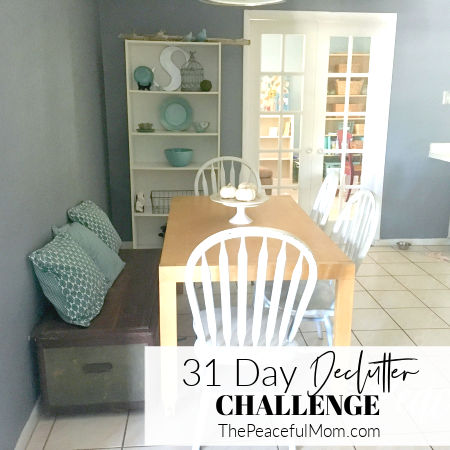 Invite your friends to join you!
Share this post on Facebook.
Share this post on Instagram.
We Can Do This!

Want a simpler life?
Join our simplifying, organizing, life-changing community!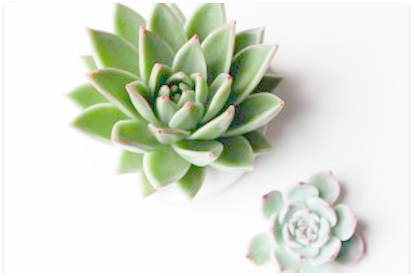 Click here to join The Peaceful Mom Community!
Get weekly encouragement & 10 Minute Organizing Tips
PLUS access to our Organizing and Printable Library including:
10 Minutes a Day Declutter Calendar — focus on one small area each day of the month
Organizing Printables – to organize your life one baby step at a time
Monthly Gifts – because who doesn't love a surprise?

You May Also Enjoy: