Life can be confusing.

According to Google, over 170,000 people A MONTH are searching the term "What is the meaning of life?"
It seems like most of us want to know why we're here and what our purpose is.
So do you know yours?
In our SHIFT Challenge, our fourth shift is to Live Your Purpose.
You Have a Purpose
First of all, you need to know that there IS a reason you're here on this planet.
God created you as a completely unique individual from your finger prints to your pupils, from your personality to your skin color.
And He created you for two reasons:
so that He can enjoy you and pour His love into you in a personal and individual way;
so that you can reveal God's love to others in completely unique and creative ways.
There are specific people all around you that only you can encourage, love, and bring life to because of who you are.
Your Purpose is NOT What You Do
And speaking of who you are, I heard a quote a few weeks ago from Edie Wadsworth that rattled me to my core. I just couldn't get it out of my head.
"Your purpose isn't what you do, it's who you are."
Being a deep thinker, I've consistently searched for my purpose over the years. This quote brought so much clarity because it helped me to see that it isn't about a job title or my list of accomplishments.
It's about who I was uniquely created to be.
My purpose is simply to receive God's love and allow Him to transform me so that I can show those around me who HE is.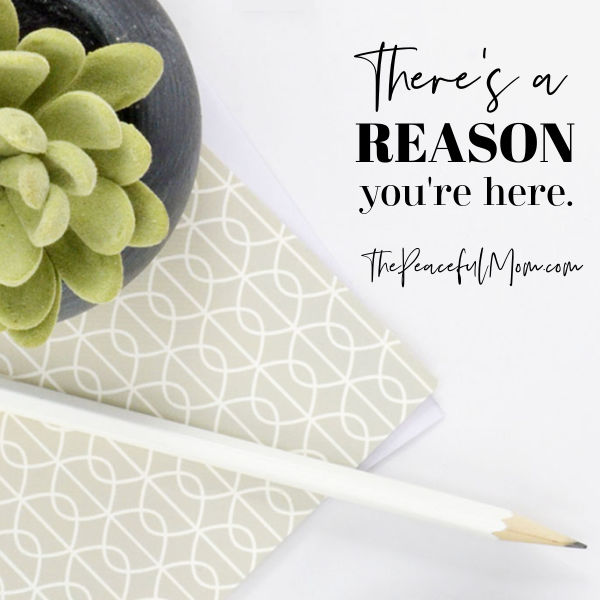 How to Live Your Purpose -Your Life Mission
When you hear the words "life mission", you may feel a bit overwhelmed. A life mission is simply a statement (or paragraph) that clarifies who you are and what you want to do in life.
My personal definition of a life mission is a brief, concise summary of the roles and relationships that I was created to fulfill. To help me to determine that mission I like to ask the question,"What can only I do?" Because I am created uniquely there are tasks, relationships and accomplishments purposed just for me.
It's also important to know that your life mission is a journey and will shift a little over time as you walk through different seasons.
Why Do I Need a Life Mission?
Knowing your life mission enables you to focus on what's truly most important and live your life without regrets.
Knowing your life mission can:
energize you and unlock motivation to take the action steps needed;
empower you to focus on your top priorities;
fortify your resolve to say "no" to those activities, tasks and people that move you away from your purpose;
enable you to push through difficulties because you know you have a higher purpose;
give you hope and vision in your everyday life;
increase your intimacy with God as you pray about your life mission and work with Him to accomplish it.
Knowing your life mission helps you to find a higher purpose in everything you do.
How to Discover Your Life Mission and Purpose
There are many methods you can use to create your life mission statement, but I like to focus on my current season of life and ask these questions:
What are my current roles?
List nouns that describe you and your most important roles such as wife, mother, teacher, encourager, organizer, coach, chef, etc.
Remember that your purpose is who you are, not what you do. So for example, I'm a teacher even though I'm not currently teaching professionally. It's something ingrained in me that I do naturally where ever I am.
Examining your roles may lead you to discover that you are currently in a role that doesn't really fit who you are. If that's the case, begin to think about any changes you need to make.
What are my top priorities for this season?
List action verbs that describe your most important tasks and activities in this season of life.
Some actions you might list could include:
love my husband well;
nurture, teach and feed my children;
finish my degree so I can
The more specific you can be with this list, the easier it will be to craft your mission statement.
What are my unique strengths, talents, gifts and personality quirks?
List adjectives that describe you. What do you love doing? What do people say you are good at doing? What makes you unique?
For example:
creative
funny
good listener
administrative
musically talented
organized
great writer
good with math
What are the tasks/activities that only I can do to accomplish these top priorities?
This may be the most challenging part of crafting your mission statement, but it's probably also the most important. To fully live out your purpose you need to determine what tasks and activities only you can do.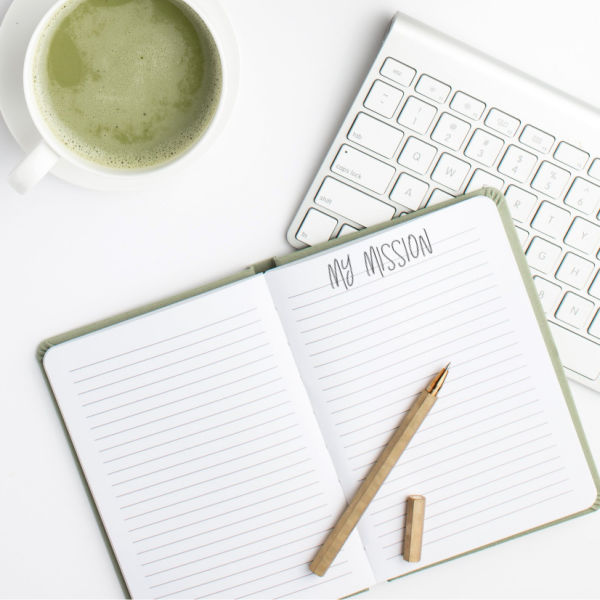 Craft Your Life Mission Statement
Using words, ideas and phrases from these three elements, create a paragraph or a series of statements that describe your life mission in this season of life.
Here's my (work-in-progress) life mission statement:
-As a child of God, I want to maintain an intimate spiritual connection with God at all times so I can receive His love for me and show His love to others.
-As a wife, I want to foster a vibrant, loving and respect-filled relationship with my husband and help him to become all that he is created to be.
-As a mom, I want to encourage, nurture and counsel my children to have a real and intimate relationship with God so they can fulfill their individual destinies in Him.
-As a creative, down-to-earth encourager, I want to enable others to connect to God in real ways so they can successfully accomplish all that God has called them to.
Remember, this is a journey.
Your life will shift and adjust through many seasons, but you can start shaping your life mission with where you are now. Just begin by writing down your thoughts and you can work on your mission statement over time.
Find Your Why
Knowing that you were created to be loved and to love others brings a higher purpose to everything you do. The mundane and monotonous can become sacred. When we focus on the "why" behind those tasks, we can do them with a more positive attitude and more joy.
As I wash my husband's work clothes, I can be thankful that he has a job and pray for him while he's there.
As I plan our meals for the week, I can think about how I'm nurturing my family by feeding them.
As I declutter my home, I can focus on how I want to create a restful space for my family and everyone who enters.
As you work, spend time with your family and take care of all those tasks on the to-do list, try to remember the bigger picture of why you're doing what you do.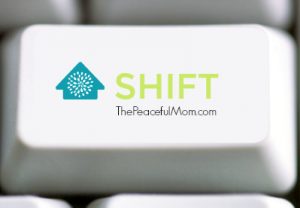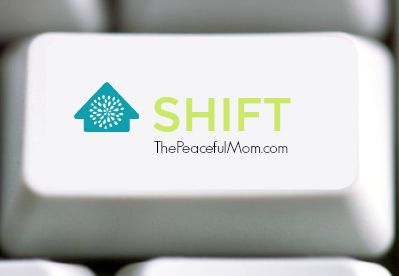 This Week's SHIFTs
This week we're going to begin thinking about all of the aspects of our life through the lens of our life mission and purpose. We're going to think about the "why" behind what we're doing and do everything with our life mission in mind.
S

AVINGS

Are you spending your money with your life mission in mind? Do you need to make a purchase to further your purpose? Can you give to a cause you believe in or save to create an unforgettable experience for your family? Think about how you can let your life mission inform your spending decisions.
H

OME

How can you view your home with a higher purpose in mind? Focus on creating a peaceful haven for your family. Take some baked goods to a neighbor to initiate a relationship. Invite a young woman who needs a listening ear over for coffee. Begin to see your home as a tool to move toward a higher calling.
I

DENTITY

Believe that God created you to receive His love and think about each of the ways you are completely unique from those around you. Rest in His personal love for you and look for ways He's revealing that love to you.
F

AMILY

Does your family have a mission statement? This week, think about what the purpose of your family could be. Does your family like to laugh a lot and play games? Do you enjoy hosting others in your home? Are you all talented musically? Do you have a love for the elderly and serve together in a nursing home?

Think about how you can use your family culture to encourage and influence others.
T

IME

Let's be purposeful with our time by making a plan for our week with our purpose and calling in mind. If a top priority is nurturing your marriage, schedule a specific time to do something fun with your husband. Create a habit of praying for your children before they leave for the day so that they can focus on their purpose.

Remember, SHIFT is about refocusing on our top priorities and realigning ourselves with our values, not about stress.

If you're feeling overwhelmed, begin ONE of the actions I mention above and just begin thinking about your life mission and purpose.
My Shifts
This week I'm focusing on how I can align my life even more with my life mission for this season. I think creating more art is a part of that.

Share the SHIFT Challenge with your friends!
Tap HERE to share on Facebook.
Tap HERE to share on Instagram.
And be sure to leave a comment on THIS POST to enter to win $75 Pay Pal cash — yay!
I would love to hear which SHIFTs you will be making so leave a comment!
Living with Purpose!

P.S. – It's a good idea to post your mission statement somewhere you'll see it on a regular basis.
Want a simpler life?
Join our simplifying, organizing, life-changing community!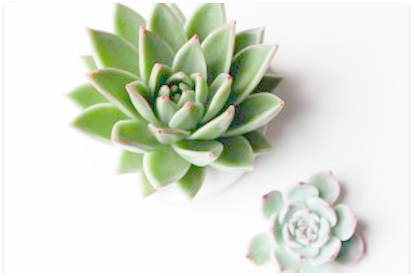 Click HERE to join The Peaceful Mom Community!
Get weekly encouragement & 10 Minute Organizing Tips
PLUS access to our Organizing and Printable Library including:
10 Minutes a Day Declutter Calendar — focus on one small area each day of the month
Organizing Printables – to organize your life one baby step at a time
Monthly Gifts – because who doesn't love a surprise?

You May Also Enjoy: