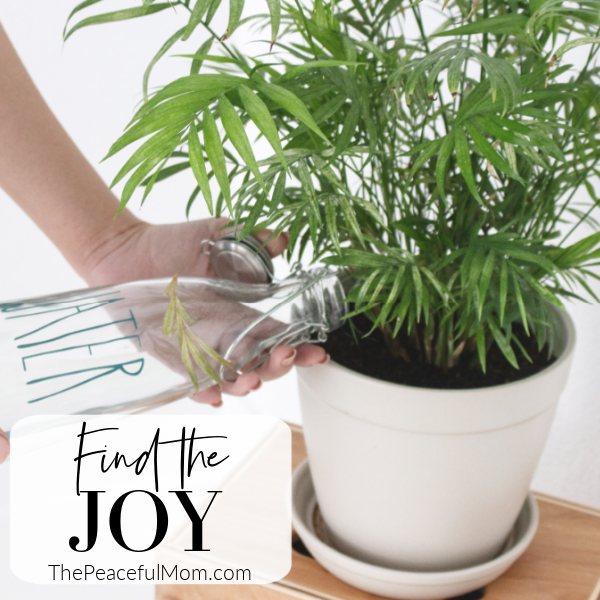 Welcome back to the SHIFT Challenge, where we're shifting our lives to more accurately reflect what's truly most important. This week we'll be focusing on pursuing joy in our lives.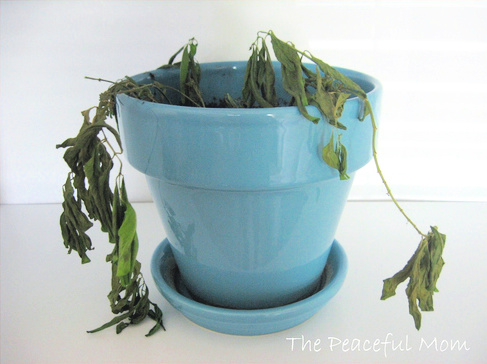 Just like our house plants wither and may even die if we forget to water them, we need to "water" our spirits, minds and emotions, or we can "wither" as well.
WHAT'S THE BIG DEAL ABOUT JOY?
If you're like me, this entire pandemic situation has been draining, anxiety producing and mostly terrible — not a lot to be happy about.
I honestly felt overwhelmed for much of the past few months because I was focusing on my circumstances and paying attention to the media way too much.
But focusing on the negative only leads to depression and losing our hope.
A couple of weeks ago I realized that while there's a lot that I can't control, I CAN control my immediate environment and how I'm taking care of myself and my family.
I can access joy in spite of what's going on around me.
What Is Joy?
Most of us would say that we want to be happy, but happiness is temporary and depends primarily on our circumstances.
Joy is a supernatural phenomenon we can experience when we tap into deep relationship with God and access the Holy Spirit.
Joy results from being filled with the Holy Spirit.
"But the fruit of the Spirit is love, joy, peace, patience, kindness, goodness, faithfulness, gentleness, self-control; against such things there is no law." – Galatians 5:22-23
Joy is our strength.
"Don't be dejected and sad, for the joy of the Lord is your strength!"– Nehemiah 8:10 (b)
Trusting in God fills us with joy.
The Lord is my strength and shield. I trust him with all my heart. He helps me, and my heart is filled with joy. I burst out in songs of thanksgiving." — Psalm 28:7
We find joy as we receive God's love for us and love those around us with His love.
9 "As the Father has loved me, so have I loved you. Now remain in my love. 10 If you keep my commands, you will remain in my love, just as I have kept my Father's commands and remain in his love. 11 I have told you this so that my joy may be in you and that your joy may be complete. 12 My command is this: Love each other as I have loved you." — John 15:9-12

Ways to Find More Joy
While joy is a supernatural experience, we can take action to invite more joy into our lives.
Choose contentment.
There's certainly plenty to grumble about these days, but choosing to be content with where God has us and what He has given us opens the door to experiencing more joy in our every day life.
Choose gratitude.
Joy is closely linked to gratitude. When we recognize all that we have rather than focusing on what we don't have, and thank God for all of those gifts, we can find deep contentment and joy.
Choose rest.
We can easily become distracted or focused on trying to fix our situation ourselves, but choosing to rest in God's love for us and choosing to trust Him in the midst of all the challenges will result in much more joy in your life.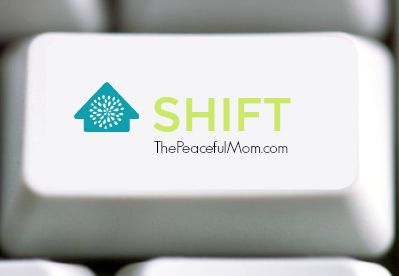 THIS WEEK'S SHIFTS
This week let's focus on bringing those little bits of joy back into our lives and savoring every one of them.
SAVINGS
One of the greatest ways to experience joy in our finances is by giving money away. Giving seems to be the opposite of saving money, but the Bible says in Matthew 6:19-21:
19 "Do not store up for yourselves treasures on earth, where moths and vermin destroy, and where thieves break in and steal. 20 But store up for yourselves treasures in heaven, where moths and vermin do not destroy, and where thieves do not break in and steal. 21 For where your treasure is, there your heart will be also."
Choose a person or charity to give some money to this week.
HOME
What changes can you make to create a haven of joy in your home? Maybe playing worship music more often or posting Bible verses to remind you to tap into the joy God wants to give you.
This week try to create an atmosphere in your home that encourages joy.
IDENTITY
You were created for joy. You are a joyful person. Meditate on God's love for you specifically and His desire to fill you with joy.
FAMILY
Talk to your family about joy and how they can access it in spite of their circumstances. Ask God how you can love your family well this week.
TIME
Schedule time every day this week to spend time with God so you can receive His love and experience His joy. Schedule a few minutes to write down a gratitude list.
Remember, if you're feeling overwhelmed, simply choose one tiny shift that you can easily make this week and save the rest for later.
MY SHIFTS
I'm going to be focusing on giving, gratitude and creating an atmosphere in my home that's conducive to joy.
I would love to hear which SHIFTs you'll be making this week so leave a comment.
Share the SHIFT Challenge with your friends!
Tap HERE to share on Facebook.
Tap HERE to share on Instagram.
And be sure to leave a comment on THIS POST to enter to win $75 Pay Pal cash — yay!
Finding Joy!

WANT A SIMPLER LIFE?
Join our simplifying, organizing, life-changing community!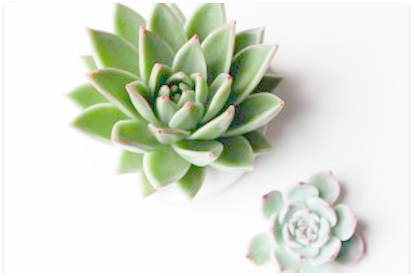 Click here to join the 30 Days to Organized Community!
Get weekly encouragement and real-life strategies to organize your life PLUS access to our Organizing and Printable Library plus:
10 Minutes a Day Declutter Calendar — focus on one small area each day of the month
50 Ten Minute Tasks – to organize your life one baby step at a time
10 Minute Task Calendar – blank calendar to fill in your own 10 Minute Tasks