Join us for the 30 Day Dejunkify Challenge (and see what I dejunked this week).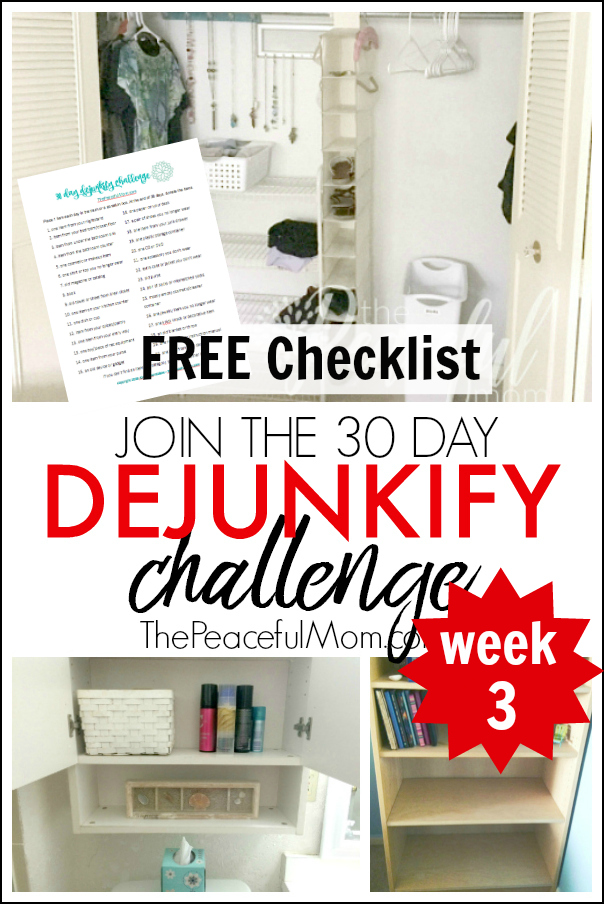 Hey Friend!
This month we're spending 30 seconds for 30 days in 30 areas of our home to remove the junk.
The 30 Day Dejunkify Challenge is helping us to develop the habit of looking for items we can discard on a daily basis — because a little bit of progress every day adds up to a lot over time.
Sign up HERE to enter to win the 30 Day Dejunkify Giveaway and grab your 30 Day Dejunkify checklist!
One thing I LOVE about this challenge is that it makes me aware of the clutter building up in the hidden spaces of my home — clutter that I would normally overlook, but which needs to be removed.
This week's list included one item from the junk drawer, a hidden space that can easily grow unmanageable.
Well, in our home we don't exactly have a junk "drawer" because there are only a few drawers in the kitchen. Evidently people in the 70's (when our home was built) didn't have anything to store.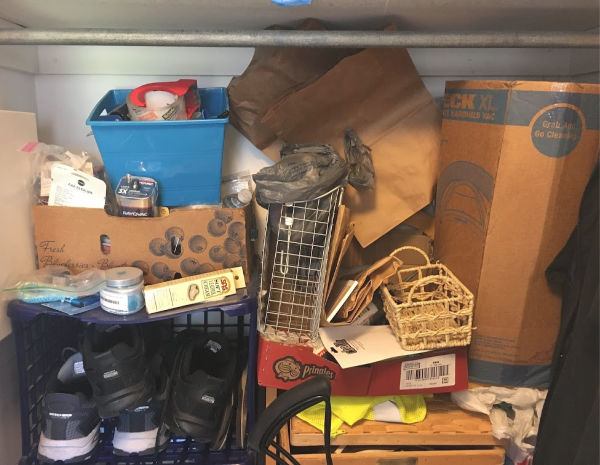 BEFORE
But undaunted by that challenge, I've creatively turned our entryway closet into huge junk "drawer".
Yay me. I'm so talented in that way.
I know that I'm breaking my own rules for this challenge, but I just could not let this situation go on. So instead of removing one item I removed all the items on the top shelf.
I'm not holding myself up as an example. I'm just telling you what happened.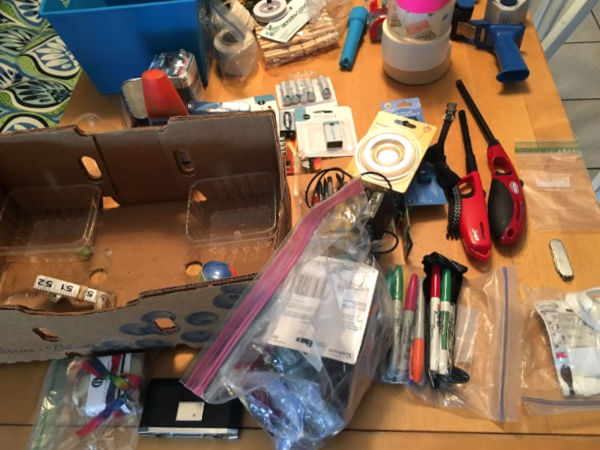 I first spread everything out on the table, then I grouped like things together.
And then I decided that maybe it was time to get rid of the cardboard box I was storing everything in.

I know that you're probably judging me right now for using a recycled cardboard box as a storage container, but where you see trash, I see resourcefulness through using what I have available.
Most of the time we wait to organize until we have the perfect tools or containers because we want our homes to look like what we see on Pinterest.
OR, we spend money we shouldn't so that our home does look Pinterest-worthy.
If you have lots of disposable income, go for it. Buy the most beautiful containers you can find.
But if you have a tight budget like we do, you need an alternative.
And that alternative is to use what you have or purchase something that's inexpensive but "good enough". I chose to upgrade to "inexpensive but good enough" and purchased a few containers from the dollar store.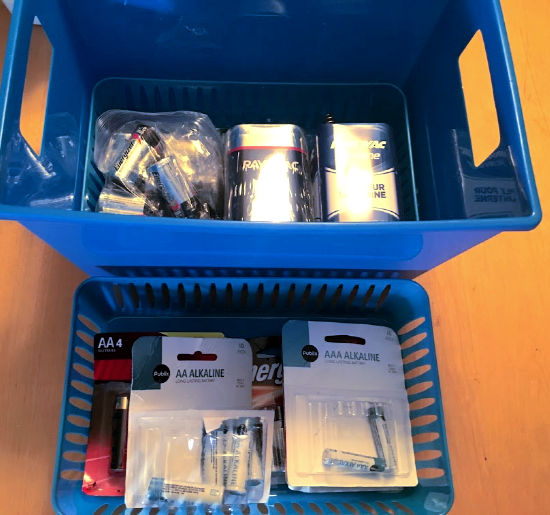 This is the new battery storage situation. The tray in front of the bin goes on top of the tray already in the bin.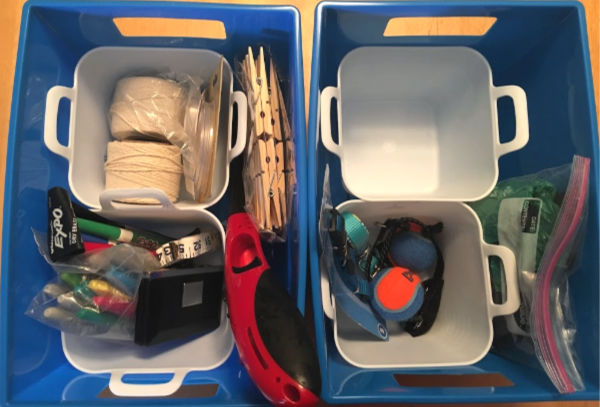 And these are two miscellaneous containers with like items stored together within the bins.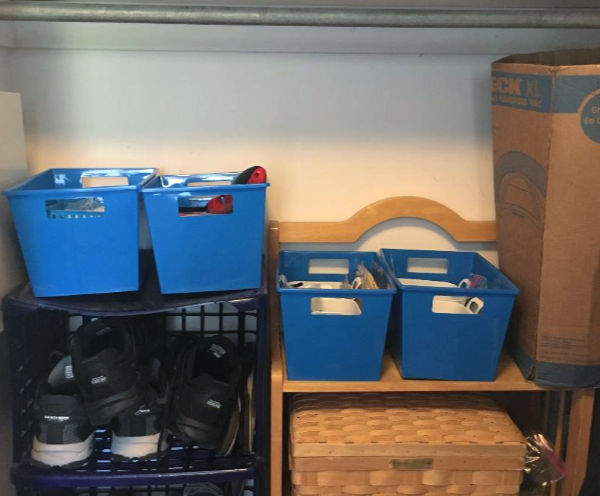 AFTER
And this is what that top shelf looks like now.
Is it beautiful? No.
Is it organized? Yes.
Is it better than before? 100%
Here's a side-by-side comparison for you:
It took me about 20 minutes total excluding the short trip to the dollar store, and was WELL worth the time spent!
I would love to hear how the 30 Day Dejunkify Challenge is going for you, so leave a comment below. And remember:
Any progress, no matter how small, is still progress!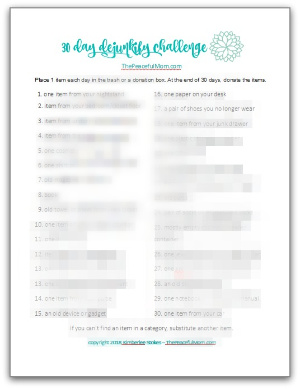 Sign up for the Giveaway and grab your 30 Day Dejunkify Challenge Checklist HERE.
We can do this!

Share the 30 Day De-Junkify Challenge with your friends!
Want a simpler life?
Join our simplifying, organizing, life-changing community!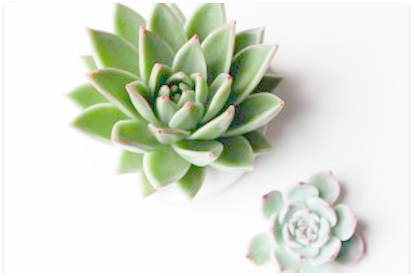 Click here to join The Peaceful Mom Community!
Get weekly encouragement & 10 Minute Organizing Tips
PLUS access to our Organizing and Printable Library including:
10 Minutes a Day Declutter Calendar — focus on one small area each day of the month
Organizing Printables – to organize your life one baby step at a time
Monthly Gifts – because who doesn't love a surprise?