Check out my Easy Quarantine Meal Plan for this week.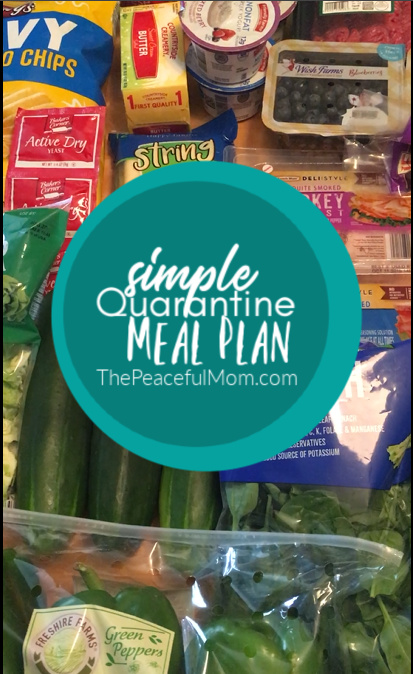 Easy Quarantine Meal Plan
Spending lots of time in the kitchen? I'm here to help!
Check out these simple, inexpensive recipes you can use to feed your family for less.
Please Note: We're all out here trying to do our best and while we're all in the same boat in one sense, we are all facing slightly different circumstances. For example, from what I'm hearing each area of the country has access to different kinds of food right now. In my area for instance, non-perishable items like canned goods and flour are difficult to find, but fresh produce is abundant.
So making a meal plan that works for everyone isn't possible.
My main goal is to encourage you to:
Make some kind of plan to reduce your stress and your budget.
Give you permission to serve super simple meals.
Stir up some ideas for what you have available in your area.
I'm sharing what we're actually eating this week which includes a combination of both pantry items and fresh foods, so hopefully you'll find something you can add to your meal plan.
And hopefully you'll be encouraged in your Quarantine Kitchen. 🙂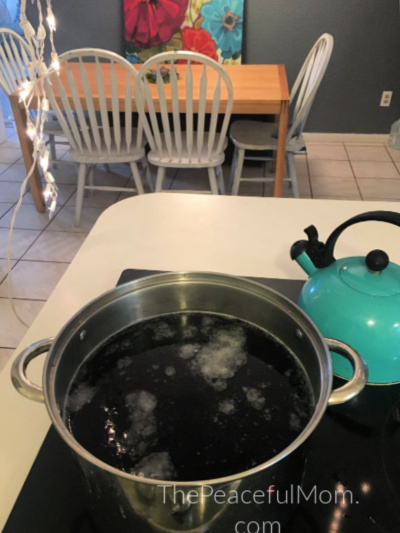 This week I cooked a huge pot of black beans (2 pounds), some of which we'll eat in the next few days and some for the freezer. This saves me SO much time later when I can simply pull the pre-cooked beans out to add to recipes. And they're way healthier and cheaper than canned beans!
See How to Cook and Freeze Beans HERE.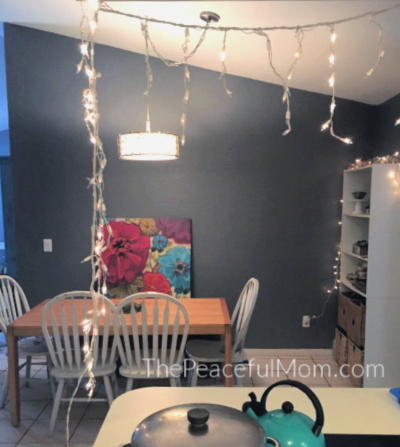 And yes, those are Christmas lights hanging in my kitchen (anything to bring some cheer) — and yes, that painting is not hung on the wall. 🙁
Simple Quarantine Meal Plan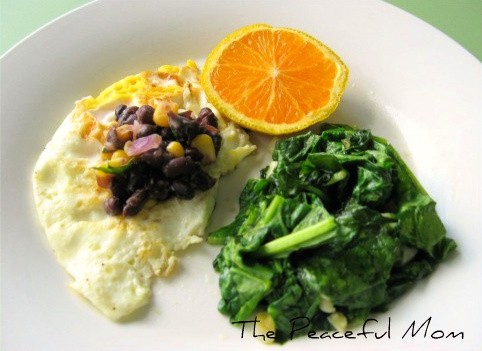 BREAKFAST
Fried Eggs with Spinach, fresh orange slices
Cereal with milk x2
Oatmeal with cinnamon and raisins x2
Oatmeal Pancakes (from leftover oatmeal)
Yogurt, toast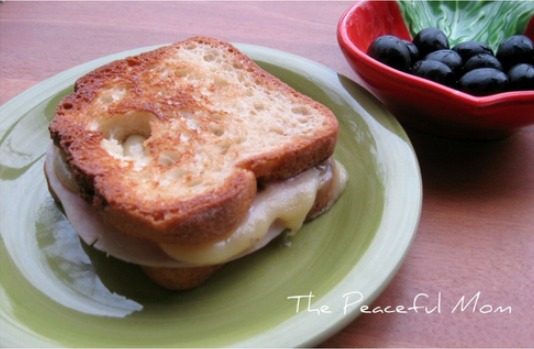 LUNCH
Turkey Pepper Jack Grilled Cheese, raw carrots* with ranch dressing
Tortilla Chips with melted cheese, avocado slices
PBJ sandwich, chips
Leftovers from dinner x2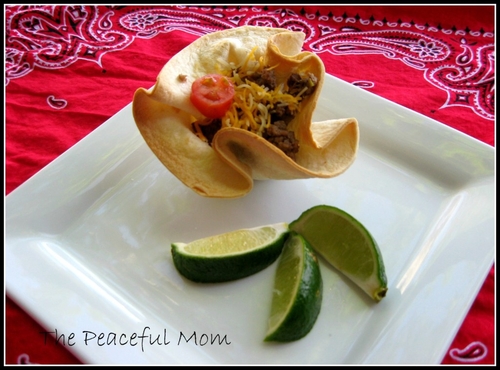 DINNER
Taco Cups, Black Bean and Corn Salsa
Pan Fried Pork Chops, stuffing & cranberry sauce from the pantry
Beef and Veggie Soup, gluten free cornbread
"Snacky" Dinner: cheese slices and cubes, salami and pepperoni, crackers, grapes
Spicy Black Beans, rice x2
What are you eating this week? Leave a comment or link. 🙂
We're in this together!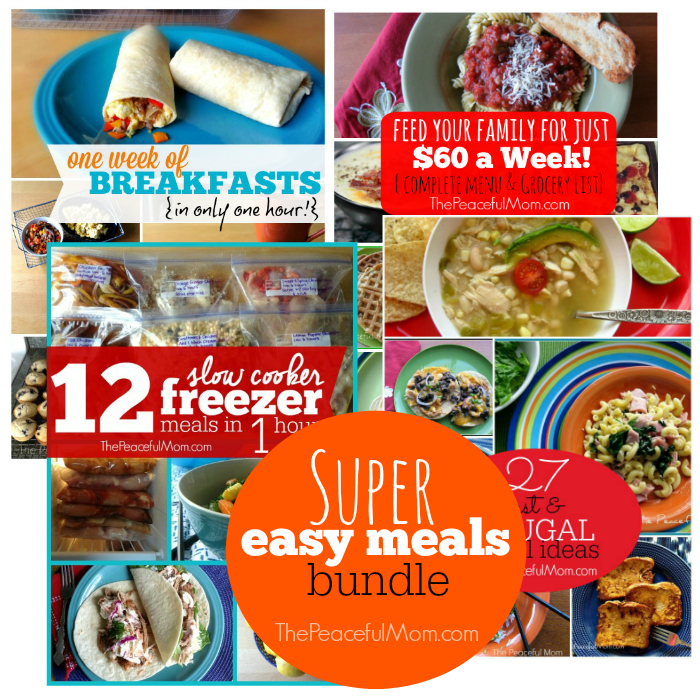 Grab the Super Easy Meal Plan Bundle!
$35 value Just
$9!
Click HERE to see what's included!

Want a simpler life?
Join our simplifying, organizing, life-changing community!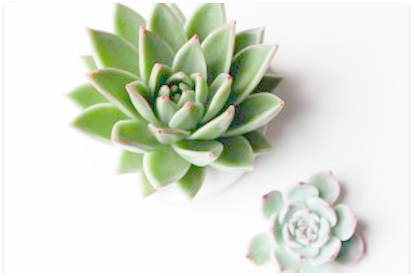 Click here to join The Peaceful Mom Community!
Get weekly encouragement & 10 Minute Organizing Tips
PLUS access to our Organizing and Printable Library including:
10 Minutes a Day Declutter Calendar — focus on one small area each day of the month
Organizing Printables – to organize your life one baby step at a time
Monthly Gifts – because who doesn't love a surprise?

Read what we do about snacks here.
You May Also Enjoy: