Learn how to stop being distracted and be more present in your life with these quick changes.
An addiction to distraction is the end of your creative production."

–Robin Sharma
Life is noisy.
And those distractions make it very difficult to focus on what's really important.
But if we can learn to stop being distracted so we can be present in our everyday lives, we can experience deep peace and joy because we are actually LIVING.
So in our SHIFT Challenge, our second shift is to Be Present.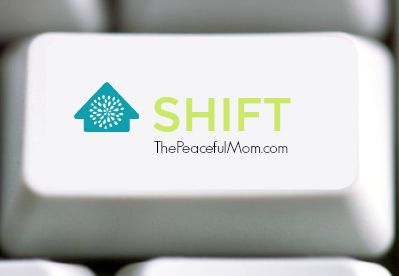 Being fully present is a challenge today.
The distractions of our smart phones, televisions, and the general busyness of life keep us scattered and running from one task to the next. Much of the time we aren't even paying attention to what we're doing in the moment because we're focused on what needs to happen next, or we're simply distracted by the noise around us.
We have to purpose to stop being distracted so we can be present.
It's challenging, but here's what happens when we do.
Why You Should Be Present
You Appreciate the Tiny Joys
From the smell of the morning air to the delicious feel of the sheets at bedtime, our days are filled with thousands of tiny moments that can exponentially increase our joy if we pay attention. And paying attention to them will increase our gratitude as well.
You Really Listen
How many times has your child or your husband spoken to you, but you failed to hear what they said because you were distracted or focusing on something else? If we can be present, really focus on what those around us are saying as they say it, we show love and respect to the people in our lives. Not listening says,"You're not important." — not what we actually want to express to our family and friends.
You Feel Your Feelings
When we're present we begin to pay attention to ourselves and our surroundings. We notice how we feel emotionally and physically, and we can take action rather than numbing out to avoid the pain or discomfort. We actually begin to DO something about our problems.
You Hear God Better
When you stay present in the moment rather than allowing the noise of the world to distract you and interrupt your thoughts, you can more easily hear the promptings of the Holy Spirit. God is speaking to us all the time. We just have to tune in.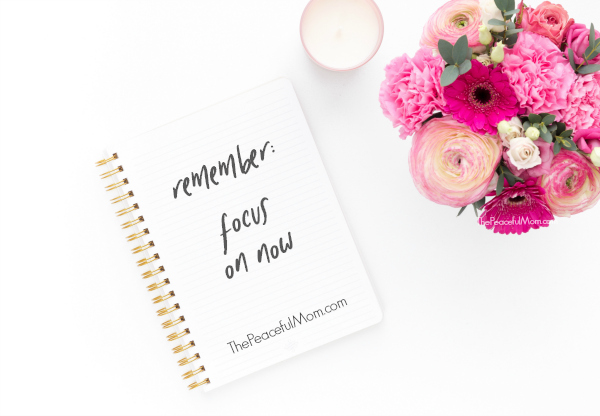 How to Stop Being Distracted
Many times we allow the distractions around us to prevent us from fully engaging in what we're meant to do.
Whether it's comparing our lives to what we see on social media, zoning out while binge-watching television, allowing the news we hear to determine our state of mind, or simply living life by default rather than with intention, there are so many ways we can miss out on what we were created and designed for.
A couple of years ago I came across a brilliant question we can ask ourselves to quickly discern what our priorities should be:
"What can only I do?"
For example:
I'm the only wife to my husband.
I'm the only mom to my kids.
I'm the only one who can love, encourage and create in the unique ways that I do.
If I allow myself to be distracted, I can miss the opportunities right in front of me — and no one else can take my place in these roles.
This Week's Shifts
This week I encourage you to choose one (or more, if you're adventurous!) of these tiny shifts to stop being distracted and begin to
Be Present.
S

AVINGS

Let's be present with our money this week by paying attention to what we spend. (Recording every expenditure in a note on your phone can be super helpful!)

At the end of the week, take a look at what you spent and ask yourself why you spent your money the way you did. Were these purchases necessities or did they further your long term goals?

If not, maybe you can make adjustments to be more present with your spending in the future.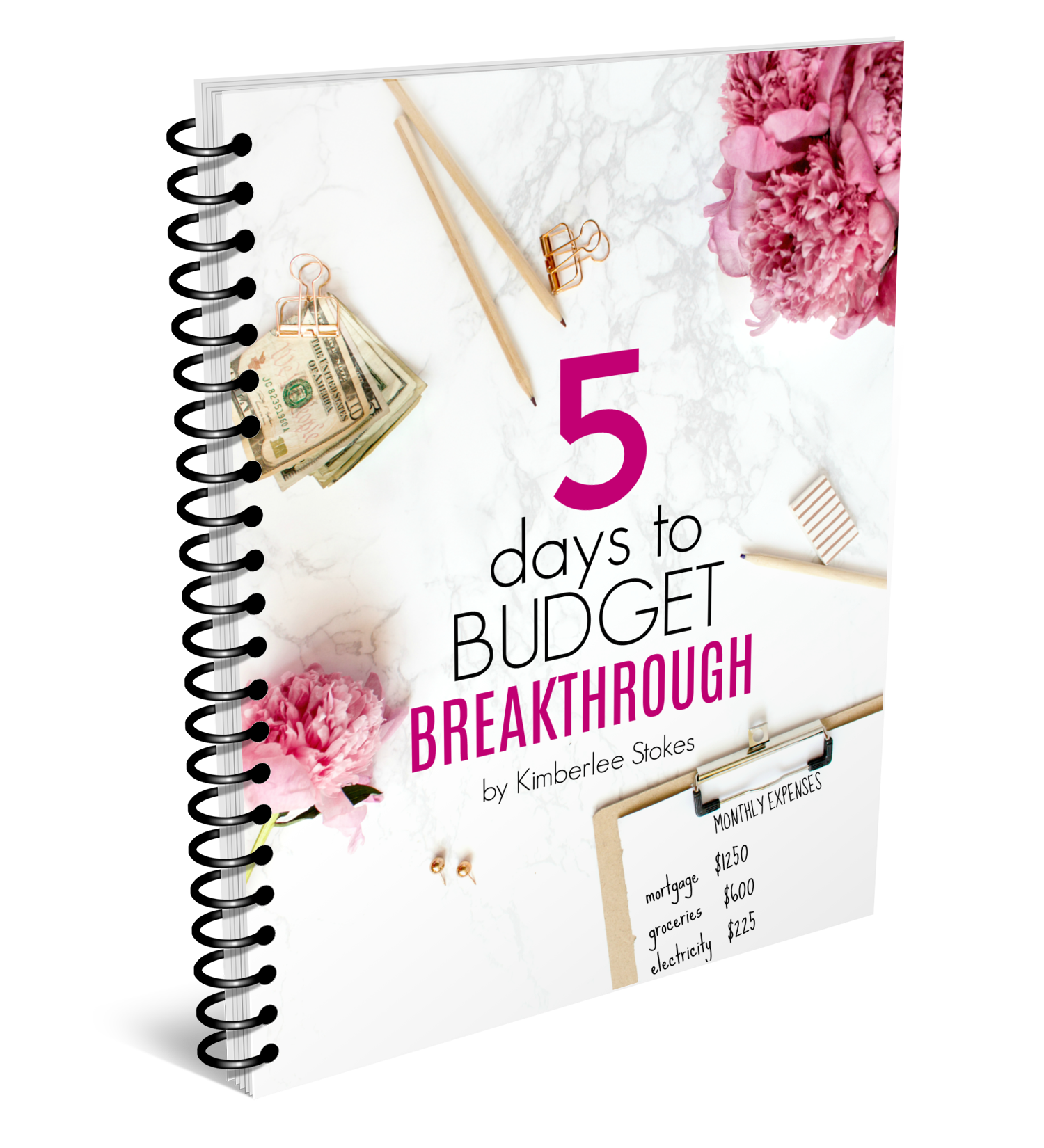 I have a super helpful and practical resource if you'd like to quickly change the way you handle money. Read more about 5 Days to Budget Breakthrough HERE.
H

OME

Let's be present in our homes by paying attention to a project that's been nagging us. What do you know needs to happen, but you just keep putting it off? Take one tiny step on that project or problem this week.
I

DENTITY

Let's be more present with ourselves by being aware of what we're thinking and feeling about ourselves. Try these ideas:

-spend time journaling when you first wake up or right before you go to bed;

-set a phone alarm to remind you to check in with yourself throughout the day;

-set your phone in another room during meal times so you can focus on your own thoughts.

And when you have a negative thought, try to reframe it in a positive way.
F

AMILY

Let's be more present with our family by seizing the moment. We can do this by putting down our devices when someone is talking to us so we can focus completely on what they're saying, or by being silly with our kids when they want our attention.
T

IME

Let's be more present with how we're spending our time by choosing to do what's important over what's urgent. Every morning this week prioritize your time by choosing your Top 3 Most Important Tasks for the day. Along with your Top 3 most important tasks, choose a goal or focus for your day like "Have fun with my children today."

Take time now to write down which SHIFTS you will make this week. You can set reminder notifications on your phone or place sticky notes around your house/office to remind you.

And remember, if you're feeling overwhelmed, simply choose one tiny shift that you can easily make this week and save the rest for later.
My Shifts
This week I'll be focusing on:
–FAMILY: being present by putting down my phone when someone is talking to me.
–IDENTITY: being present with myself by checking in throughout the day to see how I'm feeling.
Now that you know how to stop being distracted I would love to hear which SHIFTs you'll be making, so please leave a comment.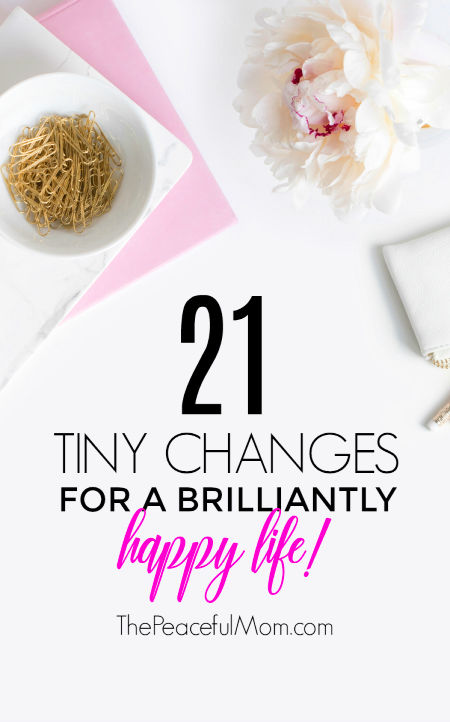 Share the SHIFT Challenge with your friends!
Click HERE to share on Facebook.
Click HERE to share on Instagram.
Click HERE to share on Pinterest.
And be sure to leave a comment on THIS POST to enter to win $25 Pay Pal cash and one of my popular Mega Bundles — yay!
See all the SHIFT Challenge posts HERE.
Staying Present!

Want a simpler life?
Join our simplifying, organizing, life-changing community!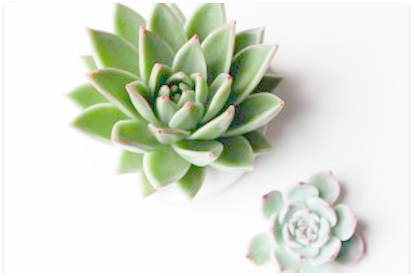 Click HERE to join The Peaceful Mom Community!
Get weekly encouragement & 10 Minute Organizing Tips
PLUS access to our Organizing and Printable Library including:
10 Minutes a Day Declutter Calendar — focus on one small area each day of the month
Organizing Printables – to organize your life one baby step at a time
Monthly Gifts – because who doesn't love a surprise?