See my morning routine to create peace in my life and increase my productivity.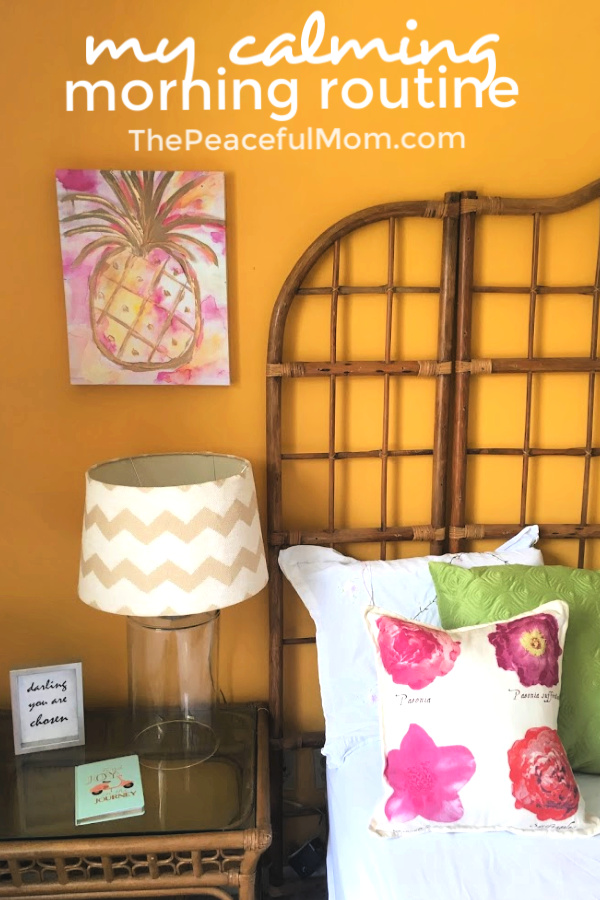 Girl! Do your mornings drive you crazy?
Do you wake up late, then immediately start rushing from one task to the next in a tornado-like frenzy, all while you feel like your heart is pounding out of your chest?
Or do you wake up in a brain fog and move slowly about like a zombie with no clue what to do next?
I want better mornings for you!
For the past few years, I've been using a morning routine that keeps me calm, and starts my day with peace rather than panic. Plus, my morning routine helps me complete my everyday must-do tasks on auto pilot which prevents early morning decision fatigue and reserves my brain power for more important tasks later in the day.
IMPORTANT NOTE:
Now I'm NOT saying that you should follow my morning routine exactly. I'm simply sharing because I find it helpful to look at the way other people start their day and maybe you'll find it helpful too.
Also, I'm a work-from-home mom with older kids so I can enjoy a little more leisurely morning routine. When my children were younger and I worked outside my home. this morning routine was quite abbreviated.
My Morning Routine
My calming morning routine includes these steps:
Wake up without an alarm.
Now don't freak out. I know it's radical, but I've found over the years that if I go to bed at a decent hour my body naturally wakes up when I've had enough sleep, and it's a much calmer way to wake up rather than being jarred awake by an alarm clock or phone alarm.
If you're afraid that you won't wake up, try the sunrise alarm clock at the end of the Healthy Morning Routine post HERE to help you gradually wake up so you can start your day with peace.
Avoid my phone.
I hate starting the day with stress and negativity so I avoid looking at my phone first thing in the morning, and I try to wait at least an hour before I touch it. That means no news, email, texts, or social media so that I can set the tone of my day myself rather than letting someone else determine what I'm thinking about.
Stretch in the dark.
After waking up and going to the bathroom (gotta take care of the basics), while leaving the lights off, I do some stretches on the floor for my back and hips. This not only gives me a gentle way to wake up, it has also helped my back problems tremendously.
While I'm stretching I do some deep breathing and think about any dreams I remember from the night before. This helps me to be in touch with my body, emotions and spirit.
Drink water.
Once I'm done with my morning stretches, I head to the kitchen and drink a glass of water. I know that many of you drink coffee first thing, but I have found that I'm much calmer and sleep much better at night when I avoid caffeine.
[UPDATE] Boost my immune system.
In this era of scary viruses, I've added an immune boosting routine to my mornings. Please Note: This is not intended as medical advice.
gargle with warm salt water
rinse my sinuses using this kit (also at night)
take 1000 mg of this vitamin C
take vitamin D (carefully research your supplements because some are more effective)
I also use these zinc lozenges throughout the day if I'm starting to feel sick. (Read HERE how scientists think zinc lozenges affect viruses.)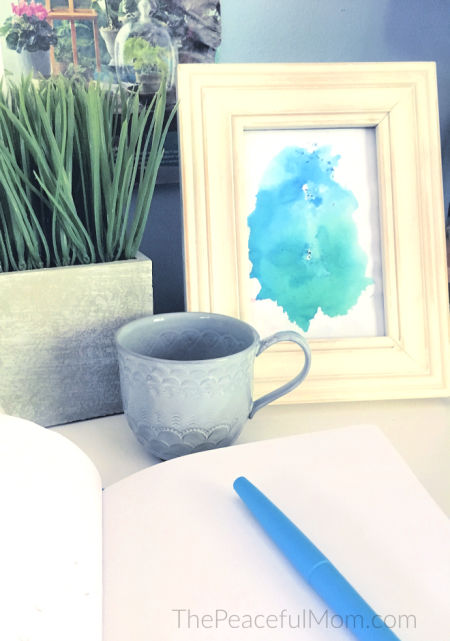 Do a "Brain Dump'.
Next I go into my office and turn on a lamp with a low wattage bulb so I can continue to enjoy the low lighting, which helps me to stay calm and stay in touch with my thoughts and emotions, which is helpful because I can process everything during my morning brain dump (which you can read about HERE).
Journaling these pages helps me to sort through the "traffic" in my brain so that I can focus on what needs to be done for the day.
Read.
After journaling I take a few minutes to read the Bible, even if it's only the chapter of Proverbs that corresponds to the date. Reading the Word gets my day off to a good start and keeps my focus on God. If I miss my morning reading I will fit it in later in the day.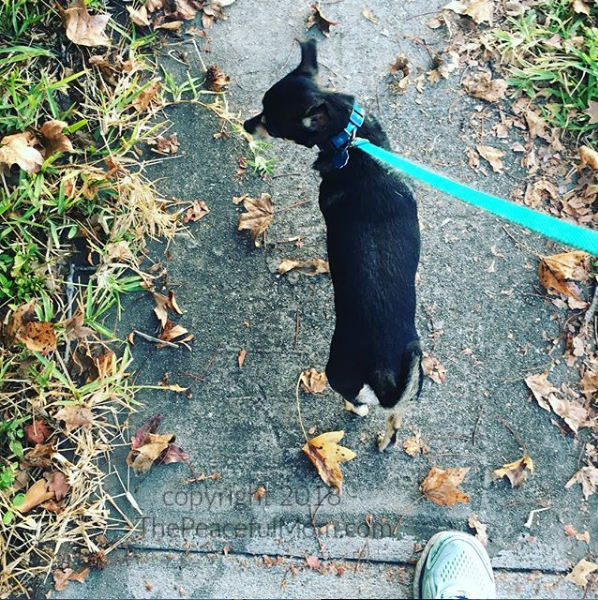 Walk and pray.
Once I've finished my journaling and reading, I take my dog for a walk. I like to spend this time in quiet so I can pray and think, so I never listen to music or podcasts.
I save podcasts for later in the day when I'm doing chores or cooking dinner.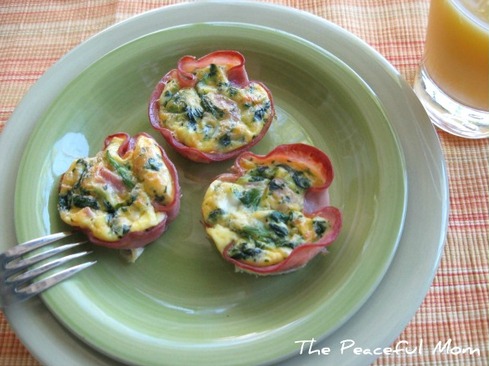 Eat protein.
Once we're back from the walk I make my breakfast. I have so much more energy during the day if I start by eating protein and veggies. Sometimes I eat eggs, sometimes gluten free toast with peanut butter, and I've even been known to eat leftovers from dinner.
I know, I'm weird.
Start dinner.
Speaking of dinner, I always check my menu plan in the morning so I don't end up ordering pizza at five o'clock. Whether it's thawing a meal component from the freezer, starting the slow cooker or chopping veggies for stir-fry, I always spend a few minutes preparing for dinner in the morning.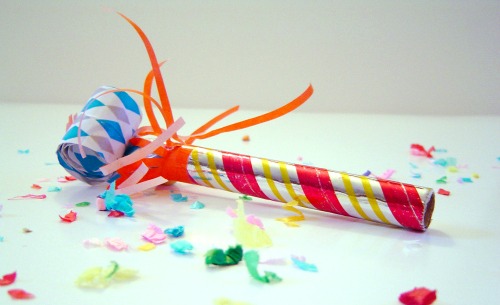 Host a 5 minute dance party.
Dancing makes me happy, but if I put too much pressure on myself I won't do it. So I added a 5 minute dance party to my morning routine. Framing it as a party and knowing that it's only a very short time makes me more motivated to actually do it.
I find fun and funky dance routines on You Tube and try them out — when no one is looking to see how ridiculous I look!
Shower and dress.
After my "workout", I shower, dress and get ready for the rest of my day.
Start a load of laundry.
The last step in my morning routine is to start a load of laundry before I shower. The habit of doing one load of laundry every morning means there are never piles of dirty clothes around our home and the laundry is where it should be: in the closets (or at least clean in a laundry basket — true confessions.)
Completing these tasks first thing in the morning allows me to spend the rest of my day calm, focused and productive — or at least happy.
Doing the activities in the same order every day means I don't have to think about it. I just get it done.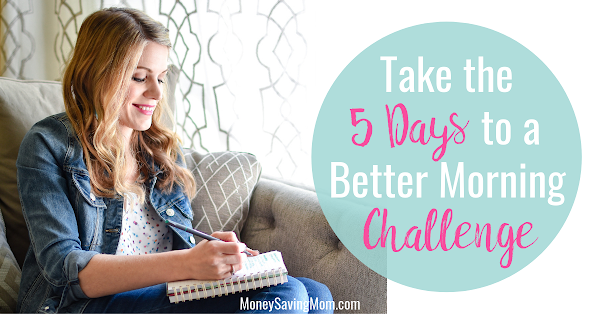 If you'd like a little help with creating your own effective morning routine, check out Crystal Paine's Make Over Your Mornings Course. It's super affordable and gives you short 15 minute lessons over 14 days to transform your mornings from manic to marvelous.
You can take the no-cost 5 Days to a Better Morning Challenge HERE to sample what it's like.
I would love to hear your must-do morning routine activities so leave a comment. 🙂
We're in this together!

Want a simpler life?
Join our simplifying, organizing, life-changing community!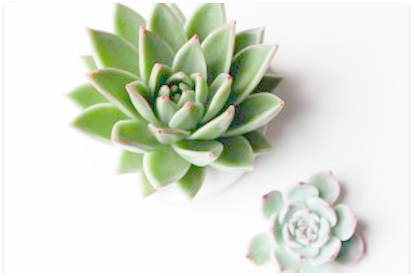 Click here to join The Peaceful Mom Community!
Get weekly encouragement & 10 Minute Organizing Tips
PLUS access to our Organizing and Printable Library including:
10 Minutes a Day Declutter Calendar — focus on one small area each day of the month
Organizing Printables – to organize your life one baby step at a time
Monthly Gifts – because who doesn't love a surprise?

You May Also Enjoy: