The 31 Day Decluttering Challenge is back!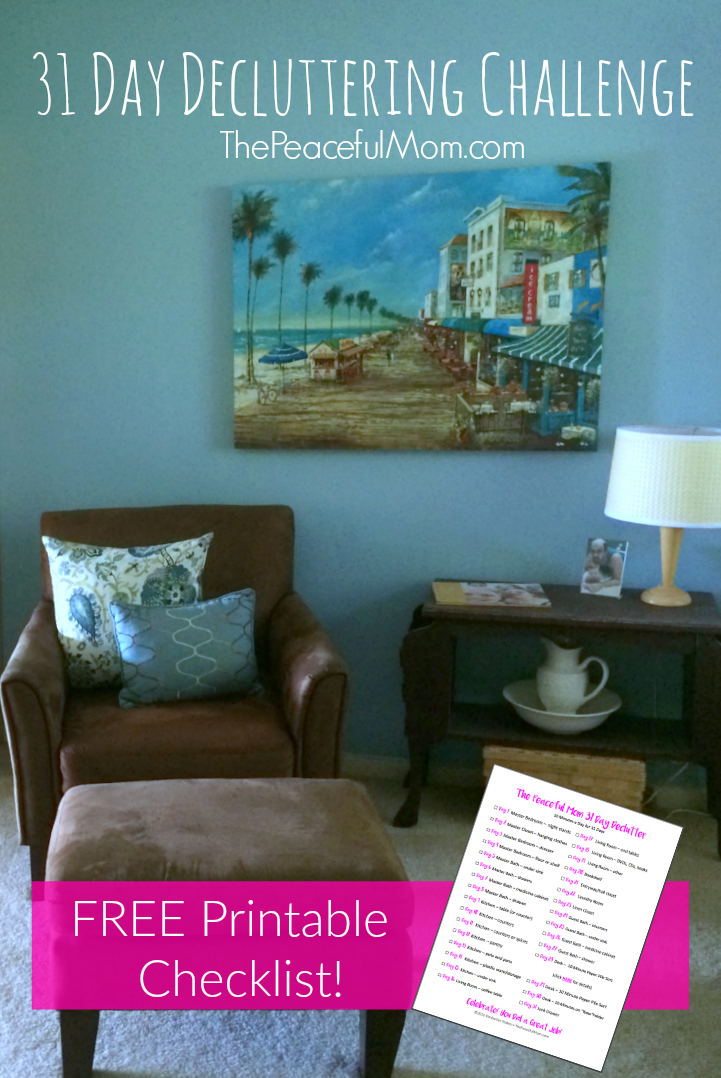 31 Day Decluttering Challenge
It's back!
I know that so many of you struggle with feeling overwhelmed and disorganized on a regular basis.
I also know that one of the main contributors to that feeling is the clutter in your home.
And I totally get it!
Even though I'm very conscious of the effects of clutter, I still have "hot spots" that develop in my home — especially in busy seasons of life.
But I know that I can immediately cut through my overwhelm by decluttering because a clear, organized space in my home — no matter how small — makes me feel calm and peaceful.
Because I'm busy like you, I also understand that you don't have time to remove everything from your closet, see if it sparks joy and fold every single piece of clothing that's left to within an inch of its life.
Which is why I created 10 Minutes a Day Decluttering, a simple and effective way to clear your space without adding to the overwhelm.
For the month of March I'll be hosting another 31 Day Decluttering Challenge using my 10 Minutes a Day Decluttering Method.
For this challenge I'll be working on one area that is majorly driving me crazy.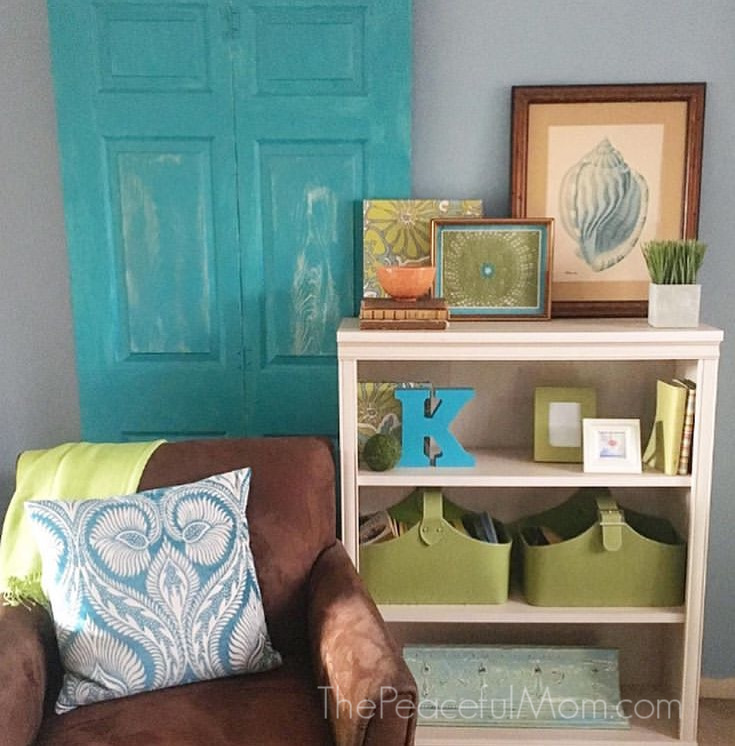 Office
My office is my art studio and office space, as well as a library and sitting area for those times I just want to ponder the universe. The picture above doesn't seem so bad, right?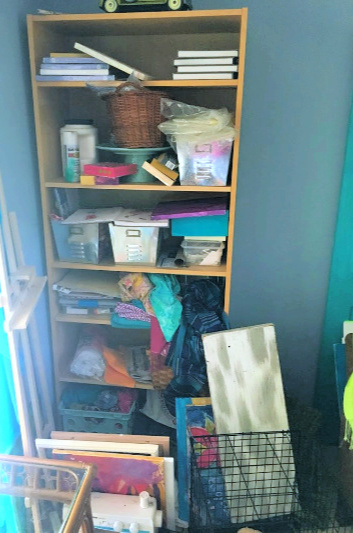 Until you look to the left of the room and see this disaster.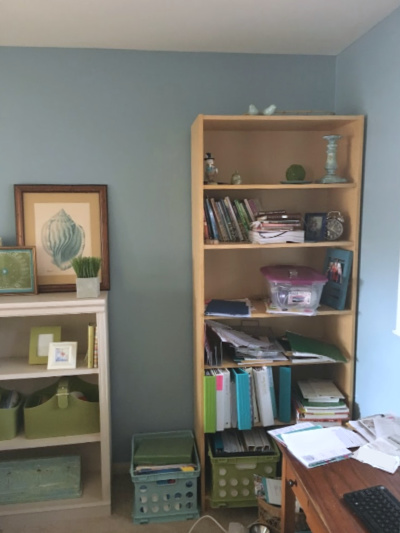 And the right side isn't much better.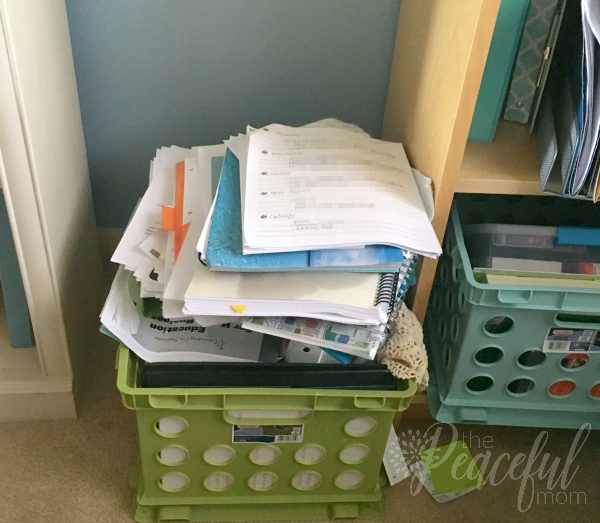 I did at least make progress on that paper pile I had growing in the corner (compare this to the more recent photo above). I scanned some of the information into Evernote to start eliminating my paper clutter. (See How I Organize With Evernote HERE and sign up for a FREE account.)
To join us for the challenge and giveaway: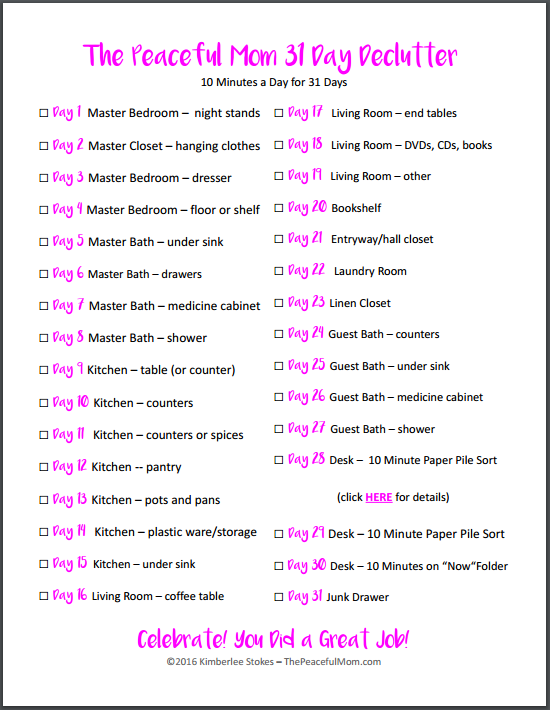 1. Join The Peaceful Mom Community HERE.
If you'd like to join me, you can choose one focus area or room like I am, or you can use my free 31 Day Decluttering Checklist (pictured above)with simple daily 10 minute decluttering tasks for each area of your home.
When you join, you'll receive a confirmation email, then a welcome email with instructions to print your 31 Day Declutter Checklist plus other goodies!
2. Leave a comment on this post telling me your goal for this 31 Day Decluttering Challenge.
Everyone who joins and leaves a comment on THIS post will be entered to win $50 PayPal cash and some awesome resources from The Peaceful Mom Shop (visit HERE)— woohoo!
3. Gather your supplies.
You will need:
a donate-able box for "giveaway" items
a laundry basket or bin for "put away" items
a trash can or paper bag for "throw away" items
You can read the 10 Minutes a Day Decluttering Guidelines HERE.
Giveaway Rules
–One entry per household. A comment on THIS post only constitutes an entry.
-Prize includes $50 PayPal cash and a selection of digital products from The Peaceful Mom.
-Contest ends April 1st, 2019 at 9 a.m. EST.
-Winner will be randomly selected from the comments on THIS post using third party software and will be notified by email.
-Winner must reply by email within 24 hours or forfeit prize.
That's it!
I'll update you on my progress and I would love to hear how you're doing as well, so feel free to post on Facebook, Instagram or Twitter with the tags #TPMDeclutter and #31DayDeclutter!
If you want to invite your friends to join you, share this post on Facebook.
We Can Do This!

You May Also Enjoy: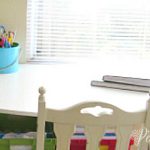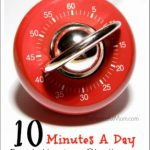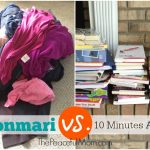 Want a simpler life?
Join our simplifying, organizing, life-changing community!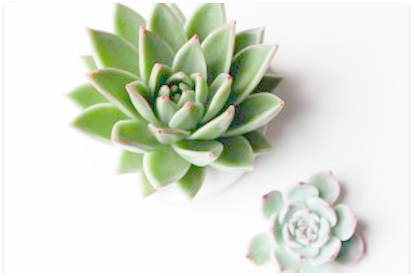 Click here to join The Peaceful Mom Community!
Get weekly encouragement & 10 Minute Organizing Tips
PLUS access to our Organizing and Printable Library including:
10 Minutes a Day Declutter Calendar — focus on one small area each day of the month
Organizing Printables – to organize your life one baby step at a time
Monthly Gifts – because who doesn't love a surprise?