See my latest decluttering victory and grab a free declutter checklist!
Hey Friend!
How's it going?
If you're like most of my readers (and me!), you may be struggling right now with some clutter.
I personally have a long history with clutter.
Look, I like things.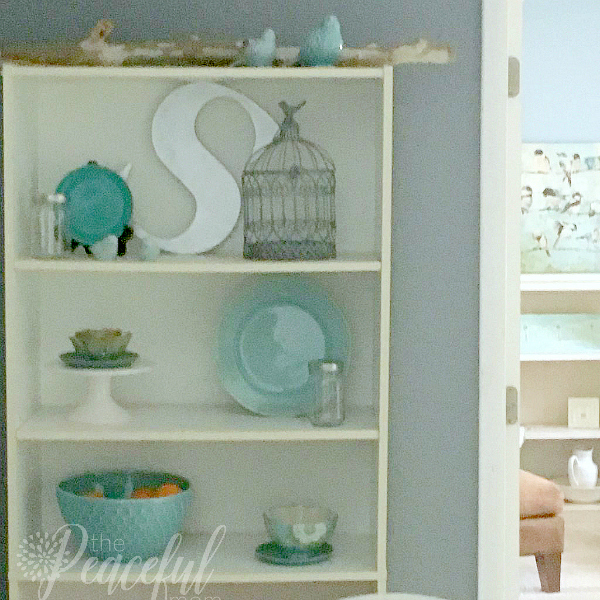 I like buying seasonal and decorative items for our home.
I like buying dishes.
I like buying clothes.
I like buying.
I'm embarrassed about my "need" for things. Sure, I buy most of them at the thrift store, but I'm still wasting money even if it's less money.
And a lot of those things end up in my garage once I'm done with them.
Because we live in a small older house with very little closet space, I basically use the garage as a storage unit — until it becomes totally out of control again and we have to purge.
SO last week my husband and I addressed the garage problem again.
Here's what I ended up giving away.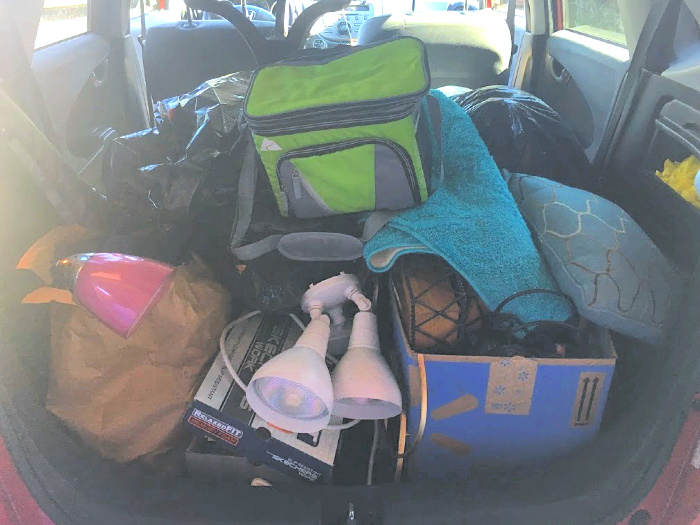 Yes, the entire back of our car with the back seats folded down was FULL of stuff to donate.
And it was HARD!
I don't know how it is for you, but I feel a physical and emotional PANG when I get rid of things. Even looking at this photo created that same response in me.
But I know that the relief I feel from being in a calm, clear space far outweighs the temporary sense of loss I experience.
Speaking of my difficulty in getting rid of things, included in this decluttering haul are two garbage bags of decorative pillows. You can read about my pillow problem  HERE.
Next up I'll be decluttering our Christmas decor as I decorate our home this year.
Decluttering Simplified
I want to help you make your decluttering as simple as possible, so I created the 31 Days Decluttering Checklist.
To get your checklist:
Join The Peaceful Mom Community
Make sure you've joined The Peaceful Mom Community HERE so you don't miss any of my real-life stories, tips and tools.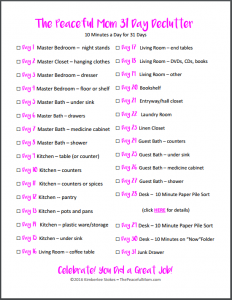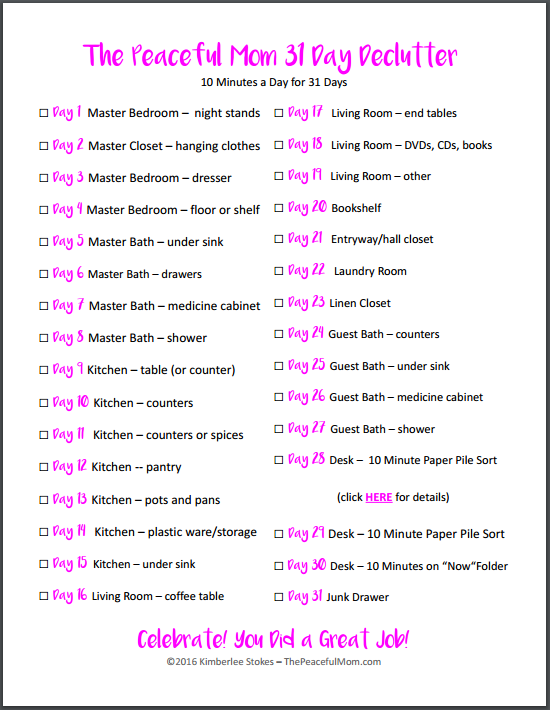 Print Your 31 Day Declutter Checklist
Once you've joined the community (linked above), you'll receive a welcome email with your link to the Resource Library where you'll find the 31 Day Declutter Checklist and more awesomeness!
You CAN do this. Don't put off the decluttering one more second!
I would love to hear your next decluttering baby step or a recent decluttering success you've enjoyed. Leave a comment. 🙂
We're in this together!
 
Want a simpler life?
Join our simplifying, organizing, life-changing community!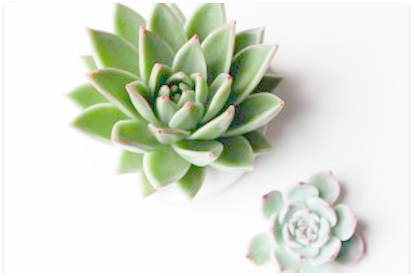 Click here to join The Peaceful Mom Community!
Get weekly encouragement & 10 Minute Organizing Tips
PLUS access to our Organizing and Printable Library including:
10 Minutes a Day Declutter Calendar — focus on one small area each day of the month
Organizing Printables – to organize your life one baby step at a time
Monthly Gifts – because who doesn't love a surprise?

Reader Interactions