Use these quick tips to find joy in your life again.
"Let your joy be in your journey—not in some distant goal." —Tim Cook
Life can be draining.
Let's face it. As an adult, life can be pretty challenging, and even boring as we face the same responsibilities day in and day out.
But we weren't created to simply exist. We were created to enjoy life and experience it fully.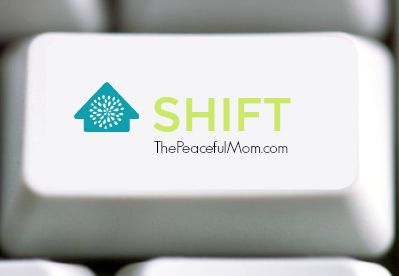 So in our SHIFT Challenge, our third shift is to Find Joy. Let's begin by defining joy.
What is Joy?
Both joy and happiness are enjoyable states that we experience, but they are actually very different.
Happiness is a temporary emotion triggered by external circumstances like receiving flowers from a loved one or finding a $20 bill in our pocket that you forgot about.
Joy, on the other hand, is a deep spiritual state.
We find joy as we experience God's love in both emotional and material ways, as we connect spiritually to God and stay in relationship with Him. Joy is the result of being filled with the Holy Spirit and tuning into God as we go about our day.
Why You Need Joy
So what's the big deal? The truth is that you were actually created for joy, and when you don't experience that joy you can easily lose your hope.
Joy gives us strength to face the difficulties in life without being overcome. Joy enables us to laugh and play and have fun in the midst of the sameness of our everyday responsibilities.
There's even research to back up our need for joy and laughter. Laughter lowers stress hormones, relaxes our nervous system and actually boosts our immune system. Joy heals us.
How to Find Joy Every Day
I don't know about you, but I can get really bogged down in the "have-to's" and "should's" on my to-do list, and completely forget to just enjoy life in the ordinary everyday-ness.
But when we focus only on the drudgery and the tasks that need to be done, we can easily become depressed and lose our hope.
Taking time to acknowledge God and His gifts to us throughout the day, makes us happier, which makes us healthier and helps us to be a better mom, spouse, friend, and employee.
Being the Type A, "check-it-off-the-list" kind of person that I am, I have to remind myself to stop and enjoy those little God gifts like:
slowly sipping a cup of hot tea;
crushing a leaf of fresh mint between my fingers to enjoy the fragrance;
enjoying a meal together with my family;
watching a funny video with my husband;
laughing with my kids;
taking a walk every morning just as the dawn is breaking;
rubbing my little dog's soft ears.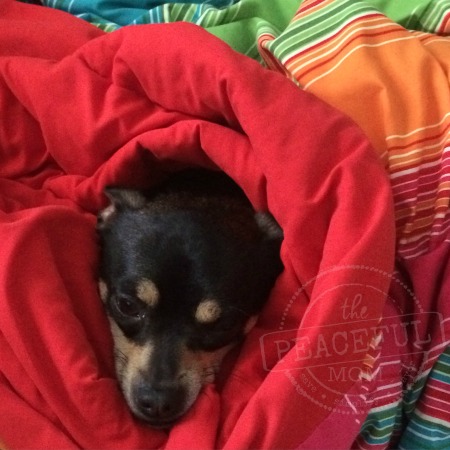 (Gratuitious puppy photo)
None of these little pleasures cost money and they make me so happy!
Experiencing these times with God, acknowledging that they come from Him and thanking Him for them, creates a deep sense of joy and peace throughout my day.
This Week's SHIFTs
This week let's focus on bringing those little bits of joy back into our lives and savoring every one of them.
S

AVINGS

Think about a long-term goal or something you dream of doing. Start saving $5 a week in an envelope at home toward your passion. (Mine is to travel to Ireland with my husband.)
H

OME

What would make you love your home? Envision what you want it to look like and how you want it to feel. Take one tiny step this week to move toward your vision, like creating a little reading corner with a plant and a cozy throw, or purchasing fresh flowers for your kitchen table.
I

DENTITY

You were created for joy. Begin to find those tiny activities and experiences that make you happy, then create a list of them to remind yourself. (Check out the "Bliss List" page in the Joyful Life Planner.)
F

AMILY

Do you know your family's passions and interests? Write down one interest for each family member, then connect with them by showing interest in what they enjoy. Watch a t.v. show together or a You Tube video. Go with them to their favorite store or restaurant. Cook their favorite meal.
T

IME

Let's make finding joy a priority every single day by scheduling a specific time, whether it's first thing in the morning or a few minutes after dinner, to do something you love.

Remember, SHIFT is about refocusing on our top priorities and realigning ourselves with our values, not about stress.

If you're feeling overwhelmed, choose ONE tiny shift to make this week in the area that needs the most attention, and trust that you will be able to make more positive changes in the weeks and months to come. Rome wasn't built in a day, right?
My Shifts
I'm going to be rescheduling my daily "happy" time when I do art work or crafting. I stopped doing that in the past couple of months and I've missed it.
I would love to hear which SHIFTs you will be making so leave a comment.
And be sure to leave a comment on THIS POST to enter to win $50 Pay Pal cash — yay!
See all the SHIFT Challenge posts HERE.
Making Space!

Want a simpler life?
Join our simplifying, organizing, life-changing community!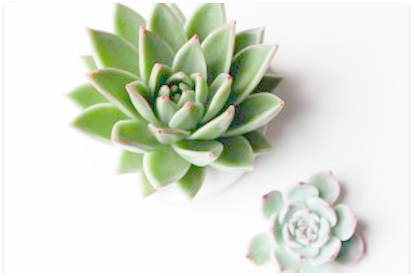 Click HERE to join The Peaceful Mom Community!
Get weekly encouragement & 10 Minute Organizing Tips
PLUS access to our Organizing and Printable Library including:
10 Minutes a Day Declutter Calendar — focus on one small area each day of the month
Organizing Printables – to organize your life one baby step at a time
Monthly Gifts – because who doesn't love a surprise?