Learn a simple way to make a decision based on your priorities.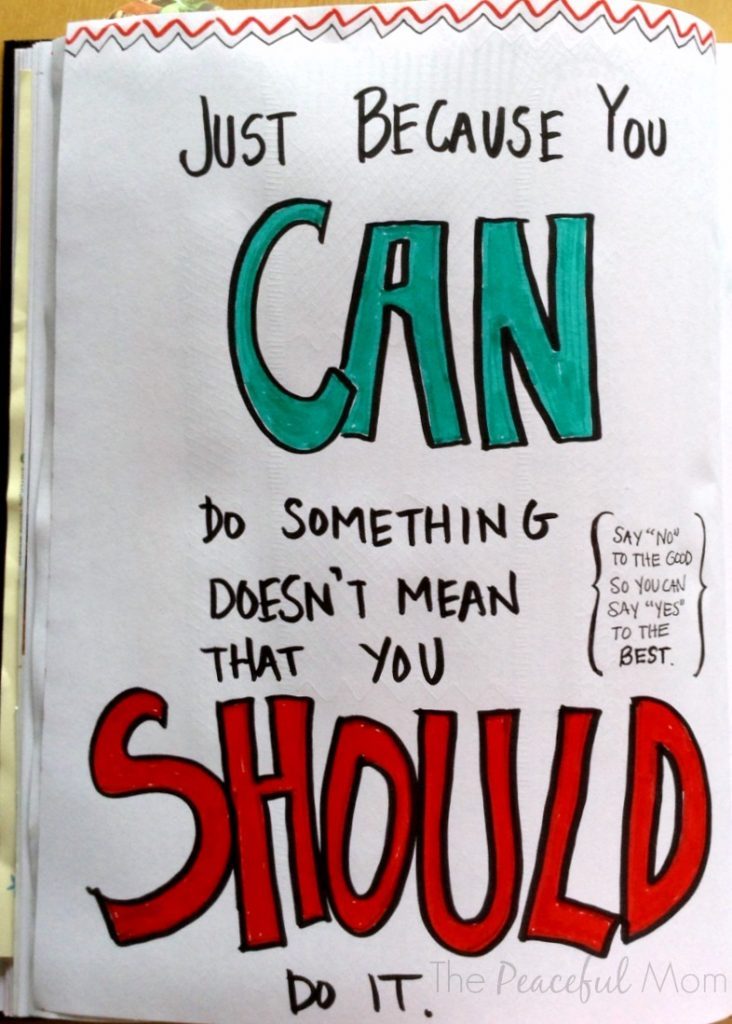 Do you ever wonder if you're doing what's truly most important?
Maybe you're like a lot of people and you've lived your life without a whole lot of intention, adding activities, habits and tasks one at a time, not realizing the bigger picture you were creating.
Maybe you make a decision based on how you feel in the moment or what seems fun or interesting.
Maybe your schedule has become chaotic like a Jenga tower you've built one block at a time, but which is now precariously leaning over. With just one "block" moved, one small change to your circumstances, your entire life can become super stressful.
If this is you, I'd like to encourage you to think about this one concept:
Just because you CAN do something doesn't mean you SHOULD.
So how can you make a decision about whether or not you SHOULD do something?
If you want to live a life based on your true values and priorities, you will need to first decide your priorities and then evaluate your decisions in light of those values so you can make a decision with wisdom and foresight.
If you take some time to make your decisions based on the most life-giving order of priorities, you can build a stable "tower" and flourish.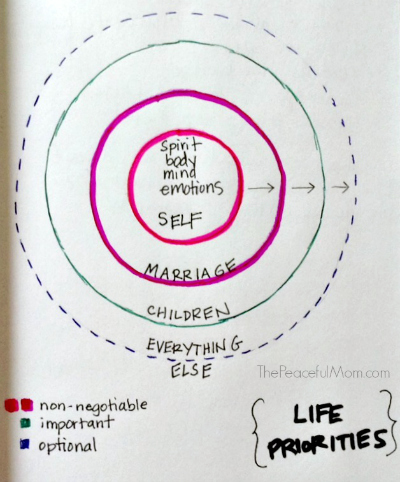 The illustration above is what I like to call the "Circle of Life".
The most life-giving (and therefore important) priorities evolve outward from the center so our first priority should be taking care of ourselves — physically, mentally, emotionally and spiritually — so that we can be all that we were created to be and take care of our most important responsibilities.
For the next level of priority, I like to ask "What can only I do?"
I am the only wife my husband has and the only mom my children have, and I don't want anyone else to fill those roles, so my next priority should be my marriage relationship, followed by caring for my children.
I've always believed these should be my top priorities, but in years past my schedule would have said otherwise. I allowed other people to tell me what I should do and I spent time on lots of "good" activities and tasks that prevented me from taking care of what was really most imperative.
Your details might be different than mine, but using the criteria of doing first what only YOU can do will enable you to make a decision about your priorities that brings life to you.
After these two innermost levels of priority are met you can move outward to other relationships and tasks, but in order to live your most balanced and joyful life, all other obligations, responsibilities and activities should fall into place AFTER these primary responsibilities are met.
If you're feeling burned out, exhausted or down, it's likely that your schedule and your recent activities are out of balance, and that you are giving out far more than you are investing in yourself and those closest to you.
Or maybe you're in a season where the demands are out of your control.
Whatever your circumstances, it's vital to evaluate what you have going on and how you have been spending your time. Begin to bring some balance back into your life so that you can take care of yourself and those things that only you can do.
I want you to enjoy your days and weeks, not just survive them so I encourage you to make a decision about what is absolutely most important to you. Then choose to live YOUR best life, not what someone else tells you that you should do. Make the difficult decisions to live purposefully and you'll find that you are living joyfully as well.
I would love to hear what you think, so please leave a comment. 🙂
We're in this together!
 
P.S. – If you'd like help with deciding your top priorities and creating a weekly plan to implement those priorities into your life, the Joyful Life Planner is the tool you're looking for. The planner is undated so you can start using it at any time!
Click HERE to see what's inside!
Want a simpler life?
Join our simplifying, organizing, life-changing community!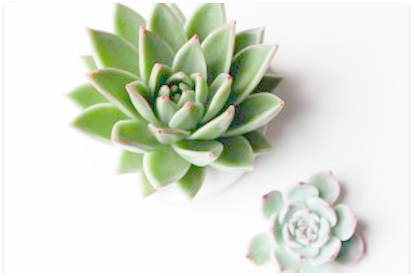 Click here to join The Peaceful Mom Community!
Get weekly encouragement & 10 Minute Organizing Tips
PLUS access to our Organizing and Printable Library including:
10 Minutes a Day Declutter Calendar — focus on one small area each day of the month
Organizing Printables – to organize your life one baby step at a time
Monthly Gifts – because who doesn't love a surprise?

 You May Also Enjoy: