Join us for the 30 Day Dejunkify Challenge (and see what I dejunked this week).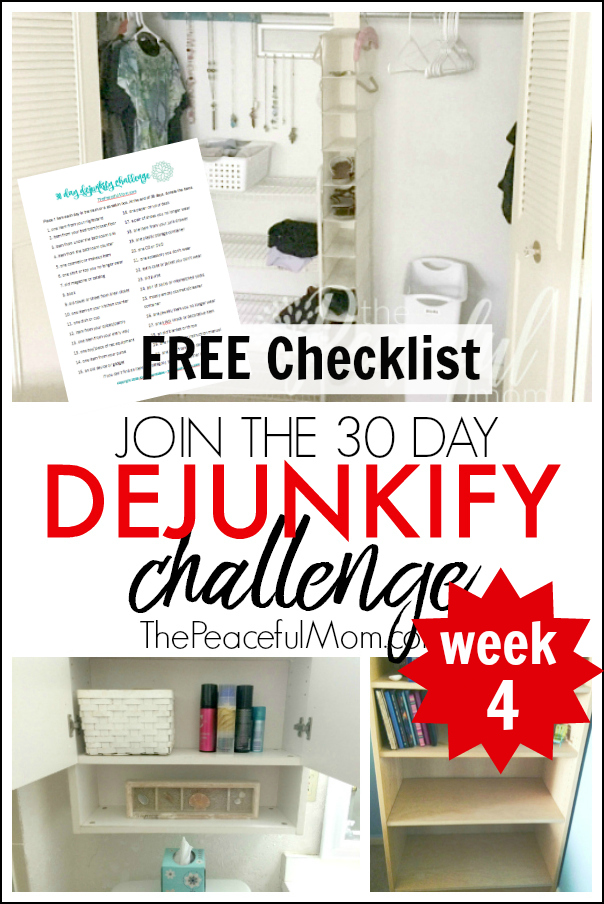 We're spending 30 seconds for 30 days in 30 areas of our home to remove the junk. The 30 Day Dejunkify Challenge is helping us to develop the habit of looking for items we can discard on a daily basis — because a little at a time eventually equals a lot.
Sign up HERE to grab your 30 Day Dejunkify checklist!
(You'll receive an email with the password to the Resource Library.)
Take a peek at what I've dejunked this past week.
Home Office/Studio
True confessions: I made a trip to my local thrift store last week, but not to donate.
I went shopping.
Shopping at the thrift store is one of my favorite hobbies, but it's also a source of clutter. so I have to be careful what I purchase. This trip yielded some fun home accessories which led me to redecorate the seating area of my office.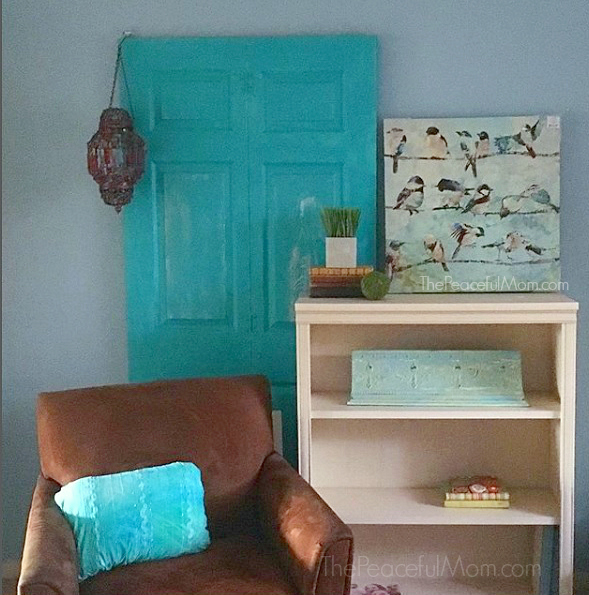 Office Shelf BEFORE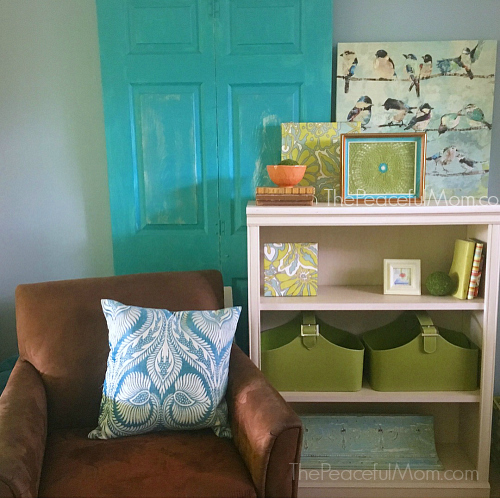 Office Shelf AFTER
You can read the details of how I upcycled the items I found HERE on my Instagram, but redecorating this small space somehow motivated me to go on a crazy decluttering binge in my office.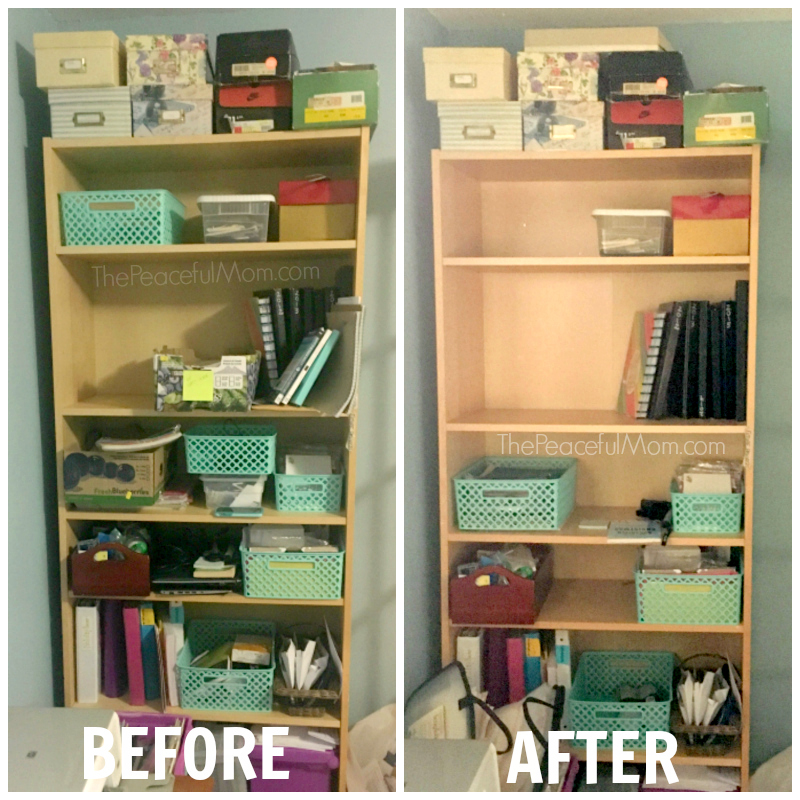 Bookshelf 1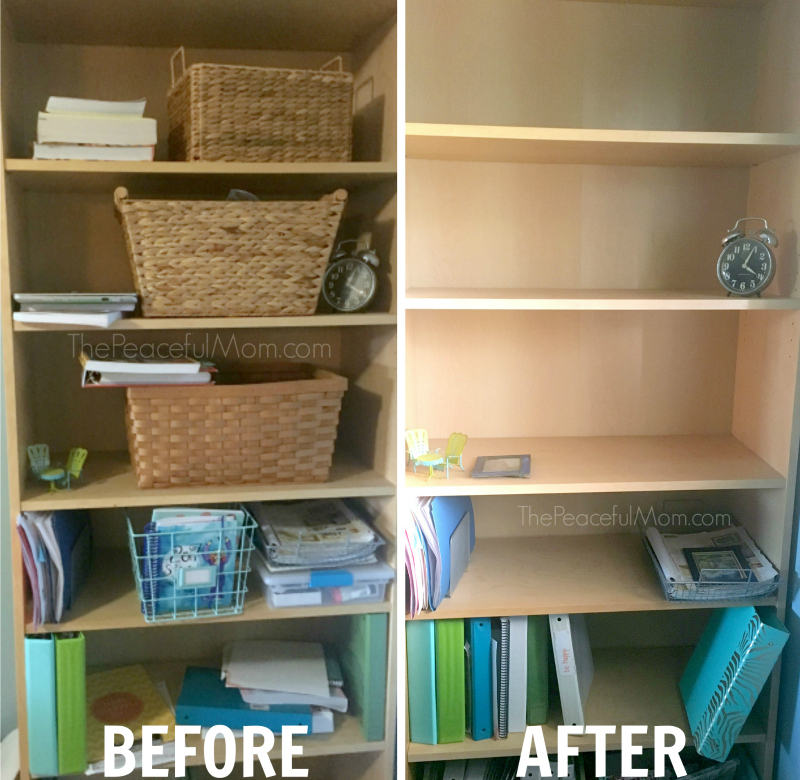 Bookshelf 2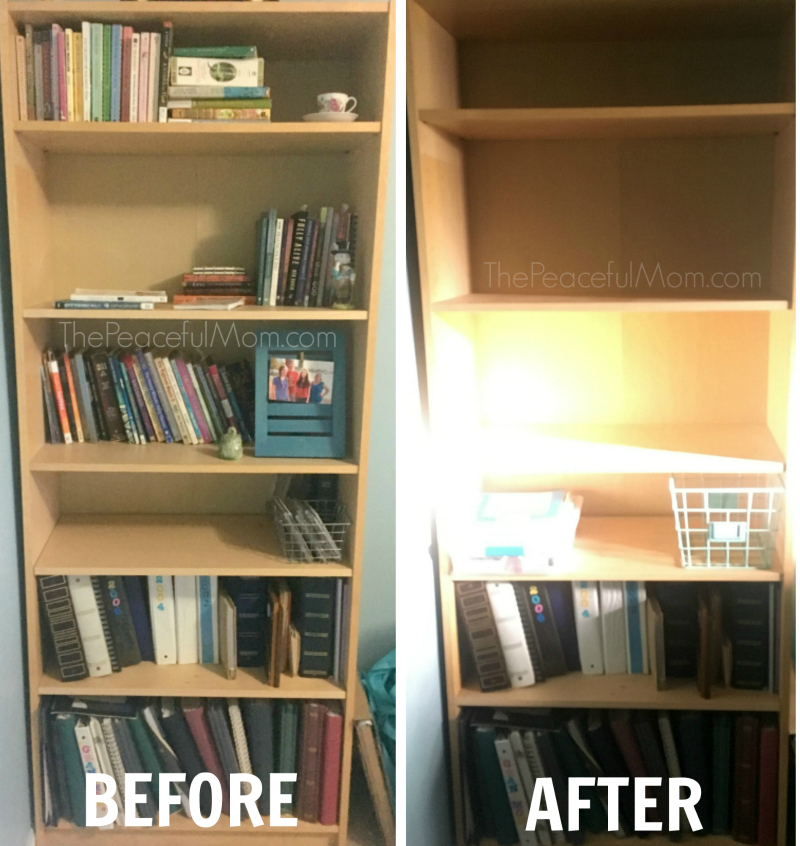 Bookshelf 3
As I removed the items from the shelves, I quickly sorted them into four groups:
*throw away (went immediately into the trash)
*give away (went into a box to donate)
*put away (went into a box with items that I will use when I re-organize these shelves)
Many of the items I needed to sort were papers, but I didn't want to get bogged down in the details and get overwhelmed. If a paper could quickly go in the recycle bin or be shredded, I took care of it immediately. The remainder of the papers and a couple of file folders were added to a shallow wire inbox that I will go through this week.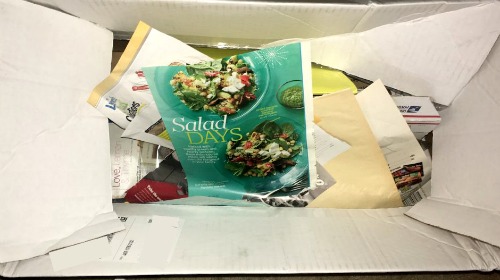 I ended up with an entire box of papers for the recycle bin.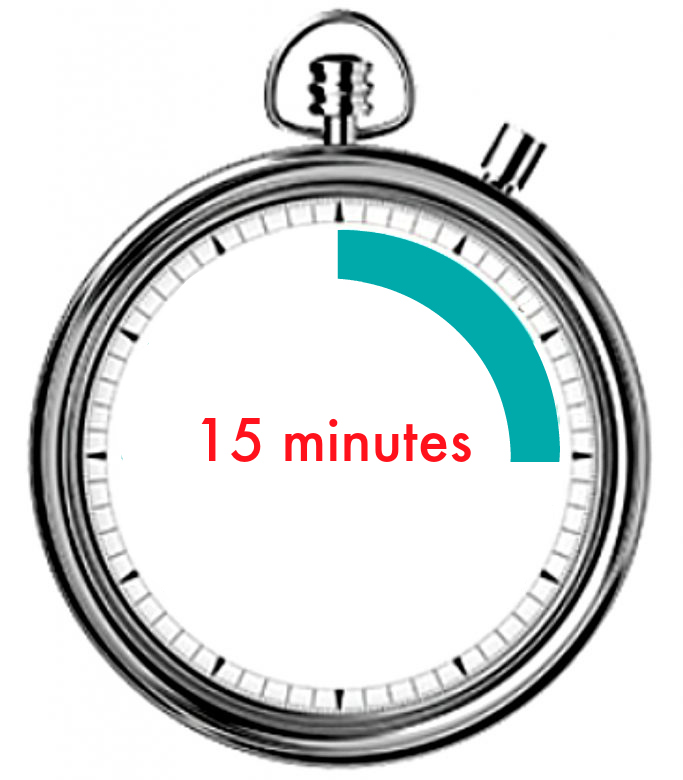 Technically, I "cheated" on our Dejunkify Guidelines of 30 seconds a day.
But you may be surprised to discover that this entire process took me only 45 minutes total — or about 15 minutes per bookshelf.
I procrastinated starting the office declutter for over a year because:
*I assumed it would take much longer.
*I had a mental/emotional block which you can read about HERE.
I'm giving myself grace rather than guilt that it took me so long, and I believe that part of the reason I was able to break through this block was choosing to focus on decluttering just one item a day for the previous three weeks.
If you're procrastinating on decluttering, I encourage you just do something, even if it's removing one item a day, and then if you can, spend some time processing with yourself to determine why you're waiting. (And let me know what you discover.)
Now that it's done, I feel an almost unfathomable sense of relief. And a bonus? All of my current projects that were on the floor can live happily on these empty shelves. Woohoo!
I would love to hear how the 30 Day Dejunkify Challenge went for you, so leave a comment below. 🙂
Even if you only removed one item during this challenge, I'm proud of you!
Continue the habit of looking for items you can discard as you go about your day and you will find that your house is much less cluttered over time.
And remember, progress, not perfection!
If you didn't join us, but want the 30 Day Checklist, make sure you sign up HERE.
We can do this!
 
Want a simpler life?
Join our simplifying, organizing, life-changing community!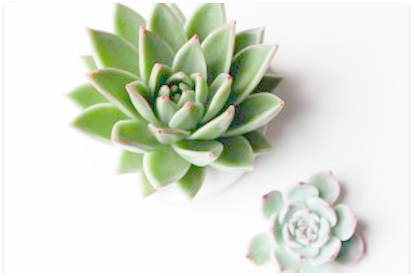 Click here to join The Peaceful Mom Community!
Get weekly encouragement & 10 Minute Organizing Tips
PLUS access to our Organizing and Printable Library including:
10 Minutes a Day Declutter Calendar — focus on one small area each day of the month
Organizing Printables – to organize your life one baby step at a time
Monthly Gifts – because who doesn't love a surprise?