See my declutter before and after and  join us for the 30 Day Dejunkify Challenge.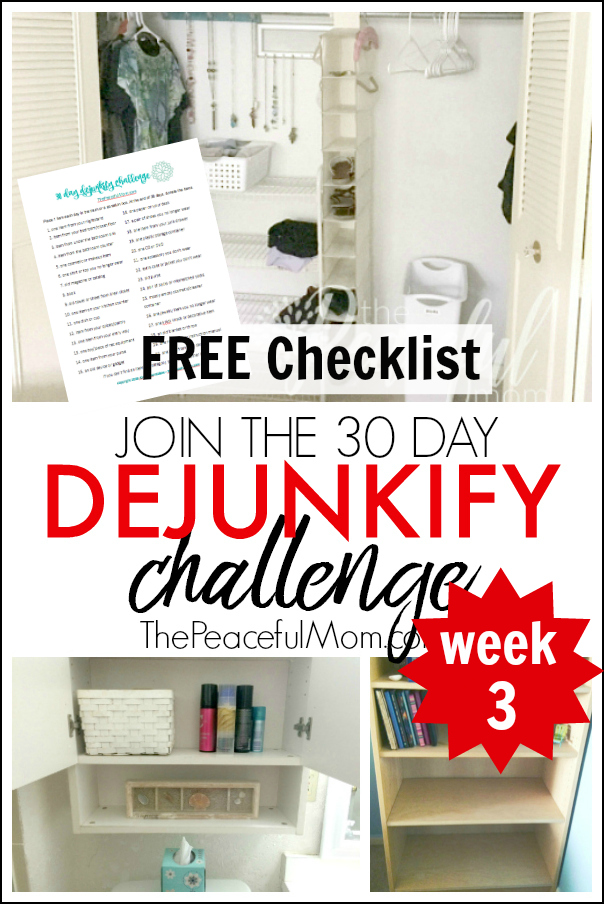 We're spending 30 seconds for 30 days in 30 areas of our home to remove the junk. The 30 Day Dejunkify Challenge is helping us to develop the habit of looking for items we can discard on a daily basis — because a little at a time eventually equals a lot.
Sign up HERE to enter to win in our giveaway and grab your 30 Day Dejunkify checklist!
Take a peek at what I've dejunked this past week.
Bookshelf Declutter Before and After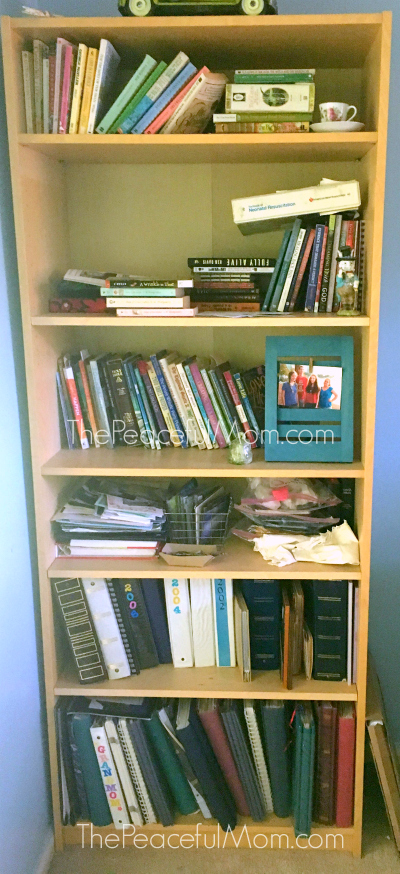 BEFORE
This bookshelf has been a source of stress for months now.
So I spent a couple of minutes on it this past week.
One of the main sources of stress is a stack of photos that I want to scan, but I'm dreading the task so I keep putting it off. The photos were just lying there on the shelf staring at me and causing anxiety every time I looked at them.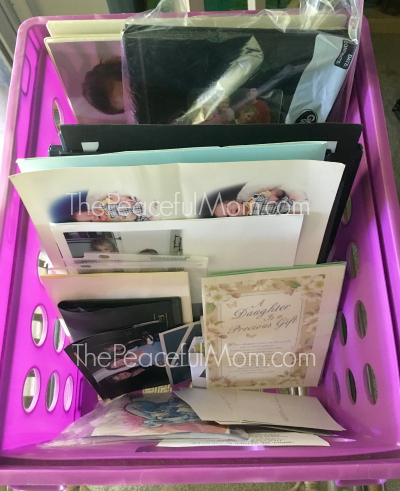 I decided to take them all off the shelf and place them in this crate, which will live at the bottom of my closet until I'm ready to scan them.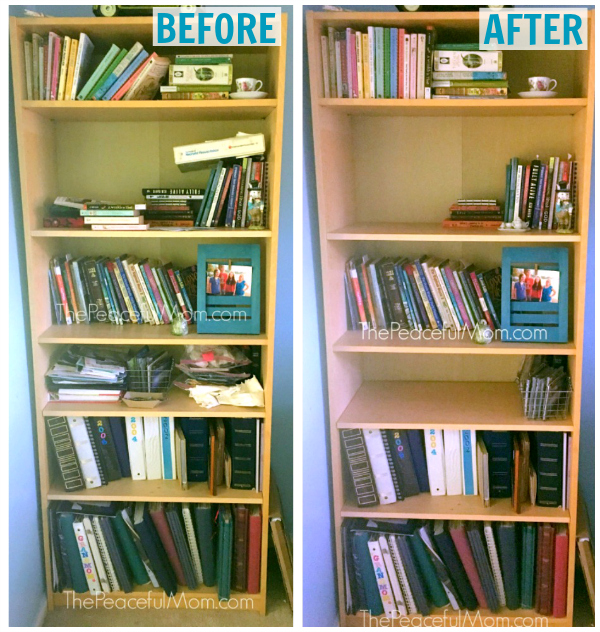 BEFORE and AFTER
In this bookshelf declutter before and after photo you can see that I now have two mostly empty shelves. Yay!
I will probably add decorative items to these shelves so when I look at them I feel happy instead of anxious (and guilty!).
Other Decluttered Items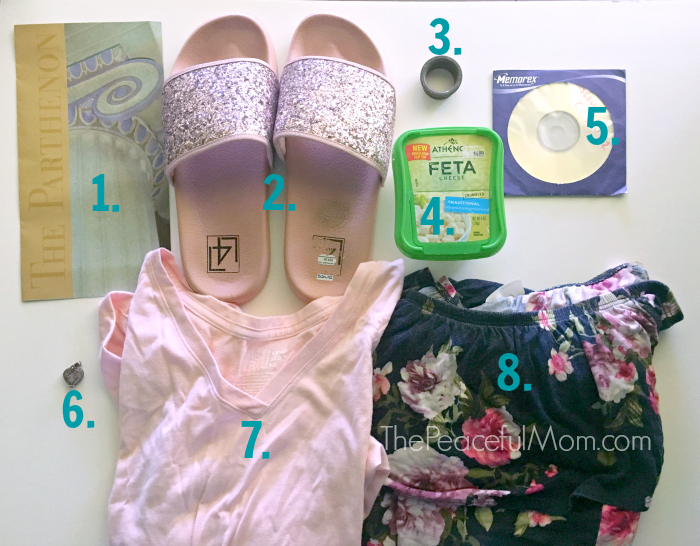 So here's a look at the items I discarded or added to the donation box this past week.

1. Brochure from our family trip (#16 one paper from your desk)
2. Glittery Slip Ons – So cute, but not comfortable (#17 pair of shoes you no longer wear)
3. Metal Ring – What? Why did I save a rusty metal ring and what is it even from? (#18 one item from the junk drawer)
4. Feta Cheese Container (#19 one plastic container)
5. Old CD (#20 one CD or DVD)
6. Pendant (#21 one accessory you don't wear)
7. Pink T-shirt (subbed for #23 old purse)
8. Flower T-shirt (bonus item)

I also removed these items.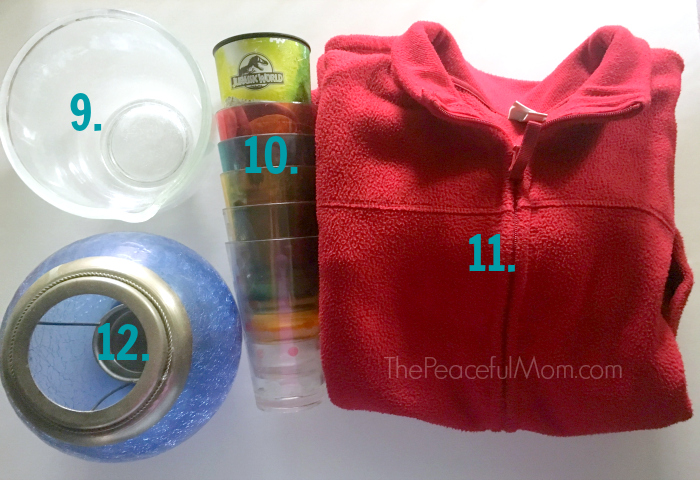 9. Chipped mixing bowl – I found a brand new one at the thrift store.
10. Plastic drinkware – These are SO old and I found a few new drinking glasses for really cheap at the thrift store.
11. Winter fleece jacket — again, so old. (#22 extra coat or jacket you don't wear)
12. Decorative candle holder — (#27 one knick-knack or decorative item) I like it, but I don't love it. After consulting readers on Instagram HERE, I decided to donate it so someone else can enjoy it.
Remember, removing one item a day may seem insignificant, but we're making progress and developing the habit of looking for items to discard every day. Progress, not perfection!
I would love to hear how the 30 Day Dejunkify Challenge is going for you, so leave a comment below. 🙂
Also, make sure you're signed up for the giveaway HERE.
We can do this!
 
Share the 30 Day De-Junkify Challenge with your friends!
Share this post on Facebook.
Want a simpler life?
Join our simplifying, organizing, life-changing community!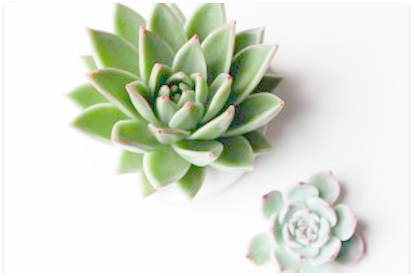 Click here to join The Peaceful Mom Community!
Get weekly encouragement & 10 Minute Organizing Tips
PLUS access to our Organizing and Printable Library including:
10 Minutes a Day Declutter Calendar — focus on one small area each day of the month
Organizing Printables – to organize your life one baby step at a time
Monthly Gifts – because who doesn't love a surprise?

Reader Interactions