Learn 4 reasons you've got that overwhelmed feeling (again!) and what you can do about it.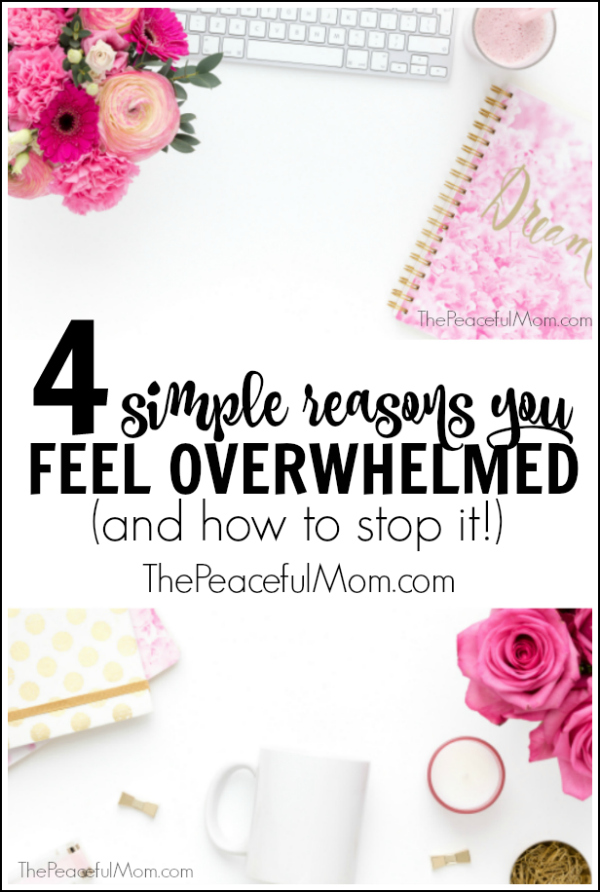 Brain fog. Emotional numbness. Heart palpitations.
Are you feeling any of these on a regular basis?

I hear from readers all the time who feel overwhelmed — and I completely understand. At various times in my life I've had that same suffocating, drowning, overwhelmed feeling.
But I've realized over the years that there are four primary reasons I end up in that place, so today I'm sharing why you may have that overwhelmed feeling and what you can do about it.
4 Reasons You've Got That Overwhelmed Feeling
You're Not Living Out Your Top Priorities
If you're like many women, you probably struggle to just get through each day, so you're not giving a lot of thought to how you really want your life to look and feel — and you may be devaluing your actual priorities in your everyday life.
I know that for many years I just did what everyone else was doing:
Buy a house.
Have kids.
Enroll kids in enrichment activities.
Buy all the things.
Rinse.
Repeat.
But what I failed to do was really think about my true, deep-down values and priorities.
Did I really WANT a big house and a mini van that I used to constantly drive kids from one activity to the next? Did I really want to have so much stuff in my house that I could hardly move?
The answer is NO, but I first had to recognize what I DID want so that I could move toward it.
And you need to know what you really want too.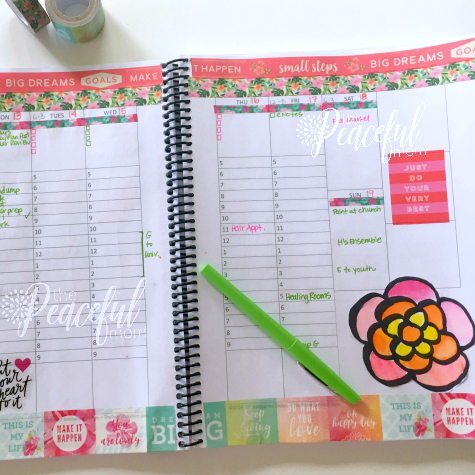 You Don't Plan Consistently
Once you know what you actually want, it won't happen by accident. In order to enjoy a joyful, peaceful, intentional life, you have to put in some effort to plan for it. Since I began planning in an intentional way every day, week and month, I've seen SO many benefits.
I'm calmer and WAY less stressed.
I have more time for what really matters to me.
My relationships with family and friends are so much closer and richer.
I've created products that have increased our family's income.
I have time for hobbies and projects that fulfill me and bring me joy.
I'm just happier.
As Benjamin Franklin said, "By failing to prepare you are preparing to fail." — and planning is a BIG part of being prepared.
You're Inconsistent With Daily Routines
There's plenty to do in a day, but if you're not consistently using routines, you're creating unnecessary chaos and stress in your life. Routines allow you to put the daily must-do's on auto pilot, so you can use your brain power and energy for more important and fun activities.
I have several routines that I use daily, but the most important are my morning routine and before-bed routine. These keep me on track and ready for productive, intentional days without the stress of having to figure out what to do next.
Trust me. Routines are key to breaking through that overwhelmed feeling.
You Can't Say "No"
One of the key secrets to a joyful, beautiful life is the ability to create good boundaries and to say "no" to activities that prevent you from doing what is most important to you. It's been a challenging journey for me to learn to create healthy boundaries, and to be able to decline other's requests when they don't fit with my priorities.
It may be challenging, but without good boundaries and the ability to say "no" well, you will always be at the mercy of other people's agendas and doing what they want instead of spending your time and energy on YOUR priorities.
Learn to say "no", so you can say "yes" to what's most important.
How to Prevent the Overwhelmed Feeling
If you're regularly feeling overwhelmed (and even feel overwhelmed by this list), I've got some fantastic news for you!
In the next few weeks, I'll be sharing my new SUPER SECRET project with you.
You're seriously going to love it and how quickly I can help you cut through the chaos and bring some peace, joy and balance to your life. I'll help you to create routines, learn how to plan in a way that works for you, show you how to say "no" gracefully and so much more.
In the meantime, be the first to know when my overwhelm-busting project is ready for you.
Click here to join The Peaceful Mom Community!
We can do this!
 
Want a simpler life?
Join our simplifying, organizing, life-changing community!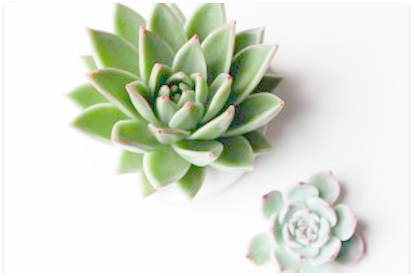 Click here to join The Peaceful Mom Community!
Get weekly encouragement & 10 Minute Organizing Tips
PLUS access to our Organizing and Printable Library including:
10 Minutes a Day Declutter Calendar — focus on one small area each day of the month
Organizing Printables – to organize your life one baby step at a time
Monthly Gifts – because who doesn't love a surprise?