Join us for the 30 Day Dejunkify Challenge (and see what I dejunked this week).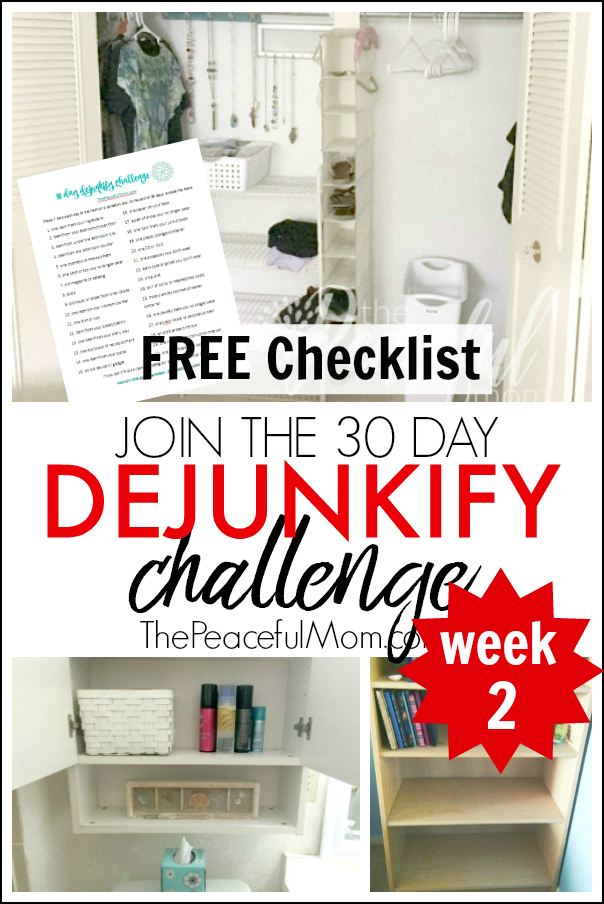 We're spending 30 seconds for 30 days in 30 areas of our home to remove the junk. The 30 Day Dejunkify Challenge is helping us to develop the habit of looking for items we can discard on a daily basis — because a little at a time eventually equals a lot.
Sign up HERE to enter to win in our giveaway and grab your 30 Day Dejunkify checklist!
Take a peek at what I've dejunked this past week.
Entryway
The entryway is number 13 on the list, BUT I just noticed that I added two number 13's to the Dejunkify list …
SO we're just going to pretend that I did that on purpose, okay?
I definitely needed to spend more time on my entryway closet, so it should have been numbers 13-30.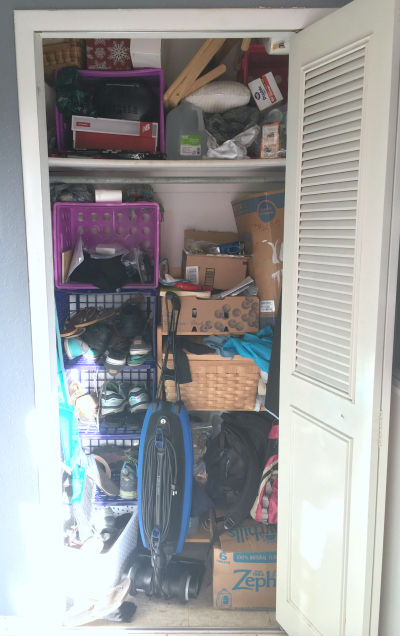 BEFORE
Help me!
This is the shoe closet, the cleaning closet, the storage closet and the emergency supply closet (grab a free emergency checklist HERE) —
otherwise known as the junk closet.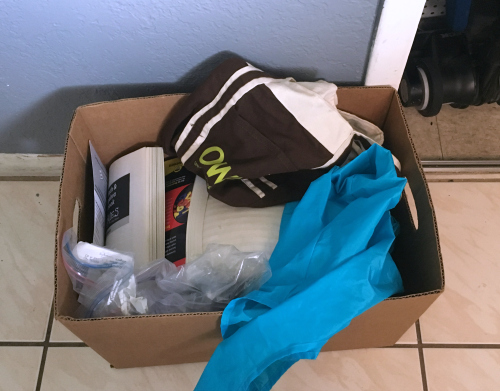 It needs a major overhaul, but I decided to stick with the plan of 30 seconds or less, so I grabbed a box and dumped everything extra into it.
Then the next two days, I spent my 30 seconds dispursing the items where they belonged: trash, give away or put away.
Now you may wonder, why didn't I just spend the time to really clean the closet by taking everything out and replacing it in an organized manner?
Believe me, the perfectionist in me wanted to take everything out and organize this mess "the right way", but I know myself. I would either get distracted or overwhelmed midway through the task and end up with piles of stuff all over my floor for several days, or I would finish it to the last nitty gritty detail and get nothing else done the rest of the day.
Just being honest.
BECAUSE SOMETIMES YOU DON'T HAVE THE CAPACITY TO DO THINGS PERFECTLY.
Progress, not perfection.
Forward momentum.
Do what you can do, even if it's small, but do something.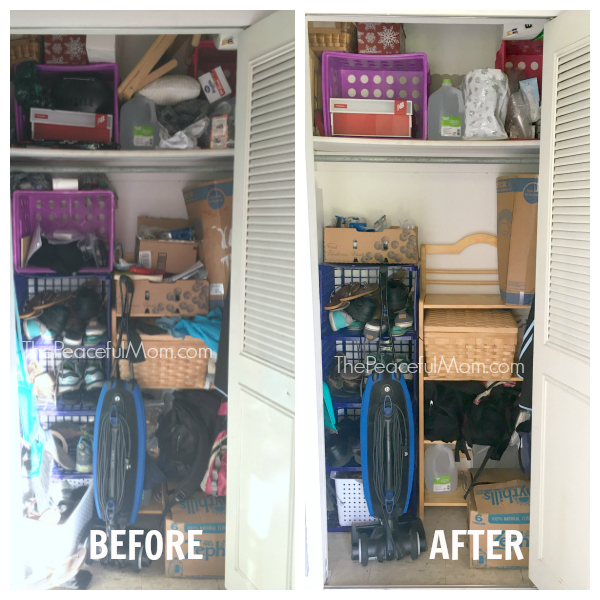 AFTER
Doesn't it just feel better?
Here's a shot of what I dejunked this week (not including a pile of trash from the entryway closet):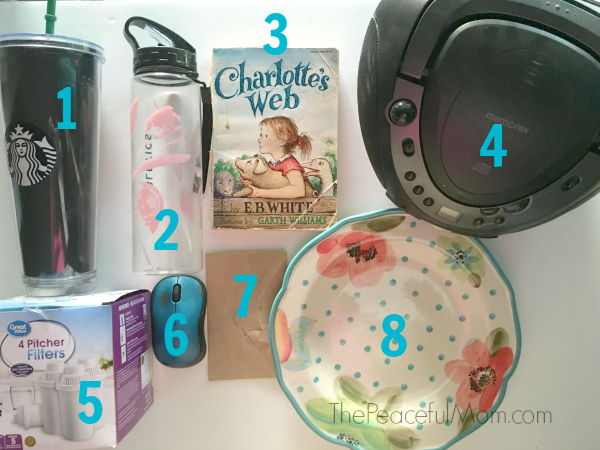 1. Starbucks cup no one was using (#10 item from kitchen counter)
2. water bottle no one was using (#9 item from linen closet – I didn't have one so subbed item from kitchen cabinet)
3. extra copy of Charlotte's Web (#8 book)
4. CD player from 1994 (#13 item from entryway — why do I still have this?)
5. water pitcher filters from pitcher we no longer use — I found a much better water filter HERE. (#12 item from spices/pantry)
6. old computer mouse (#15 old device or gadget)
7. envelope (#14 item from purse)
8. dinner plate I no longer like (#11 one dish or cup)
Removing one item a day may seem insignificant, but we're making progress and developing the habit of looking for items to discard every day. Progress, not perfection!
I would love to hear how the 30 Day Dejunkify Challenge is going for you, so leave a comment below. 🙂
Also, make sure you're signed up for the giveaway HERE.
We can do this!
 
Share the 30 Day De-Junkify Challenge with your friends!
Share this post on Facebook.
Want a simpler life?
Join our simplifying, organizing, life-changing community!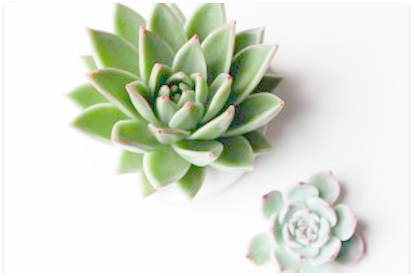 Click here to join The Peaceful Mom Community!
Get weekly encouragement & 10 Minute Organizing Tips
PLUS access to our Organizing and Printable Library including:
10 Minutes a Day Declutter Calendar — focus on one small area each day of the month
Organizing Printables – to organize your life one baby step at a time
Monthly Gifts – because who doesn't love a surprise?

 You May Also Enjoy: