Take a peek into my fixer upper budget living room makeover.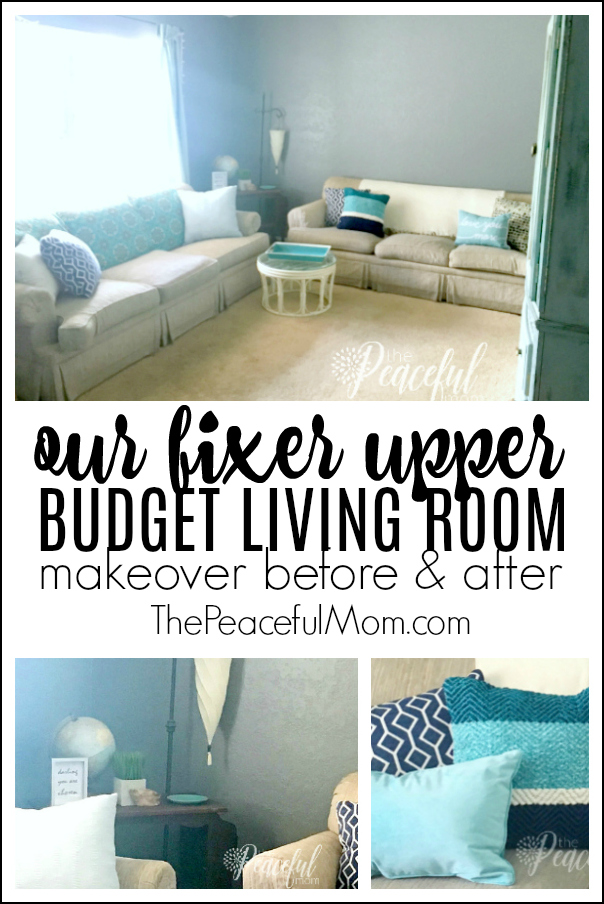 There's just something about Spring that makes me want to update my decor.
Well, maybe "decor" isn't the right word for my style, but I enjoy making changes to our home when the weather starts to warm up again.
And can I tell you how motivating it is to keep your space clean and decluttered when you like the way it looks?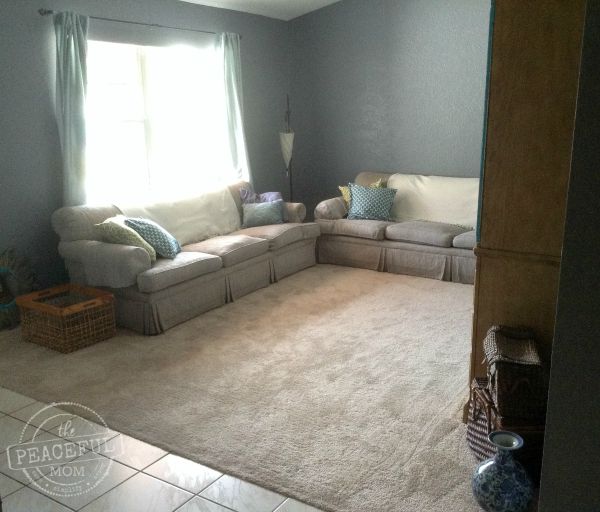 Livingroom BEFORE 1
For the past couple of months I've been practically obsessing over purchasing new sofas for the living room. Ours are ancient (I think they're from the 1980's) and were used when we purchased them 7 years ago. Thankfully they are a nice neutral gray so I can overlook most of the "ugly", but I would still LOVE to have new sofas.
But it's just not in the budget right now.
THROW PILLOWS FOR THE WIN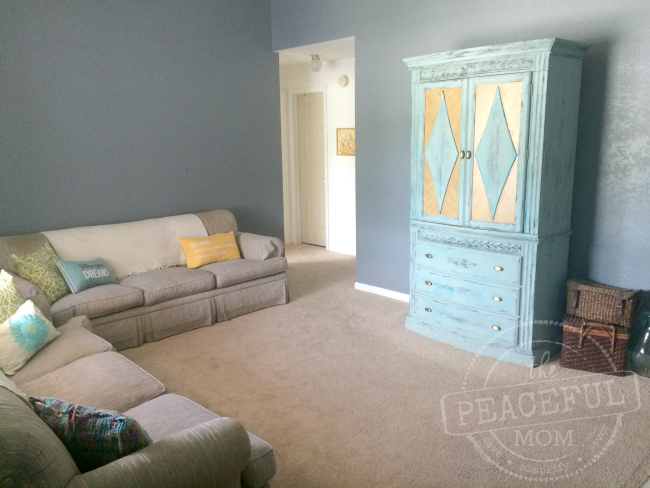 Living Room BEFORE 2
I know from previous experience that new throw pillows can really update the look of a space with minimal expense, so I took a little trip to my local Big Lots and Ross to check out what they had.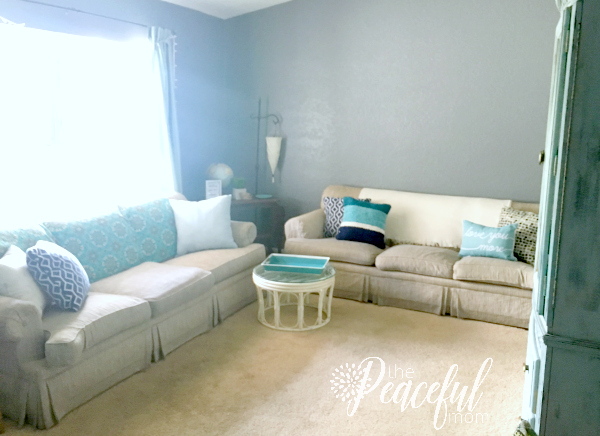 Living Room Throw Pillows AFTER
I'm SO happy with these new pillows. The colors are perfect together and make the room feel even more tranquil.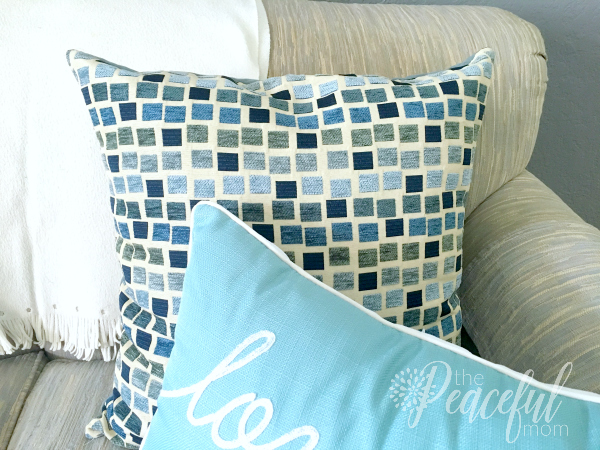 and the texture is just delicious.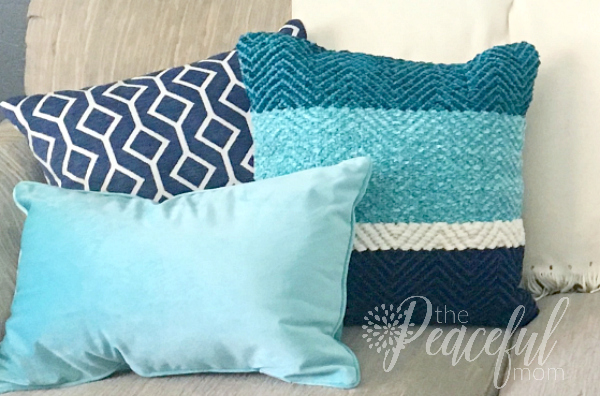 (That front left pillow is the softest velvet I've ever felt and it makes me want to pet it like a puppy – haha!)
SIDE TABLE SWITCHEROO
In addition to updating the throw pillows, I also updated the side tables in the space. I mentioned in my Declutter Update HERE that I couldn't decide what to do with the antique table that had been my grandmother's which I moved out of my office space.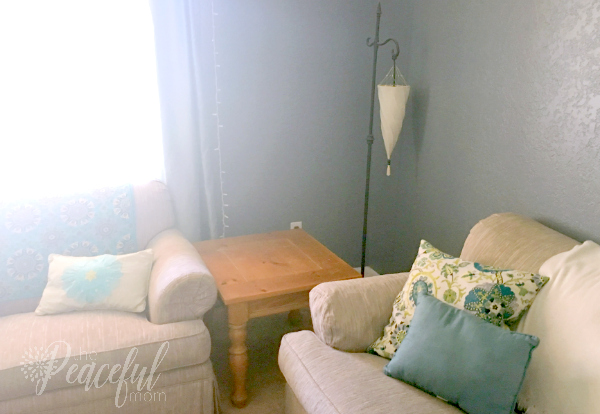 Side Table 1 BEFORE
I decided to replace the clunky side table in the living room with the antique table and create a little display o add some personality to the room.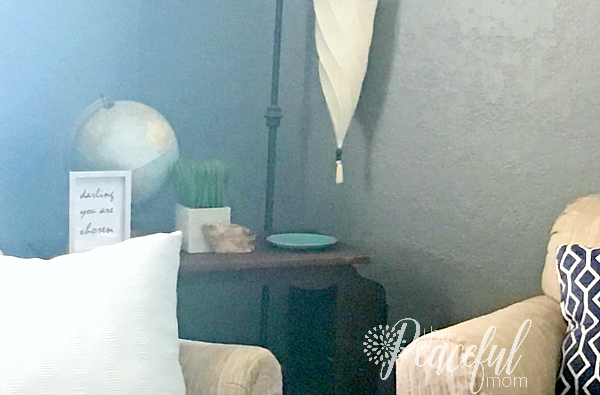 Living Room Side Table 1 AFTER
I moved all of the items from other parts of the house, but I wanted to add a framed quote so I created one myself.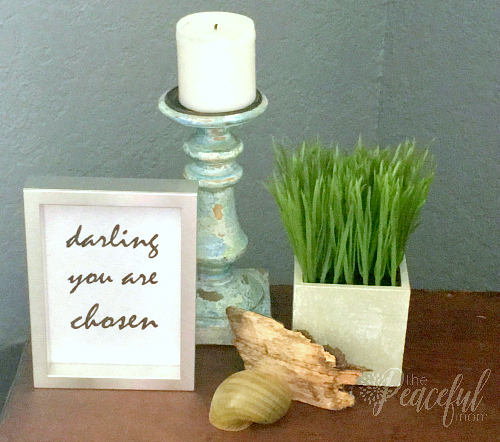 (Purchase the 5×7 quote print HERE.)
Using items that I already own saved quite a bit of money, and I already know I like them. 🙂
RATTAN TO THE RESCUE
I've had an issue with finding side tables and a coffee table that work in the room.
I had purchased this table at the thrift store before Christmas and it was great because it's so small, plus it has a mid-modern feel that I really like.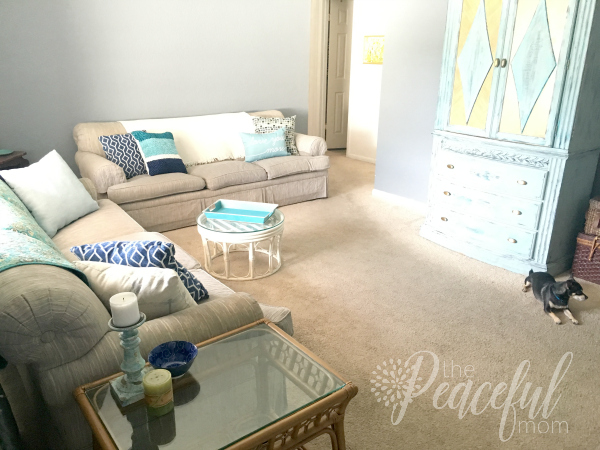 But when I found this rattan side table and circular ottoman/coffee table ($9 each!), I knew I wanted to use them in the space.
At first I planned on painting the side table white to match the little ottoman/coffee table, but I decided I like the natural wood color because the darker wood kind of withdraws into the background so your eye is naturally drawn to the cute circular coffee table and the tablescape in the corner of the room.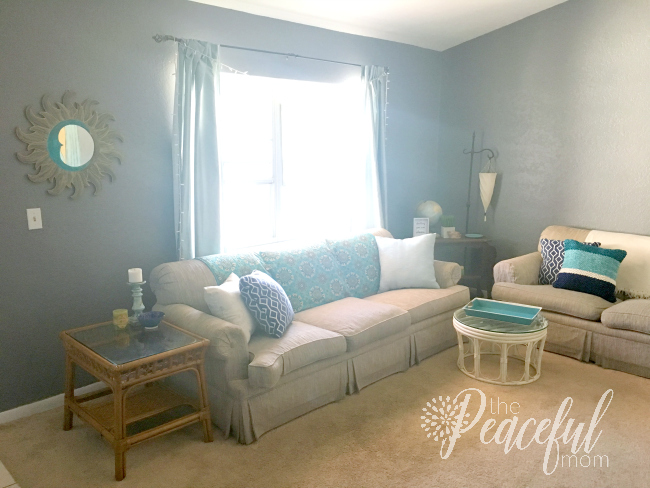 My entire room makeover cost about $75, which is way cheaper than new sofas.
Now I just have to figure out what to hang on the wall behind the old one.
Go to my Instagram HERE and click "Stokes
little Cottage" in my story highlights for a quick video tour. (And follow me there to see updates!)
I would love to hear what you think so  leave a comment. 🙂
Happy Thrifty Decorating!

Want a simpler life?
Join our simplifying, organizing, life-changing community!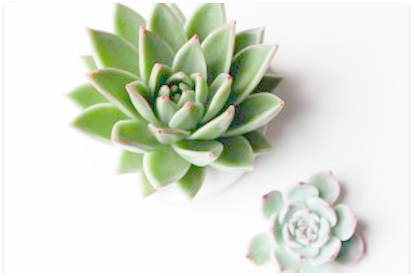 Click here to join The Peaceful Mom Community!
Get weekly encouragement & 10 Minute Organizing Tips
PLUS access to our Organizing and Printable Library including:
10 Minutes a Day Declutter Calendar — focus on one small area each day of the month
Organizing Printables – to organize your life one baby step at a time
Monthly Gifts – because who doesn't love a surprise?

 You May Also Enjoy: