See my decluttering progress and sign up for my free organizing video course!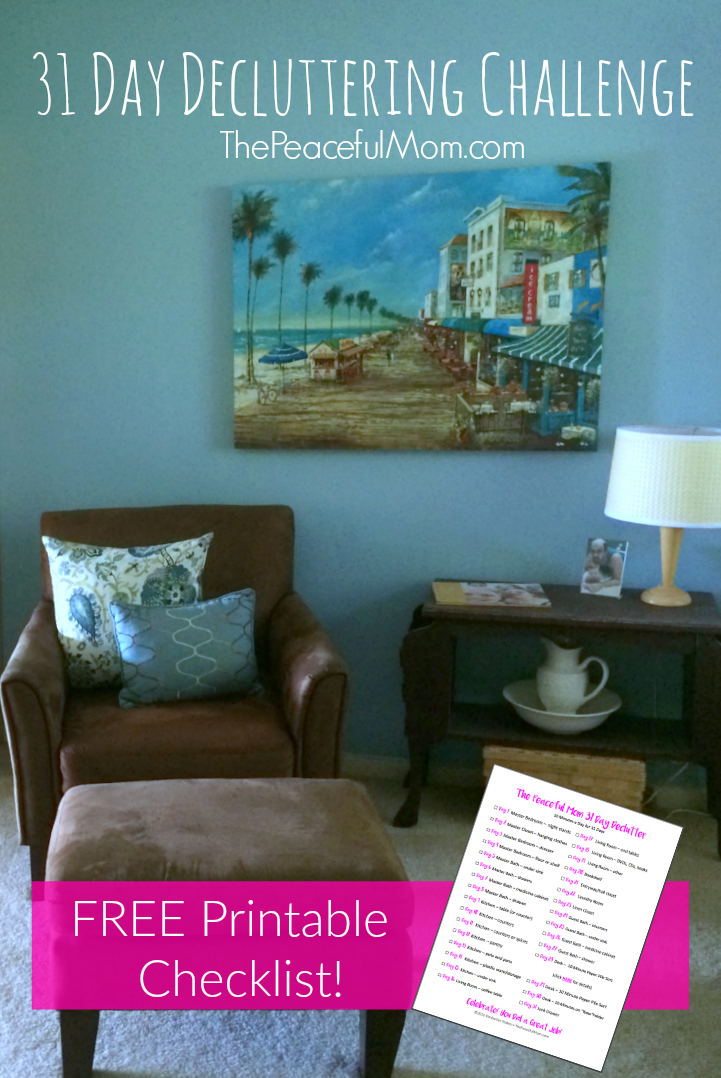 31 Day Decluttering Challenge
We're finishing up the 31 Day Decluttering Challenge so I wanted to give you an update on my progress and hear about yours. Be sure to leave a comment below to let me know how you did and sign up for my FREE organizing video course HERE.
Decluttering Challenge Update
For this challenge I focused on three small areas: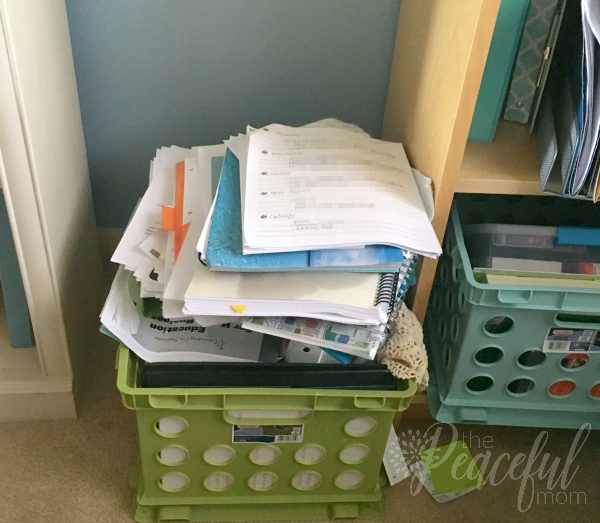 Paper Pile in My Office
As I mentioned in my last post, I made progress on this paper pile (leftover from several years of projects that I haven't dealt with) by using my Quick Sort Paper Organizing Method (read more HERE) to quickly organize the papers into categories.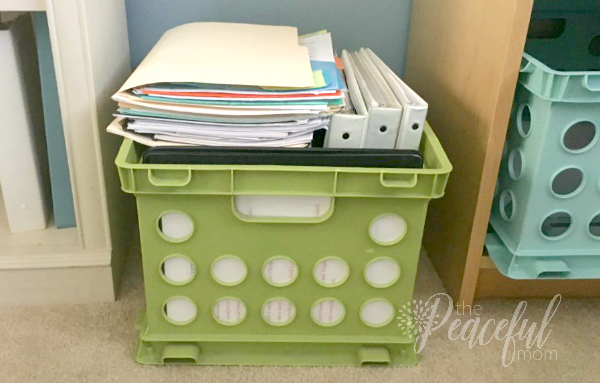 MID MONTH PROGRESS
I threw away some papers, but realized that most are long-term reference materials that I want to keep. I did a quick sort to organize them by category into folders and I'm slowly scanning them into Evernote so I can throw away the papers. (See How I Organize with Evernote HERE.)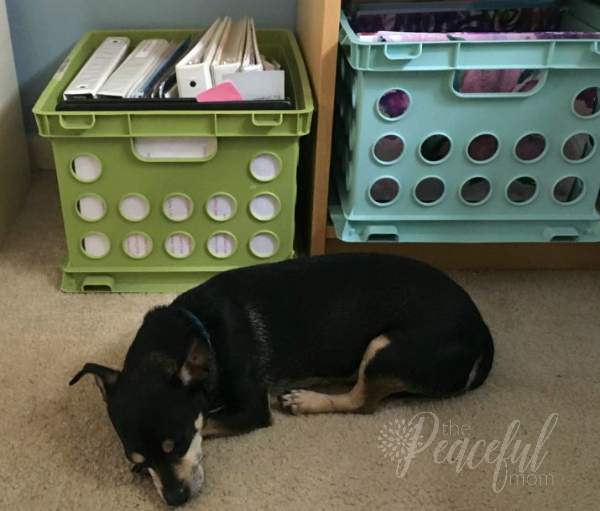 END OF MONTH PROGRESS
I purchased decorative hanging files which I placed in the crate to the right. I added the files that were on top of the green crate so that I don't have to look at a mess and I can go through the papers in an organized way to scan them into Evernote. The current situation is even puppy approved. 🙂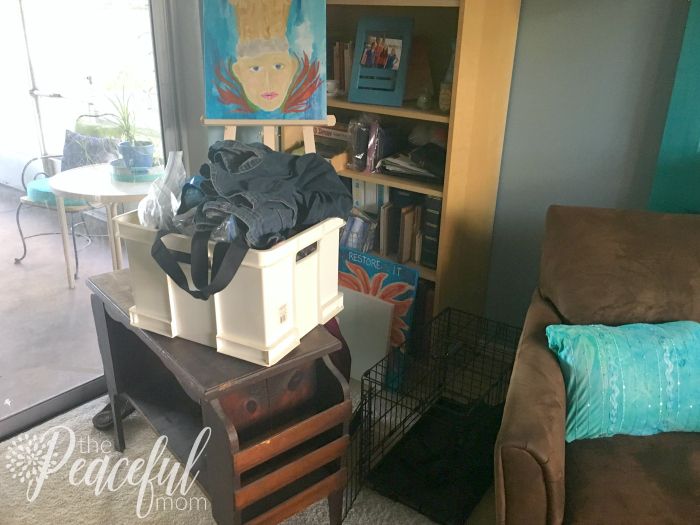 Crate of Miscellaneous Clutter
The second project was this plastic crate and antique side table that belonged to my grandmother. I'm happy to report that the contents of the white plastic crate have been dispersed to the locations where they belong.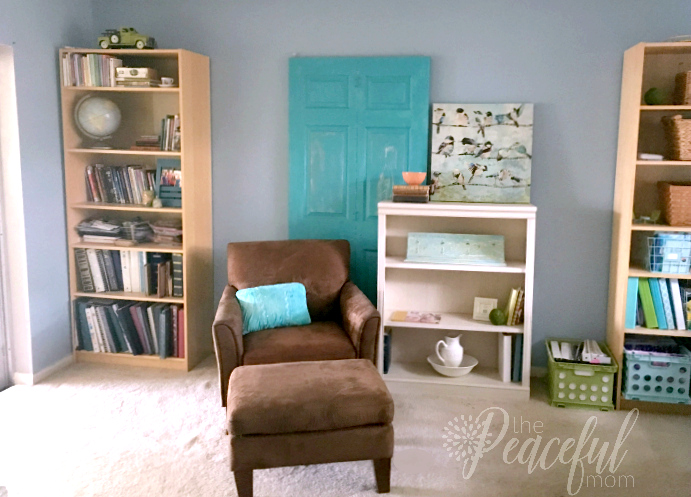 OFFICE AFTER
I also moved my paintings and easel to the garage and I will bring them out only when I'm painting.
This corner of the office is now clear of clutter and it feels SO much better!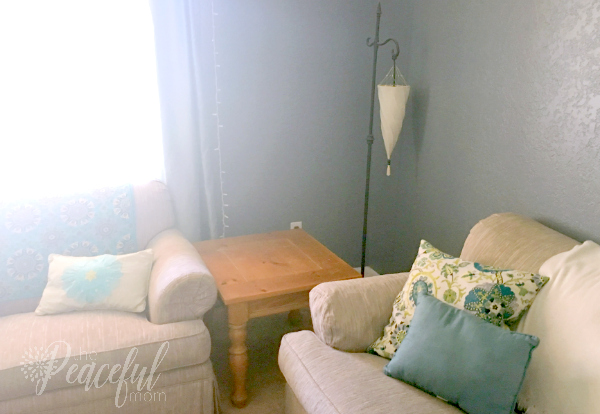 LIVING ROOM BEFORE
I also made the decision to replace the end table in my living room (which was too big for the space anyway) with the antique table in the photo above.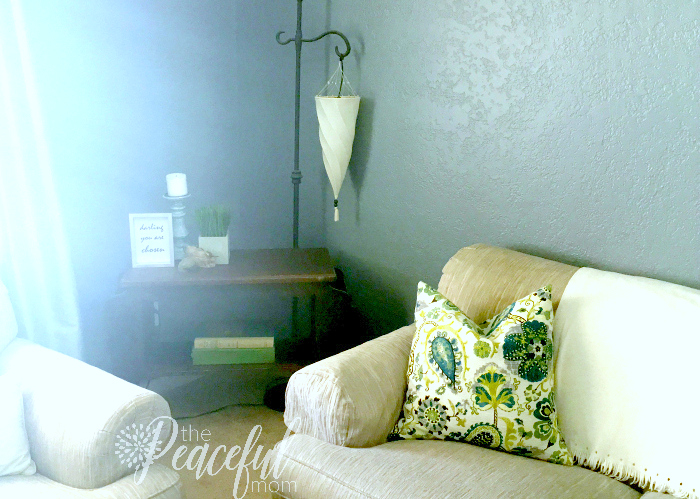 LIVING ROOM AFTER
Removing the too large end table physically gives us more space, but this smaller table is also more visually appealing.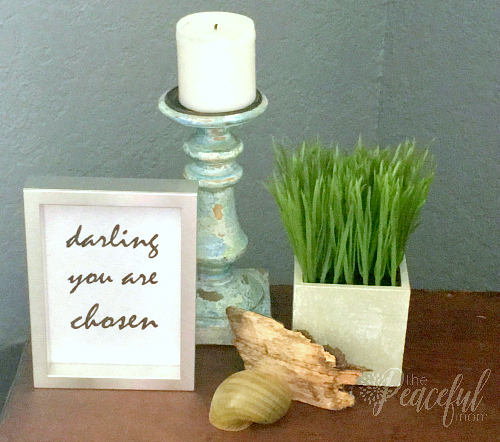 I decided to style the table with a few items from other places around the house plus a print I created.
(You can purchase the 5×7 print HERE.)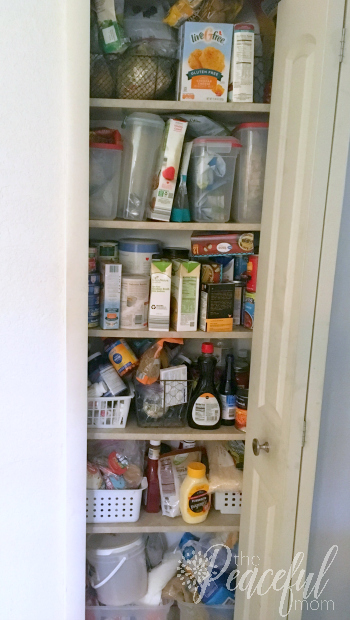 Pantry
The third area that I wanted to address is our kitchen pantry, and motivated by the fact that I had to post an update here on the blog, I made myself clear out this mess. I removed all of the items from the top two shelves, threw away expired food, reorganized everything and replaced it in the pantry.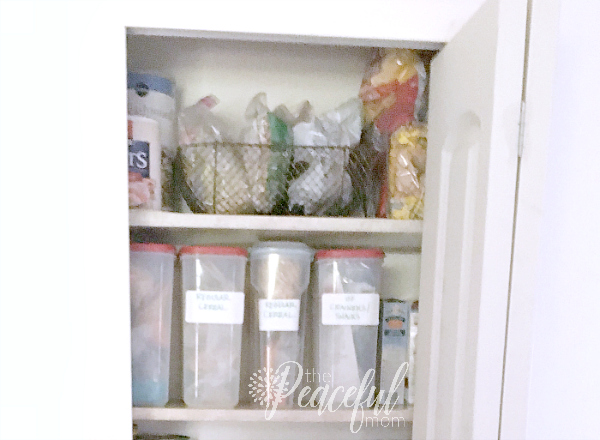 I decided to stop waiting for the "perfect" labels for the storage containers and just use what I had. They aren't Pinterest or magazine worthy, but it's amazing how much easier it is to keep the pantry organized when everyone knows where items go.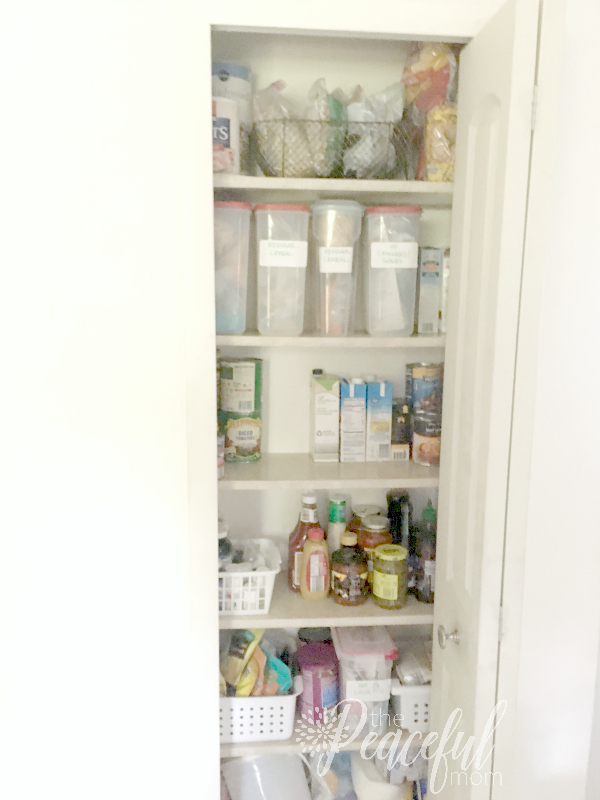 I finished the remaining pantry shelves on another day.

 

DONATION ITEMS

We took a big load of decluttered items to the donation center in the middle of the month, but I've just started another pile with these items from my decluttering this week including the end table. (We're just going to ignore the fact that that vase is covered in approximately 1/4 inch of dust!)

It feels SO, SO good to see the clear spaces in my home now — instant peace!
I would love to hear how your decluttering went, so leave a comment (even if you only decluttered ONE item — that's progress!).
You Can Do This!

You May Also Enjoy: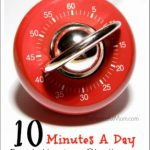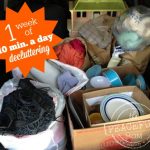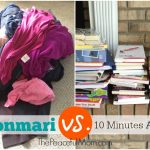 Want a simpler life?
Join our simplifying, organizing, life-changing community!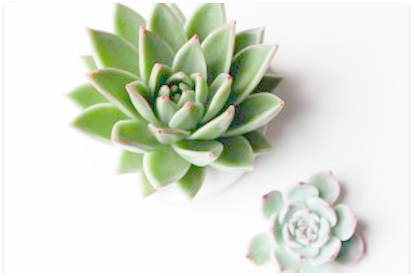 Click here to join The Peaceful Mom Community!
Get weekly encouragement & 10 Minute Organizing Tips
PLUS access to our Organizing and Printable Library including:
10 Minutes a Day Declutter Calendar — focus on one small area each day of the month
Organizing Printables – to organize your life one baby step at a time
Monthly Gifts – because who doesn't love a surprise?