What is hygge? Let me share this secret to creating a clutter-free space you love.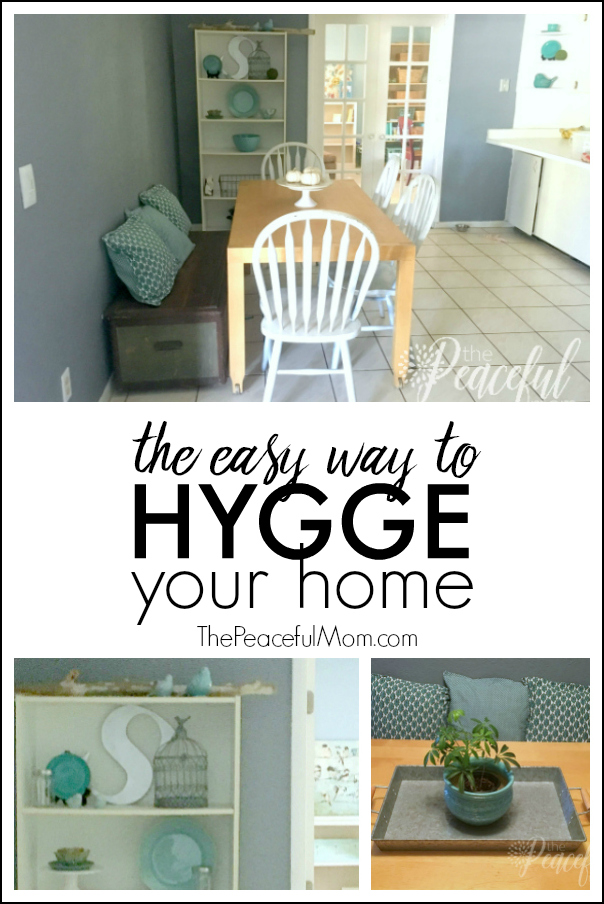 The other day I was watching Netflix — okay, so maybe I was binging on Netflix since the "Are You Still Watching" popup appeared a couple of times during my veg out session.
At any rate, while I was practically brain dead on the couch, out of the blue, right in the middle of my design documentary, I heard this strange word:
"hue-gah"
My curiosity was piqued and as a few of my brain cells flickered back to life I decided to do a little investigation. As I researched, I realized that I'm way behind in learning about this word — not surprising since I'm pretty much the last person on earth to adopt anything new. I mean I've only had a smart phone for two years — yep, I had a FLIP PHONE until TWO years ago.
Anyway…
I suddenly had to answer the question, "What is hygge?"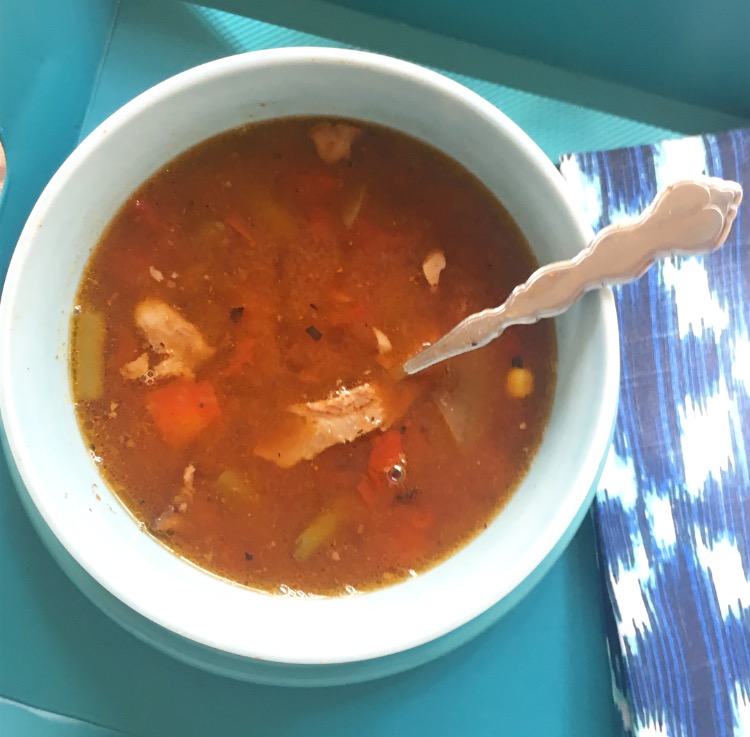 What Is Hygge?
It turns out that hygge (the correct spelling but pronounced hue-gah as I spelled it above) is a Danish word and concept that's been around for centuries but suddenly became popular in 2016, ironically about the same time that I started using a smart phone.
Hyyge is defined as "a quality of coziness and comfortable conviviality that engenders a feeling of contentment or well-being." It originates from a sixteenth century Norwegian word, hugga, which means "to comfort" or "to console" — kinda' like a warm bowl of soup on a cold day.
Which, by the way, is actually related to the English word "hug,"
So hugs, comfort and warm soup all sound nice, but why the heck should you care about an ancient Danish word that a bunch of designers are suddenly using?
Why You Need Some Hygge in Your Life
If you have more than one person living in your home, then it's likely that you feel overwhelmed by trying to keep your house clean and clutter free. (Maybe you live alone and still have a problem with it.)
It seems like there is ALWAYS some kind of mess to deal with, and it can be super frustrating, not to mention draining and downright depressing.
But incorporating this concept of hygge can dramatically improve your living space — and your quality of life.
How to "Hygge" Your Home
I may be behind in learning the word "hygge", but many years ago I discovered that if I changed my focus from what was always wrong in my space and began to focus on creating little happy places throughout my house, I was much more motivated to keep the messes cleaned up and the clutter at bay — and I felt so joyful!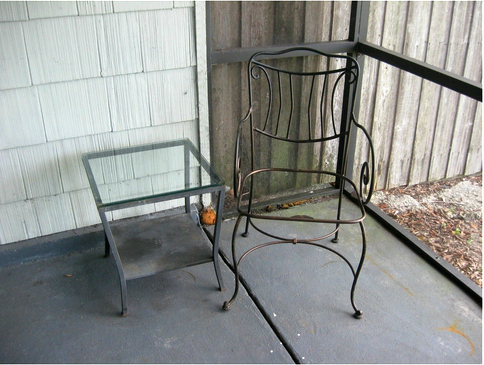 My first happy spot was my back porch.
Well, it started out as a barren wasteland with two pieces of furniture I picked up from my neighbor's trash.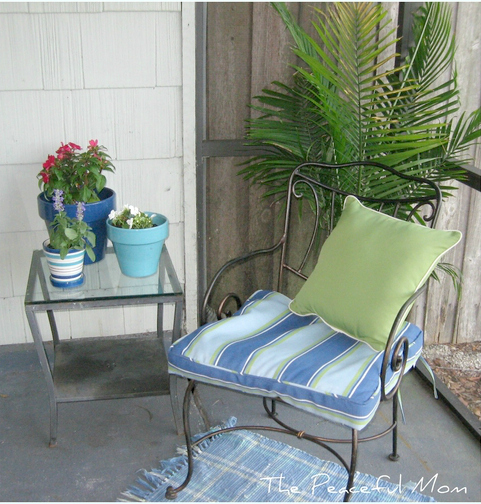 But with a new seat in the chair, a couple of cushions and some plant life, it started to take shape.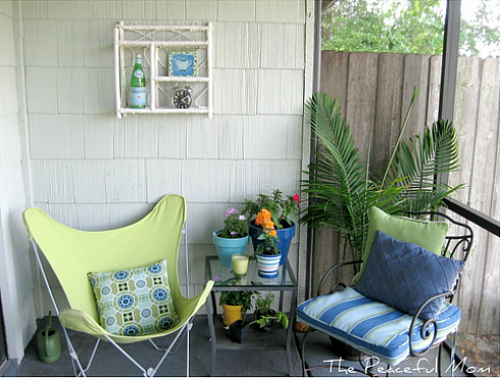 After a few more weeks I had created a haven for myself where I spent lots of time reading and feeling a sense of contentment and happiness.
Incorporating hygge into your home simply means creating little spots of joy throughout your home that give you a "hug" when you look at them or spend time in them.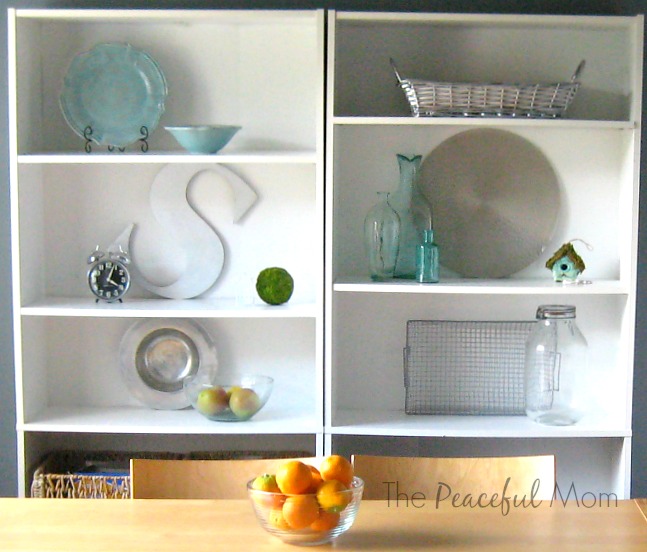 In our last home, I added these shelves to our kitchen even though the space was tiny and it meant that we had to keep the table pushed against the shelf to be able to walk through the kitchen when we weren't eating there. Sure it was inconvenient, but I needed a happy spot to look at every day.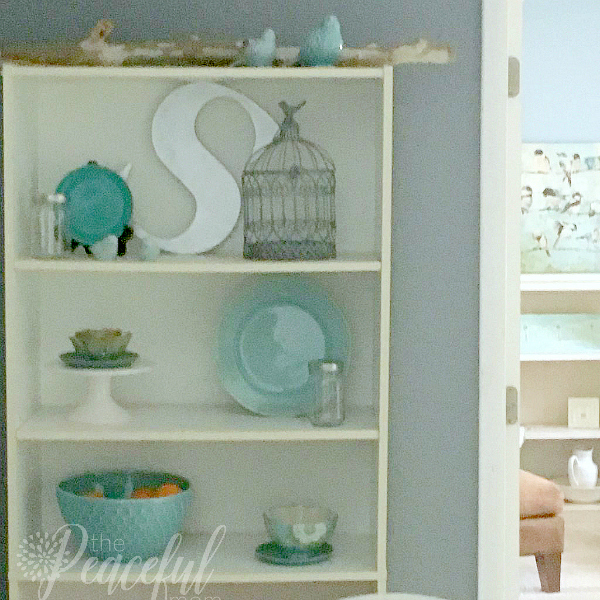 In our current home, I don't have room for both of the shelves together, but I still use them to display little items that I love.
But your happy spots don't have to be big spaces.
When we removed the upper cabinets in our current kitchen I asked a friend to build a corner shelf for me which I use to display happy treasures like the copper dove ornament my sister made for me, a favorite Fiestaware coffee cup and my blue bird of happiness.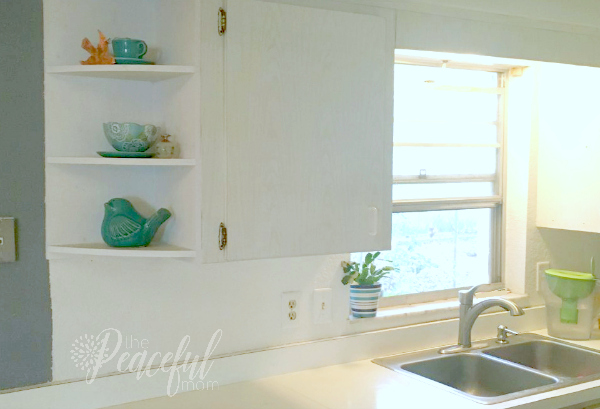 No matter what the kitchen looks like, this spot stays clean and uncluttered which provides a little sanctuary in the midst of every day life. (It also inspires me to keep the kitchen counters clear so I can enjoy it even more.)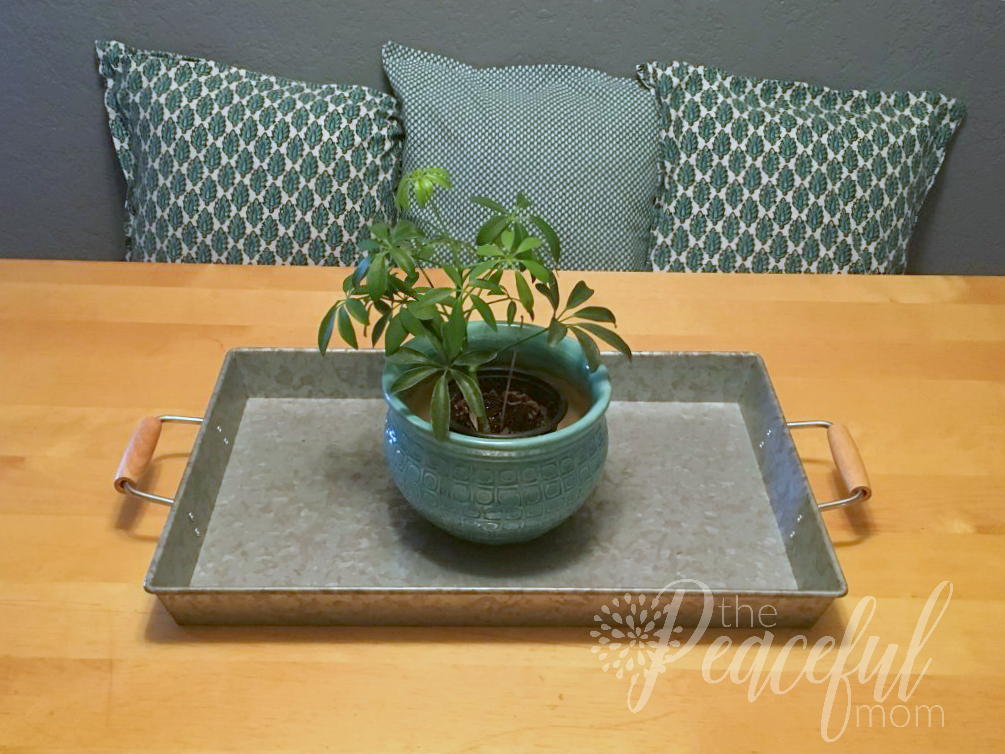 You could add some greenery or a pretty centerpiece to your table to motivate you to keep the table clear of clutter, or add a comfy chair and cozy throw to a corner of your bedroom.
Adding happy spots to your home, no matter how small will bring you joy and motivate you to create more and more clear, uncluttered spaces in your home.
I would love to hear how you plan to "hygge" your home, so please leave a comment. 🙂
We're in this together!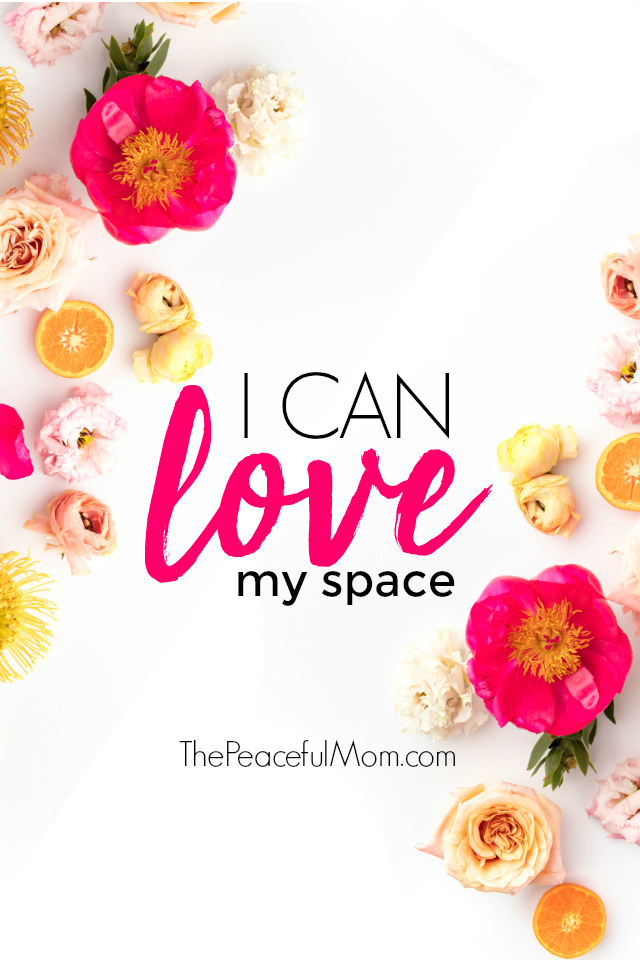 JOIN THE Love My Space Challenge:
1. Make sure you've joined The Peaceful Mom Community and downloaded your FREE Love My Space Phone Wallpaper (for a limited time) plus additional gifts.  You will also receive a weekly organizing email on Sunday evenings. plus access to our exclusive Organizing and Money Saving Resource Library.
Click HERE to join now.
2. Leave a comment on THIS POST telling me the one area of your home that you want to really focus on during the challenge.
Everyone who leaves a comment on the above post will be entered to win  $75 (US) PayPal cash to help you spruce up your home.
See contest rules HERE.
Want a simpler life?
Join our simplifying, organizing, life-changing community!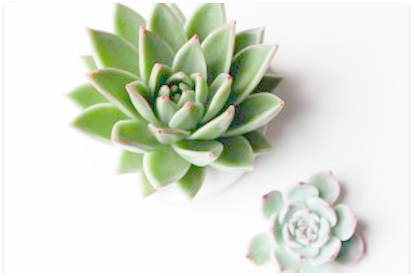 Click here to join The Peaceful Mom Community!
Get weekly encouragement & 10 Minute Organizing Tips
PLUS access to our Organizing and Printable Library including:
10 Minutes a Day Declutter Calendar — focus on one small area each day of the month
Organizing Printables – to organize your life one baby step at a time
Monthly Gifts – because who doesn't love a surprise?

.