Learn how to love a home you hate (or just find annoying at times!).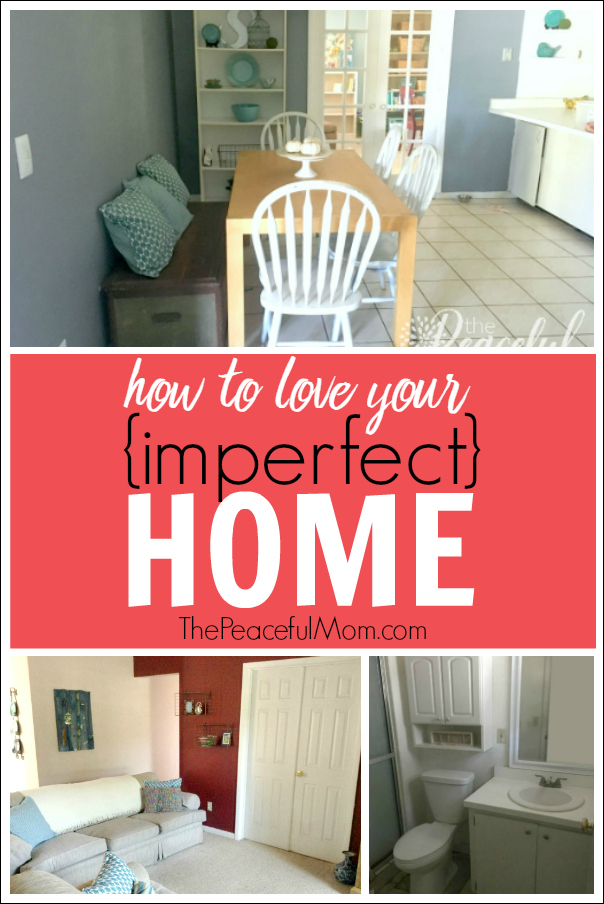 I don't know your current situation, but I am 99% sure that you don't love everything about the house, condo, apartment or yurt where you're currently living.
Maybe you hate the entire space.
I don't love everything about my space either — and there is probably always going to be some little quirk or problem that bugs us…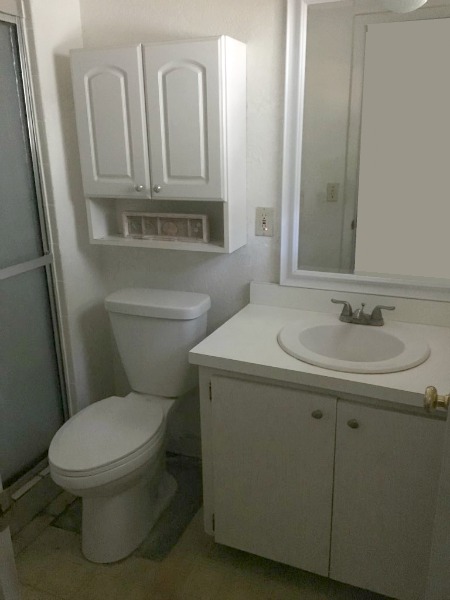 like this incredibly small and dated master bathroom in our current house.
Well, if you hate your current space, I have some help for you. These four simple mindset shifts will enable you to love where you live even though you won't be on an episode of Fixer Upper anytime soon.
Accept What You Can't Change
Speaking of my tiny bathroom, I can't change the size of it.  I would love to have a huge, luxurious bathroom complete with a large jacuzzi tub and a floor to ceiling window, but that isn't going to happen in this house.
So I can torture myself by continuing to scroll through Pinterest photos of my dream bathroom, or I can accept the fact that I have a small bathroom and save myself alot of angst.
Funny thing is, if we accept what we can't change, we free ourselves to enjoy what's good and make progress on improving what CAN be changed.
Instead of lamenting the tub I will never have, I can spend my time, attention, money and energy to create the most efficient and beautiful space possible in this small room.
I know it can be difficult to accept the negative and ugly parts of where we live, but if we constantly focus on what's we dislike, we'll stay stuck and never move forward to create the best living space we can in our current situation.
Use What You Have
Our family of six has lived in everything from a six bedroom, 3.5 bath, three story house with a complete finished basement in a very nice neighborhood to a tiny three bedroom condo that we shared with a couple and their baby when we attended a training center in preparation to do overseas volunteer work a few years ago. (Six people and one bathroom was definitely a challenge!)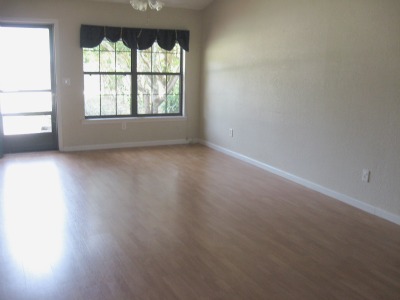 We had sold everything with the expectation that we would move out of the country, then when things didn't work out, we had to buy EVERYTHING for our home with a tiny budget.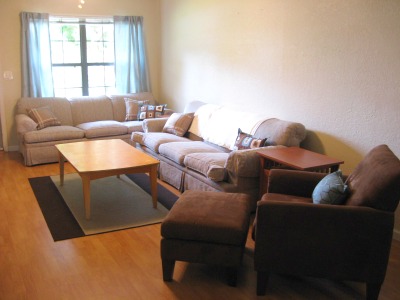 Using local resources like thrift stores and yard sales, I was able to furnish our living room for less that $200. It wasn't a designer dream by any means, but it was comfortable and functional, and we didn't go into debt.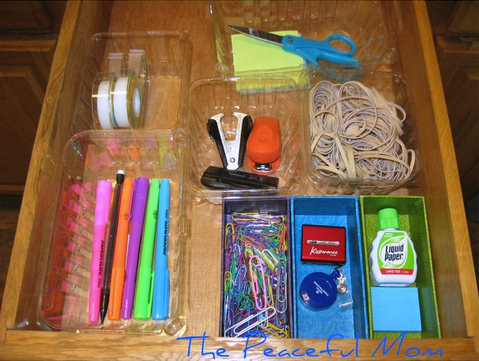 When we were living on one less than average income and had NO extra money, I used recycled berry containers and cereal boxes for drawer dividers. The mess was driving me crazy, but I didn't wait to organize my drawers until I had the "perfect" drawer dividers. I used what I had available to me.
One time I cut the front off of a decorative pasta box and framed it to decorate my kitchen shelf. It looked like a quaint little Italian painting and no one needed to know that it was recycled from a 79 cent box of pasta.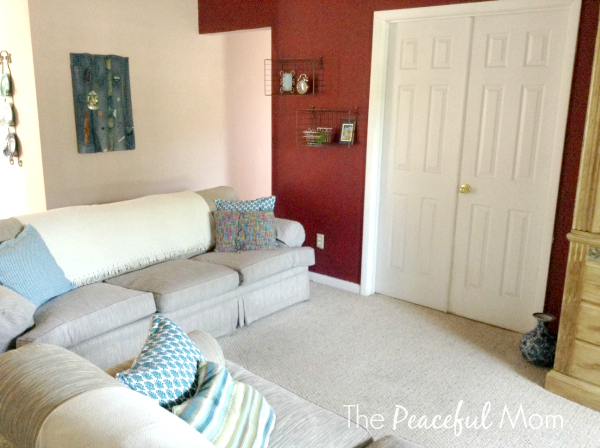 In the living room pictured above, I needed to do a low budget makeover. I had a blank wall that needed something, so I tried my hand at creating "art" from recycled materials when I made this wall hanging. I covered a piece of foam board with denim from an old pair of jeans and attached craft items and a flattened soda can. Yep, right out of the garbage.
Am I suggesting that you decorate with trash?
No, but I am encouraging you to do the best you can with what you have available and to expand the way you think about the possibilities.
Think Creatively
So my recycled wall hanging may be a little too "creative" for you, but I promise that there is some problem in your current home that you can solve with a little bit of creative thinking.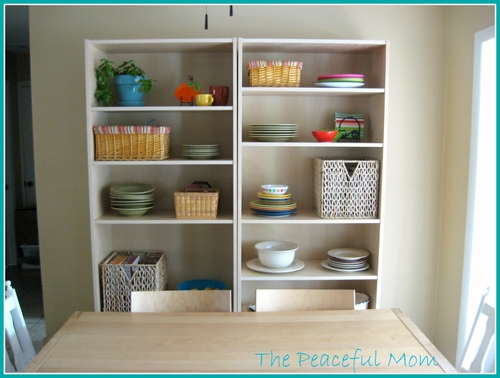 In one of our homes, we had no pantry space so I purchased some inexpensive Ikea Shelving to use for storage for our food and my thrifted dishes. I could have simply placed the items on the shelf with no concern for how they looked, but I tried to make the shelves look as attractive as possible with the materials that I had available to me.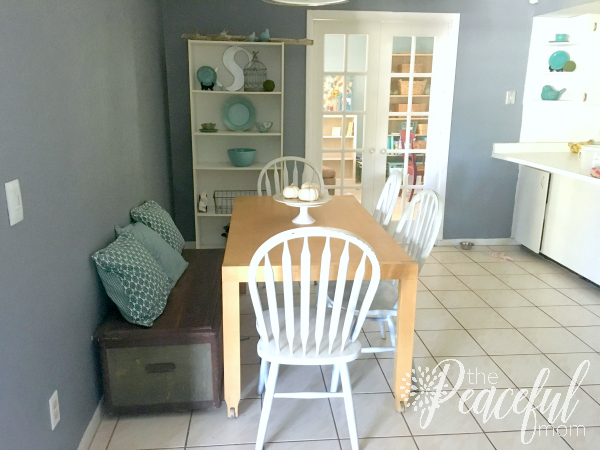 In our current home, we're still short on storage space so I use a wooden trunk as seating and storage in the kitchen. (And by the way, you can see that we re-used those same Ikea shelves in our office space in our current home.)
Remember, the solution to your problem doesn't have to be perfect. It just has to work.
Practice Gratitude
Accepting what can't be changed, using what you have available, and thinking creatively can all help you to love your imperfect space, but the best mindset shift you can make is to practice feeling grateful for what you have.
All of the spaces we've lived in had their challenges (some more than others!), but I learned to be content and make the best of what we had in every situation.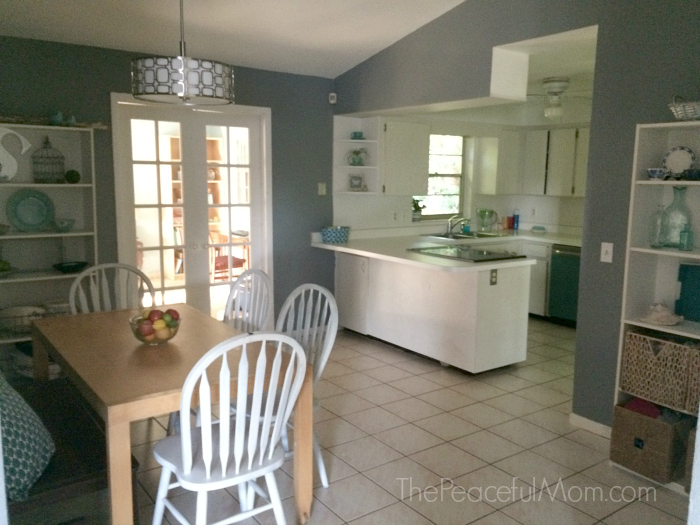 I don't love everything about our house, but I'm grateful that we're finally able to own a home after a foreclosure, bankruptcy and ten years of renting. I'm thankful that even though our house is small, the high ceilings and open layout make it feel much bigger.
I'm thankful for a little bit of extra money to spend at thrift stores and yard sales to make our home feel cozier.
I'm also thankful that I have a complete bathroom attached to my master bedroom. Even though it's a tiny space, we can work toward renovating it to make it as beautiful and functional as possible. And let's be honest, many people around the world would just be happy to have working plumbing in their homes.
I hope I've inspired and encouraged you a little bit today that no matter your circumstances, you can learn to love your space with these four simple mindset shifts.
Just don't give into hopelessness  — you CAN improve your living situation.
I would love to hear something that you're grateful for about your current home, so please leave a comment. 🙂
We can do this!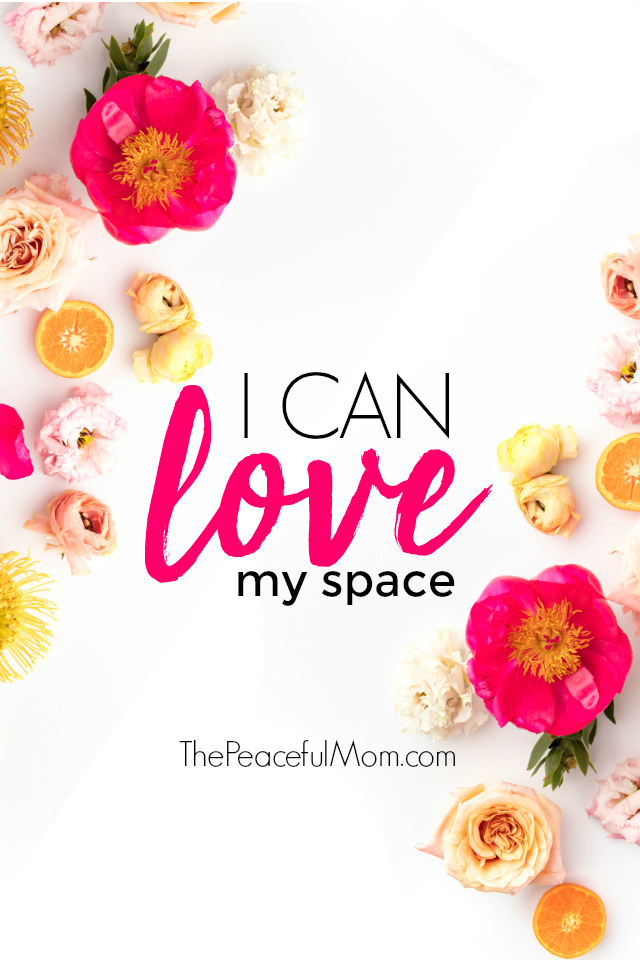 JOIN THE Love My Space Challenge:
1. Make sure you've joined The Peaceful Mom Community and downloaded your FREE Love My Space Phone Wallpaper (for a limited time).  You will also receive a weekly organizing email on Sunday evenings. plus access to our exclusive Organizing and Money Saving Resource Library.
Click HERE to join now.
2. Leave a comment on THIS POST telling me the one area of your home that you want to really focus on during the challenge.
Everyone who leaves a comment on the above post will be entered to win  $75 (US) PayPal cash to help you spruce up your home.
See contest rules HERE.