Learn my meal planning secrets to make dinner in just 15 minutes!

I don't know about you, but meal planning and preparation is one of my most dreaded tasks.
I like food.
I like eating.
I like watching cooking shows.
I just don't love cooking.
Which is a problem when I have three hungry teens at home.
But I've found some shortcuts that help me to make dinner in 15 minutes on week nights, so let me share my meal planning secret weapons that make it happen.
Choose Your Tools
My life is busy so I need simple solutions — and I'm sure you do as well. Having a consistent system for meal planning is key to getting dinner on the table fast. The trick is knowing what kinds of tools and systems work best for you and your lifestyle.
Are you primarily a technology lover or do you prefer low-tech pen and paper?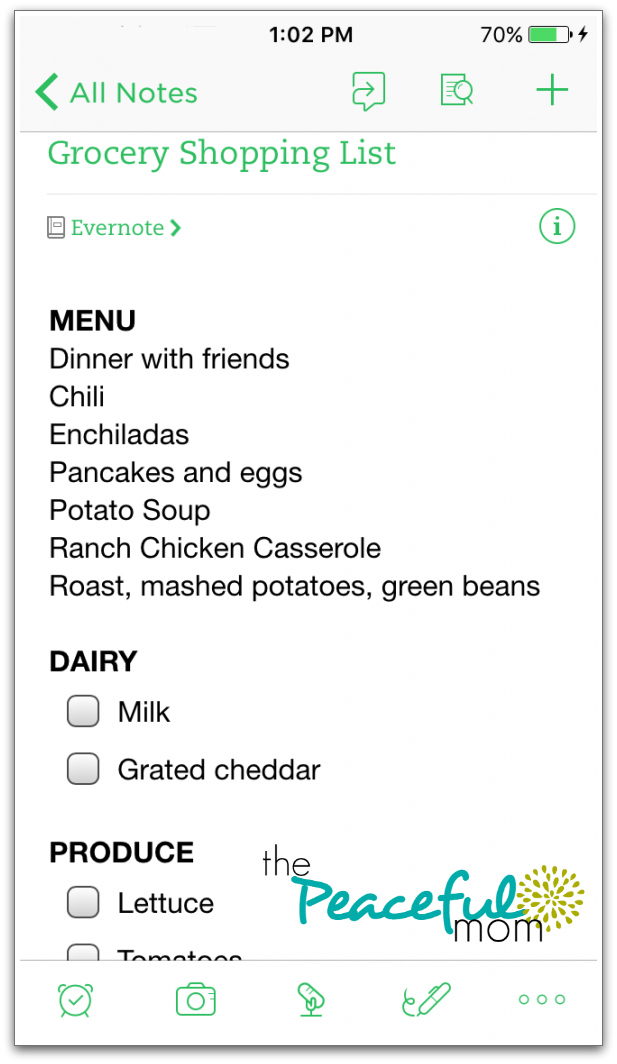 Tech Options
If you're a technology lover, try these tools:
Evernote (pictured above): Make a weekly menu in Evernote — my current favorite (Read How to Organize with Evernote HERE.)
Google Calendar: Add your meals directly to your smart phone calendar
Meal Planning Apps: Apps like Real Plans and Plan to Eat can be helpful tools in your meal planning arsenal.
Tech-Free Options
If you prefer tech-free options for meal planning, try these tools:
Pen and Paper: A simple piece of paper and a pen can work perfectly if you place the paper on the fridge where you can see it.
Meal Planning Binder or Notebook: Grab a compostition book or create a binder with meal planning printables and recipes.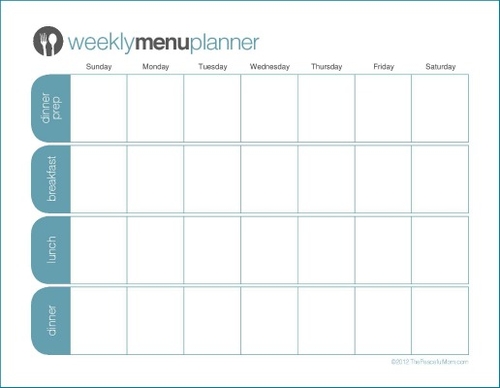 This FREE Printable Menu Planner enables you to type your meals directly into it and then print.
Make a Master List
Once you have your meal planning tools in place, it's time to make a reference list of meals to choose from so you don't have to reinvent the wheel every week. Choose family favorites that take 15 minutes or less to prepare, add the most to your list, and you'll cut your planning time to almost zero.
Some of our favorite easy meals are frozen waffles with scrambled eggs, and grilled cheese served with fruit.
For more easy meal ideas, see my 15 Minute Meals HERE and 7 Quick & Easy Meals HERE for recipes and tips.
Stock Your Pantry
Having a plan is essential, but sometimes you're caught off guard by a crazy day and you need an "emergency" meal. In order to get food on the table in 15 minutes or less without calling for takeout, keep some basic ingredients on hand. A few of my favorite emergency meal supplies are:
flour tortillas for wraps and quesadillas
canned tuna
canned soup
canned fruit
pre-cooked and frozen taco meat
taco shells or tortilla chips
frozen pizza
Make a quick list of items you'll need for easy meals and stock up on your next grocery shopping trip.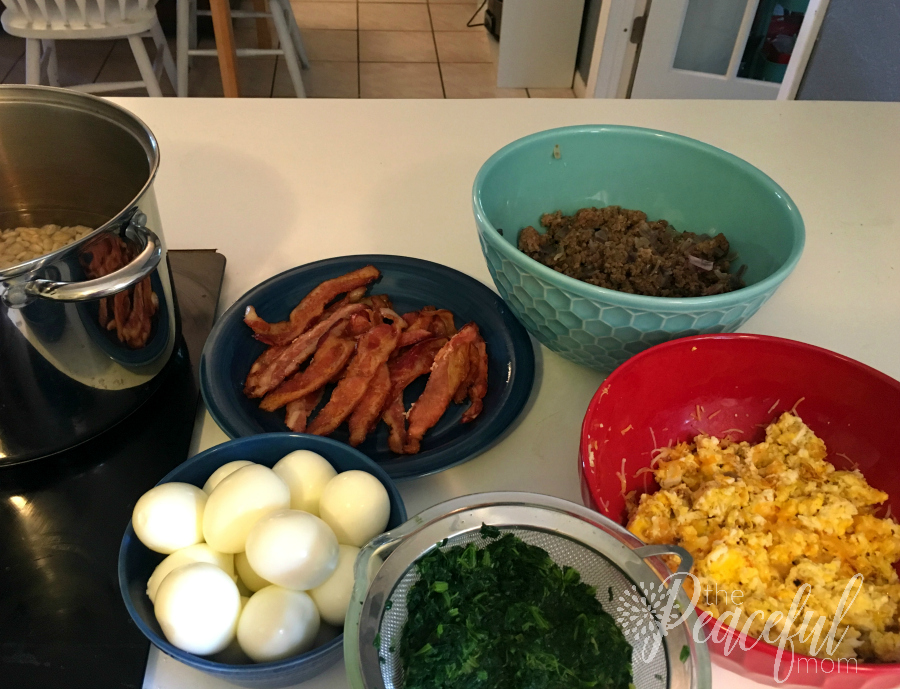 Prep on the Weekends
One of my best secret weapons for 15 minute meals is Weekend Meal Prep. I spend about an hour on Saturday morning prepping veggies and salads, pre-cooking breakfast items. as well as baking chicken and browning ground beef (see How to Freeze Ground Beef HERE for the details) to use in easy recipes later in the week.
With minimal time and effort on the weekends, I have the ingredients for super quick meals during the week.
Use Pre-Made Meal Plans
There are many, many options for pre-made meal plans, so let someone else do the work to make your life easier. Make sure to purchase meal plans that include simple and quick recipe options.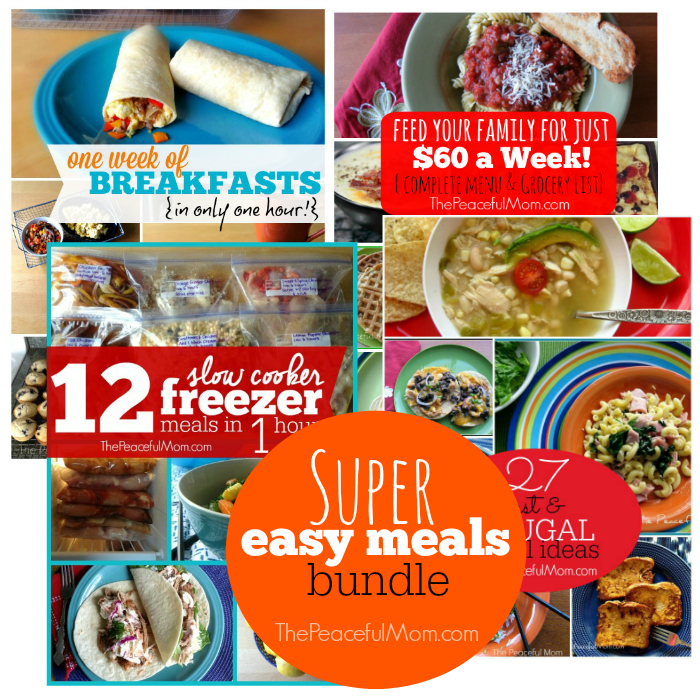 Over the years I've personally tested a ton of quick and easy recipes. I've collected my best time-saving recipes and freezer meal plans into my Super Easy Meal Plan Bundle and right now you can grab it for 80% off!
Click HERE to see what's included.

I would love to hear how you make dinner in 15 minutes, so leave a comment or a link. 🙂
We can do this!

Want a simpler life?
Join our simplifying, organizing, life-changing community!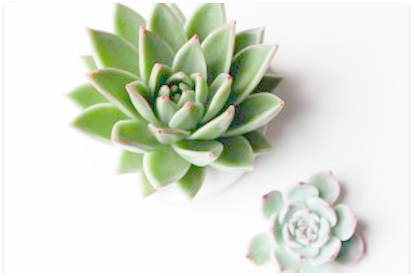 Click here to join The Peaceful Mom Community!
Get weekly encouragement & 10 Minute Organizing Tips
PLUS access to our Organizing and Printable Library including:
10 Minutes a Day Declutter Calendar — focus on one small area each day of the month
Organizing Printables – to organize your life one baby step at a time
Monthly Gifts – because who doesn't love a surprise?