Learn three simple steps you can take to organize your finances for the New Year so you can finally take control of your money!


Have you made your goals for the year yet? How about your financial goals? Today I'm sharing three simple steps you can take to organize your finances for the New Year so you can save more and stay organized all year long.
Close Out The Old Year
Now is the perfect time to review and close out your finances from last year. Transitioning your finances from the old year to the new can help you to reach your financial goals and will make preparing your taxes much simpler.
Review Your Spending
First review your spending from last year. A quick overview of where you spent your money can help you to be more intentional with your purchases this year.
If you use a debit card you can simply look back over your account to see what you spent or you can use budgeting software to track. We use a combination of cash and debit cards so I collect our receipts and write down what we spent each week on a page in our Budget Binder. I review it each month and again at the end of the year.
If you haven't been tracking your spending, I encourage you to start now. You'll be surprised how much it helps you to manage your money well.
Check Your Balances
Once you've taken a look at your spending, you can review your other financial numbers. Take the time to write down how much money you have in savings, checking and investment accounts, as well as how much you owe on credit cards and loans. Taking a snapshot of your money situation will guide you in creating your financial goals for the year.
Finalize the Paperwork
Next, gather all of your paperwork and financial statements from this year and tuck them away until it's time to prepare your taxes. I also start a new checkbook register at the beginning of the new year and place the old one in our tax file for the previous year, as well as finalizing the books for my business. (We don't write any checks, but I use the register to keep our accounts reconciled with our online banking.)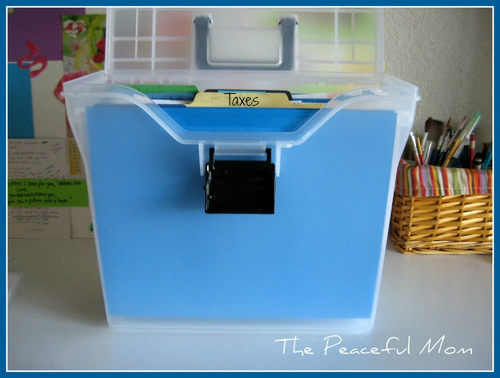 Start Fresh
Speaking of financial statements, the papers can easily pile up and become disorganized so I set up a simple file system at the beginning of the year to keep all the papers organized. Throughout the year I file financial paperwork into three file folders:
(1) financial statements and check stubs;
(2) medical bills;
(3) paid household bills.
I also collect all receipts during the year and file them in envelopes by month. I have one set of envelopes for business expenses and one set for personal.
At the beginning of the year I transfer all receipt envelopes and folders from the previous year to an accordion file in preparation for tax season and I label folders for the new year. I also print my Business Income and Expense spreadsheet for the year and begin a new one. I've just saved myself a ton of stress when it's time to prepare our taxes.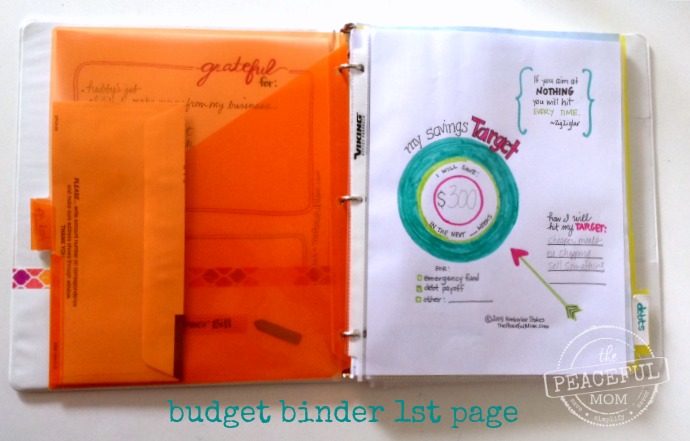 Set Your Direction
If you want to be more in control of your money, you'll need to set up tools and systems for all of the "business" of your finances. In addition to my file system, one of my favorite tools for staying on track with our financial goals is my Money GPS or Budget Binder. If you haven't created a binder yet, check out How to Create a Simple DIY Budget Binder HERE.
Every January my husband and I review our budget and decide on our financial goals for the year and for the first quarter of the year. We review our Big Money Vision, set our first savings target which I write on our Savings Target Page (pictured above), then I update all of the sections of our binder.
Keeping your money on track will be easy if you take these three simple steps to organize your finances for the new year. You'll take control of your money so you can spend wisely, save purposefully and reach your financial goals this year. Try it — you'll like it! 🙂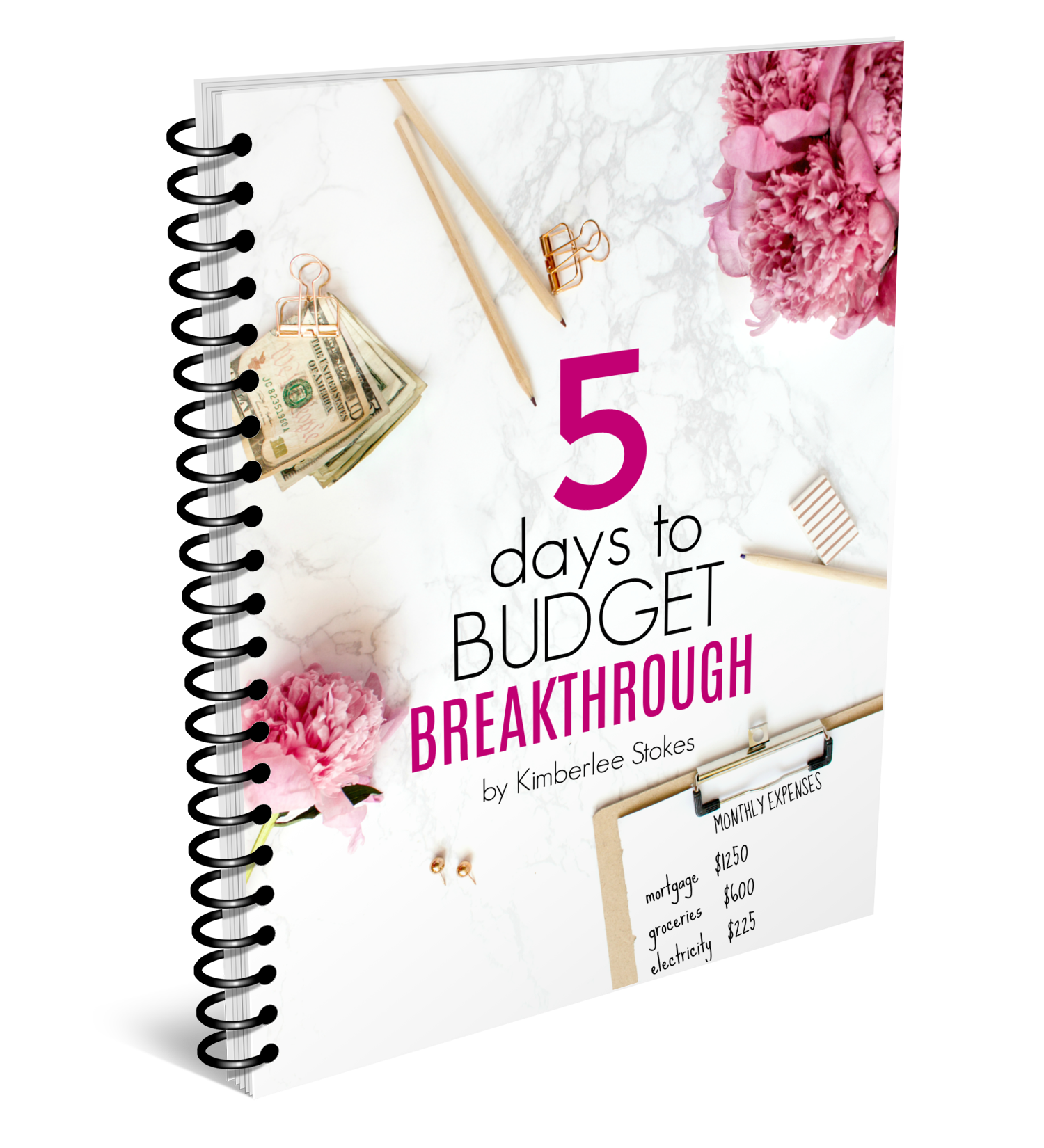 For more tips and tools to organize your money and reach your big financial goals check out my 5 Days to Budget Breakthrough mini course!
Filled with simple, step-by-step instructions, 5 Days to Budget Breakthrough will give you the jumpstart you need to get your money headed in the right direction!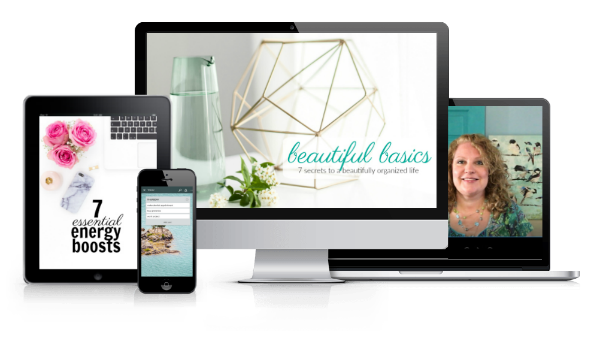 Right now it's part of the Get It Together Super Bundle with serious help to:
decide your priorities for this season
choose a focus and Inspired Word of the Year
get your finances in order
declutter your home
finally get organized
And it's currently ON SALE!
Tap HERE to see what's inside.
We can do this!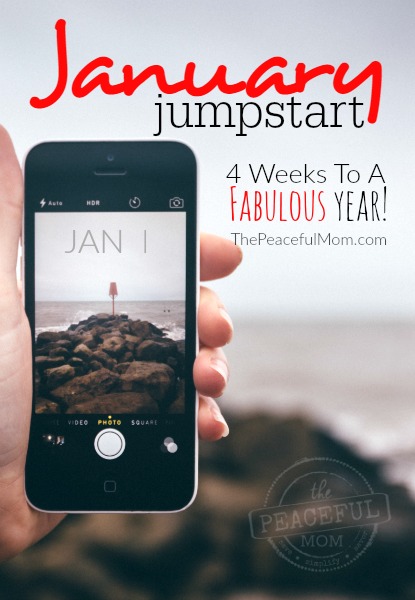 JOIN THE JANUARY JUMPSTART
If you'd like some encouragement and practical help to get it together this year, I've got your back!
For the next four weeks you can join me for my January Jumpstart (otherwise known as the "Get It Together" Challenge) for tips, tools and strategies to get your life started off in the right direction. Each week I'll give you specific steps you can take to bring order, joy, peace and passion to your days.
Click HERE to join The Peaceful Mom Community!
See all the January Jumpstart posts HERE.
You May Also Enjoy: