Eliminate overwhelm by choosing your ONE thing.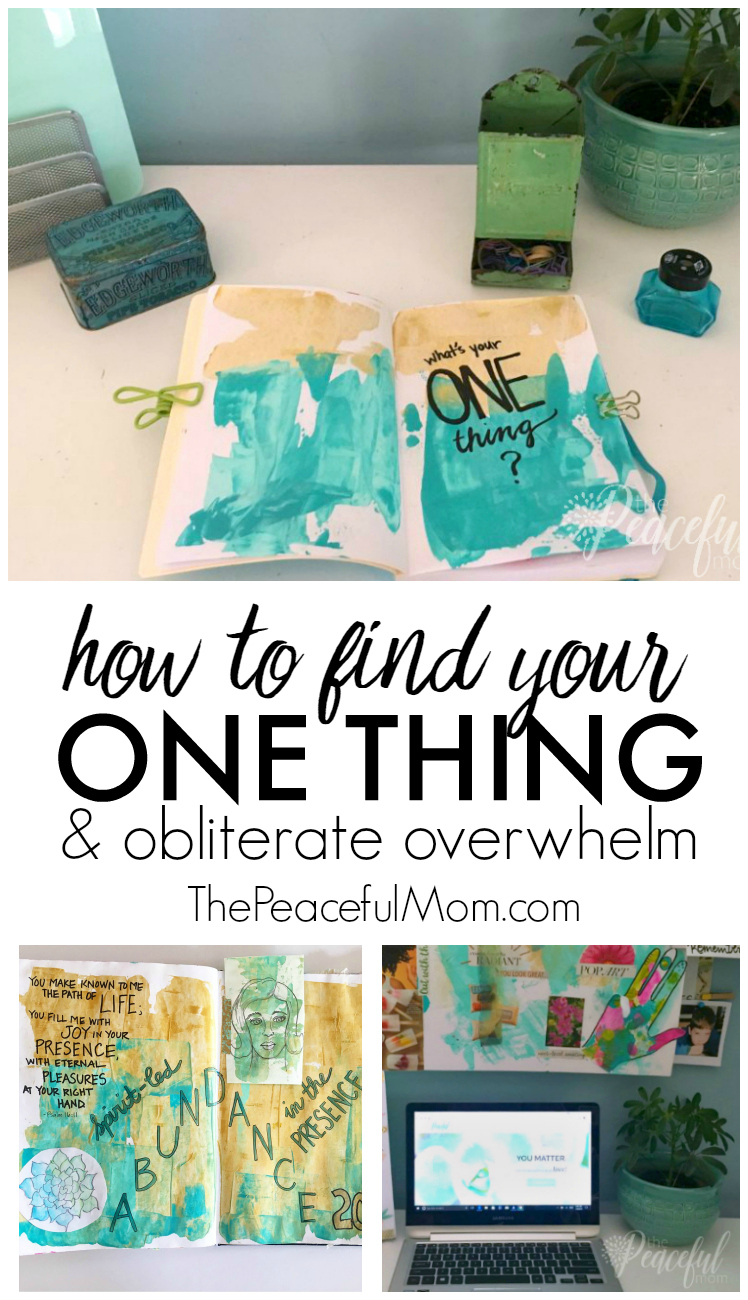 It's the beginning of the year and I'm craving an overhaul of
All.
The.
Things.
But I also know that I can't do everything at once, so I've learned the secret to my success:
Choosing my ONE thing — my area of focus for the current season.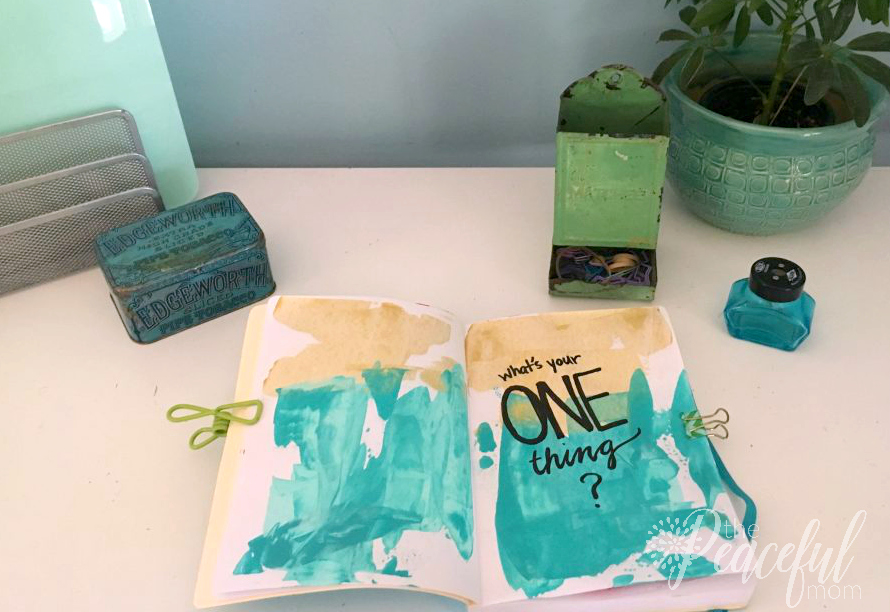 What Is "One Thing"
I've mentioned before that I choose my TOP 3 Most Important Tasks for each day, but I recently started choosing my ONE Thing.
The idea of choosing only one focus area at a time comes from the book The One Thing: The Surprisingly Simple Truth Behind Extraordinary Results written  by Gary Keller, a successful real estate agent and author of four best-selling books.
In an interview with Forbes, Keller explains that choosing the ONE Thing is,"about figuring out what matters most, and when you're doing that ONE Thing, eliminate distraction."
He uses the concept primarily by blocking out time on his schedule when he's focused on only one thing at a time with NO distractions like email, texting, phone calls or social media.
But he goes on to say that the concept isn't about ONLY one thing being important. It's about ONE thing at a time.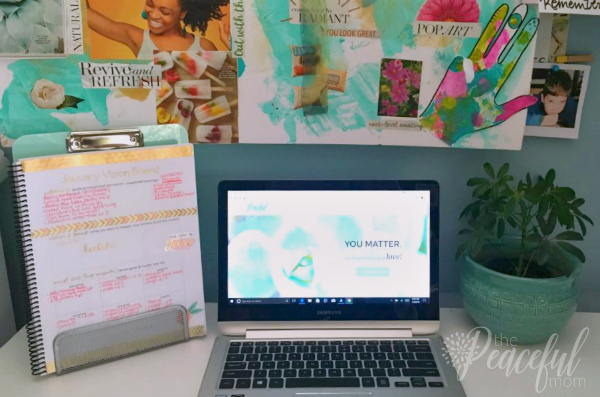 My Current ONE Thing
I like to extend the idea of ONE Thing to choosing a theme for my current season in life based on what the most urgent need is at the time.
Does that mean that I only get one thing done or that I have only one priority?
No.
It means that I'm choosing to eliminate every non-essential task and distraction so that I can focus all of my energy and attention completely on my TOP priority of the moment.
And right now my ONE thing is establishing some order in my work life.
Last year was a bit of a whirlwind for me:
a crisis in our extended family at the beginning of the year which affected us for months;
followed by my husband and I having our identity stolen and income taxes being filed fraudulently in our names;
followed by some health issues including me contracting mono and being practically bedridden for six weeks;
followed by an unexpected cross-country trip with my daughter;
followed by our evacuation from Hurricane Irma;
and then a short break before the crazy holiday season.
Phew! Just typing all of that makes me tired.
As a result, I was basically in survival mode for the entire year and I have a huge backlog of maintenance and organizational projects that need to be done in my business. For this week, everything else is taking a backseat to this priority because the disorganization and clutter is draining me emotionally and mentally.
Maybe you'd like to eliminate some overwhelm in your own life by choosing your ONE thing in this season, or this month, or this week.
How to Choose Your ONE Thing
Take these simple steps to determine your focus for this season.
Schedule Some Quiet
Find a few minutes when you can go to a quiet spot in your home or out to a coffee shop or on a walk. Getting out of your normal everyday routine will give you a little bit of perspective and will eliminate the distractions.
Evaluate Where You Are Now
While you're in your quiet place, think about your current life season and evaluate how things are going. List the different areas of your life and make a note describing the highs and lows of each.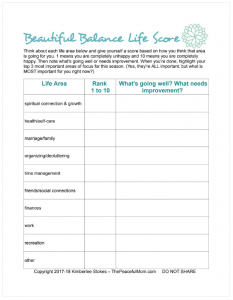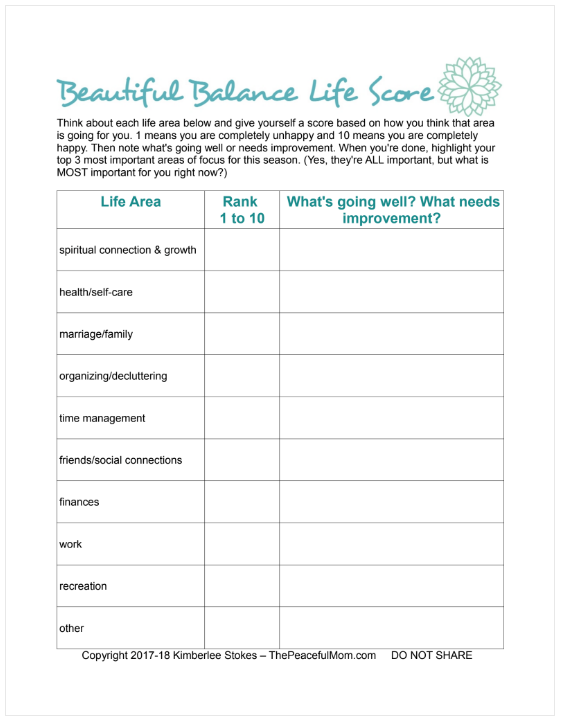 If you'd like a little help, members of The Peaceful Mom Community can print this FREE Beautiful Balance Life Score Assessment.
Once you've completed the assessment you should be able to clearly see the area that currently needs the most attention.
Join HERE to get the Life Score Assessment in the Resource Library.
Ask Questions
In order to determine your focus you can also ask yourself two simple questions:
What's really bugging you the most right now? What needs attention?
What one task can you do or change can you make that would make everything else in your life easier?
The answers to these questions will most likely show you where you focus needs to be.
Pray
Because I'm a spiritual person, I always want to invite God into my decision making process. I pray while I'm reflecting on my current situation and ask God to reveal His best plan for me.
Make a Plan
Once you know your ONE Thing for this season (or week or month), write it down and create a concrete plan for how you will make this one thing your focus in your everyday life. Block out time in your schedule, create new habits, find an accountability partner.
Set Reminders
To help you remember your focus, keep it where you can see it. Place sticky notes on the fridge or bathroom mirror, write your ONE Thing on the weekly plan in your planner and set it as the lock screen on your phone.
Choosing your ONE Thing for the current week or month will simplify your decision making process and help you to eliminate the overwhelm that comes from having too many options.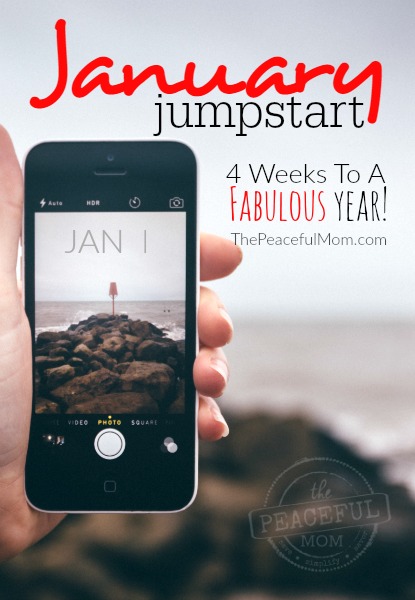 JOIN THE JANUARY JUMPSTART
If you'd like some encouragement and practical help to get it together this year, I've got your back!
For the next four weeks you can join me for my January Jumpstart (otherwise known as the 2018 "Get It Together" Challenge) for tips, tools and strategies to get your life started off in the right direction. Each week I'll give you specific steps you can take to bring order, joy, peace and passion to your days.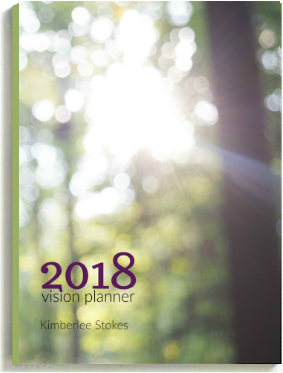 To Join:
1. Make sure you've joined The Peaceful Mom Community and downloaded your FREE 2018 Vision Planner.
Click HERE to join now.
2. Leave a comment on THIS post telling me at least one goal you have for 2018.
See all the January Jumpstart posts HERE.
I would love to hear your ONE Thing, so when you figure it out, leave a comment below. 🙂
We can do this!
 
Want a simpler life?
Join our simplifying, organizing, life-changing community!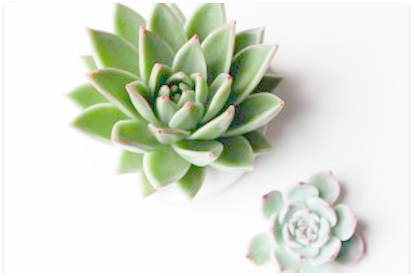 Click here to join the 30 Days to Organized Community!
Get weekly encouragement & 10 Minute Organizing Tips
PLUS access to our Organizing and Printable Library including:
10 Minutes a Day Declutter Calendar — focus on one small area each day of the month
50 Ten Minute Tasks – to organize your life one baby step at a time
10 Minute Task Calendar – blank calendar to fill in your own 10 Minute Tasks

 You May Also Enjoy: