The Simplicity You Crave.
Are you 

too busy

and sometimes overwhelmed?
Do you wonder if you're doing what

really matters

?
Do you crave a

simpler, more balanced

lifestyle?
You can love your life !
IMAGINE:
*Shorter to-do lists.
*Feeling calmer every day.
*Living what truly matters most.
*Actually achieving your goals.
​
​The 2018 Joyful Life Planner is the genius organizing tool you need!
"Don't just dream about the life you want. Make it happen!"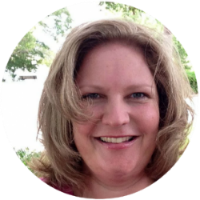 Kimberlee StokesThePeacefulMom.com
I'm Kimberlee, the organizing and money-saving expert behind ThePeacefulMom.com.
As a wife, mom of four, business owner and homeschool teacher, I understand how overwhelming life can be at times.
For the past five years, I've used a planning system that has radically transformed my happiness, time management and productivity -- and helped me to live a life I love.
I want to help you do the same.
The secret to a joyful, purposeful life is a planning system that works for YOU!
---
With the
Joyful Life Planner

you will:

Gain Clarity

Determine your true priorities so you can truly live your best life, not simply exist from day to day.

Stay Focused

Maintain your focus so you can manage your time well and accomplish your top goals.

Feel Happier

Create a weekly plan that enables you to do what's most important AND take care of yourself.
"Not Just a Planner ... "
"This is not just a planner, it makes you think deep about yourself, your life, and what you're doing to get where you want to be if you aren't already there."
- H. (Peaceful Mom Reader)
"Love the Review Sections ..."
"I love the review section in the very beginning -- it's super thorough! The weekly "things to celebrate" and then the weekly goal boxes make sure that I'm staying on track with my goals and not losing them in the busyness of the week. Thanks!"
- B. (Peaceful Mom Reader)
"Everything I need in one place ..."
"The Joyful Life Planner contains everything I would put in a planner myself- setting goals, the scheduling, etc. I also like the sections to celebrate your achievements and reflect on the past week. I don't do that very well and this will help me to implement that."
- C. (Peaceful Mom Reader)
Your Complete Organizing and
Simplifying System for the New Year.
"Simple steps to a brilliantly organized & joyful YOU!"
FEATURES:
Interior Black and White Pages To Decorate In Your Own Style
Insightful Exercises to Help You Determine Your Top Priorities
Flexible Weekly Plan Format That Provides Gentle Structure, Yet Allows For Creativity
Dated weekly plans from November 2017 through January 2019
Lightweight Coil Binding For Portability
Packed with Everything You Need to:
Decide Your True Priorities
Thought-provoking questions help you determine your values and top priorities.
Reflect On The Previous Year
Guided exercises enable you to gain perspective on where you've been.
Choose a Powerful Theme Word.
Insightful process guides you to a theme word that motivates and centers you.
Envision the Month Ahead.
Thoughtfully designed vision boards enable you to visualize what you want to accomplish.
Plan Your Week Like a Boss.
Unique format provides gentle structure yet allows for creativity and flexibility.
Create a life you love!
Join thousands of women and live the life God created you to live —
no matter what your circumstances.
Don't Miss Out!
You Deserve a Joyful, Purposeful Life.