Join me as I share tips and tricks for how to save money this Christmas.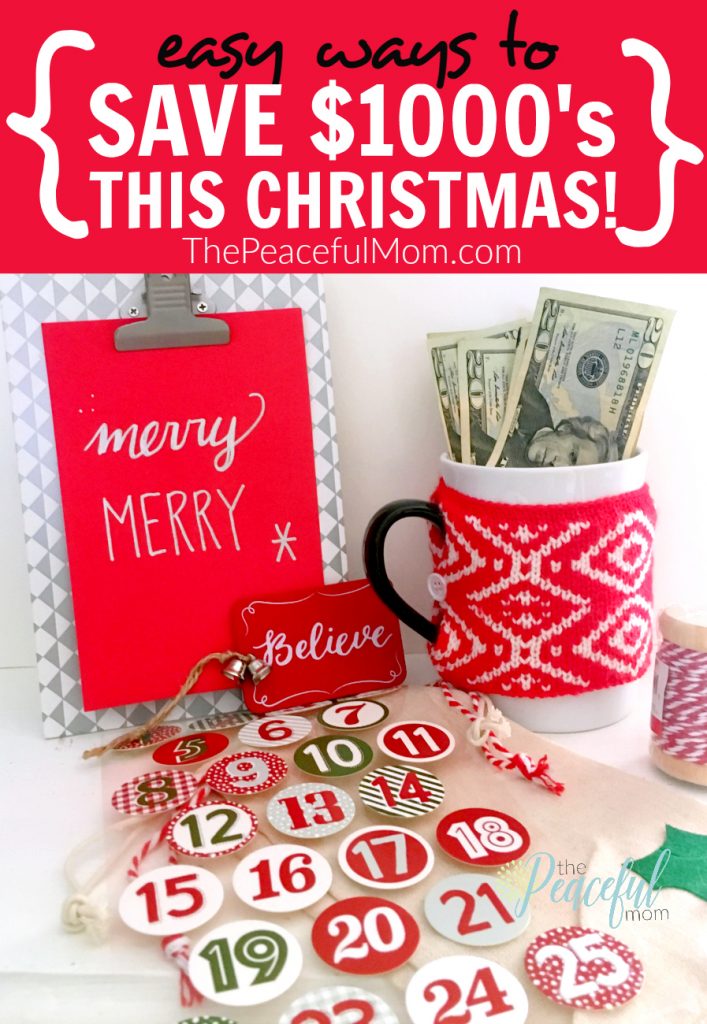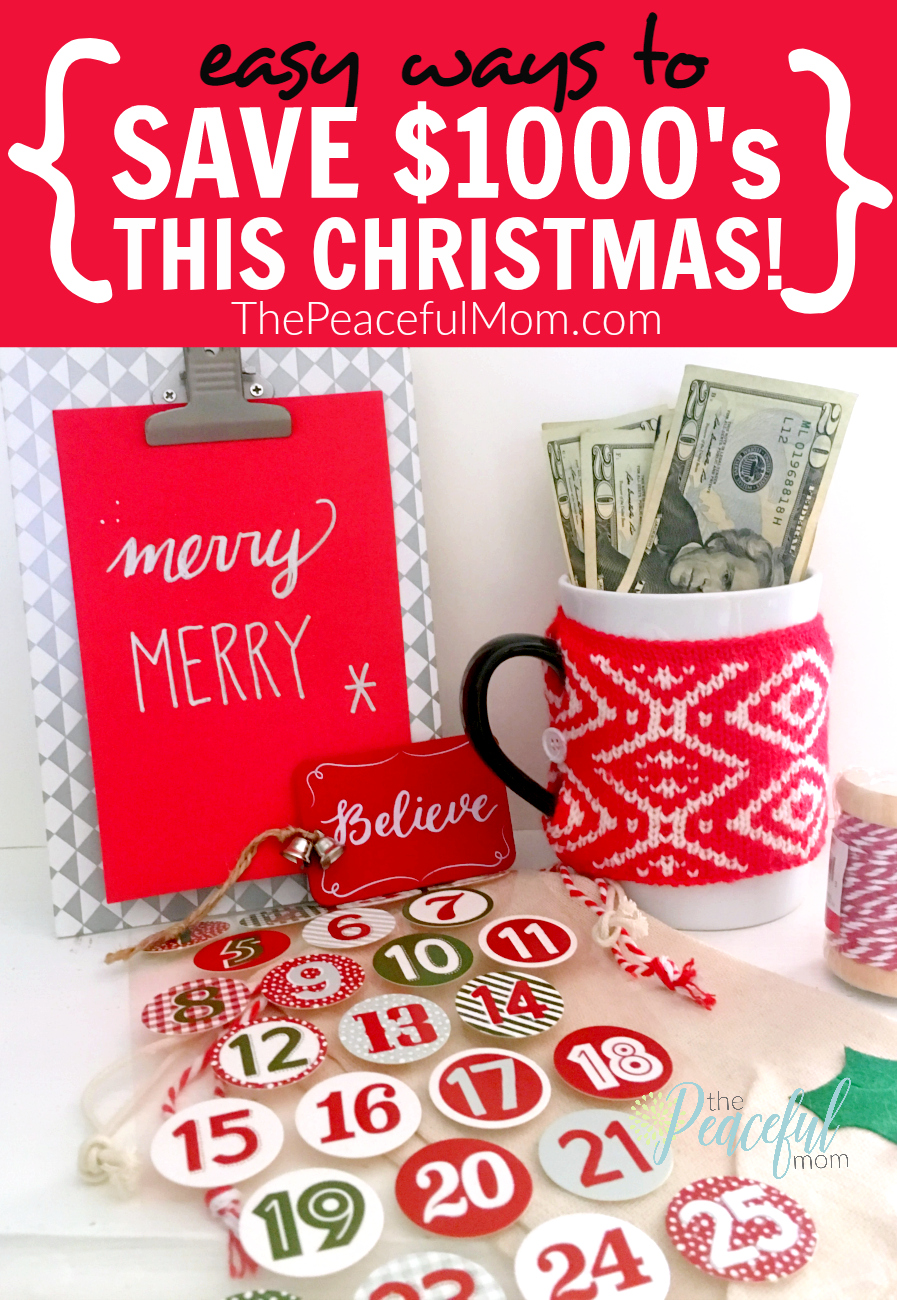 I don't know about you, but this year hasn't gone as planned.
I mean, I knew that I needed to save for this Christmas so I set up a separate category in our Freedom Account for a Christmas fund, intending to save a little bit from each paycheck…
and the fund currently has $50.
So yeah.
I did try to save, but inevitably, we would need to spend the money on a car repair or a house repair or some other expense.
And, if I'm honest with myself, I have to admit that I wasn't as careful with my spending this year as I could have been. Our grocery budget has been especially out of control (around $800 last month — yikes!).
But I'm determined to enjoy the holidays without debt and without draining our bank account. If you'd like to join me, follow the steps each week as I share how to save money this Christmas, and let's do this!
This Week's Money Saving Step: Make a Plan.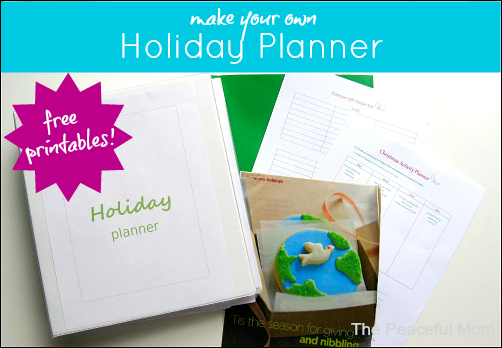 Get Your Holiday Planner
Your first step to an organized, budget-friendly holiday season is to join The Peaceful Mom Community HERE to grab your free Happy Holidays Planner.
Grab a binder or folder to keep the planner in, then print the entire planner at once or only the pages we're using this week.
Make a Spending Plan
Once you have your planner, let's start off by completing the Holiday Spending Plan — like TODAY.
Look at the money you currently have and make a plan for what you'll spend this year. Don't rely on credit cards to fund your holiday spending. It's just not worth it.
Decide What's Important
Next, complete the Holiday Snapshot and Holiday Goals pages. Talk with your family and decide what your most important goals are this year.
Our top goals are enjoying relaxed time together and staying within our budget.
Make a Gift List
Next print the Master Gift List and list all of the people you want to give to this year. Don't forget to plan for expectations at work and school
I'll be sharing some inexpensive gift ideas soon, so stay tuned!
Take these simple steps this week, and you'll be off to a great start to create a fabulous Christmas without spending a ton of money.
Next time, I'll share a few easy ways to make extra money for the holidays.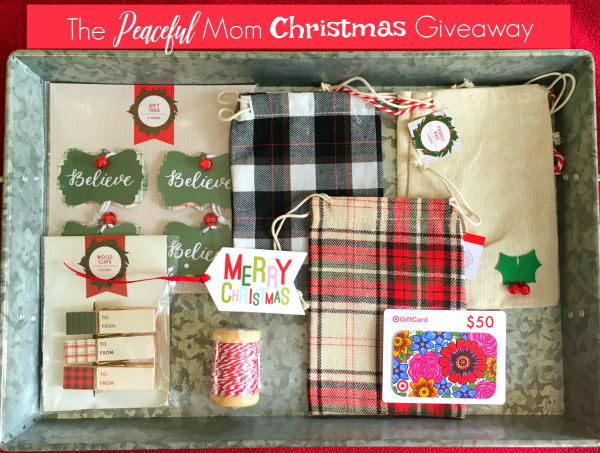 Christmas Giveaway
Everyone who joins in the Save Money For Christmas Challenge will be entered to win a fun prize pack including the fun gifting supplies pictured above plus a $50 Target Gift Card to help with your Christmas shopping — yay!
To Enter:
Make sure you've joined The Peaceful Mom Community HERE to receive all the fun holiday bonuses I'll be sending out, then leave a comment on THIS post telling me either:
Your top trick for saving money on Christmas; OR
Your top goals for this holiday season.
Feel free to share this series with your friends and family so they can save money this Christmas too!
Contest Rules:
Contest ends December 1, 2017 at 9:00 a.m. EST and is open to U.S. residents only.
1 winner will be randomly selected from the comments on THIS post and notified by email. Prize package will be mailed by December 7th.
Here's to Happier Holidays!
 
Other Posts in This Series:
3 Quick Ways to Make Money for Christmas Gifts
How to Save Money on Holiday Meals
Want a simpler life?
Join our simplifying, organizing, life-changing community!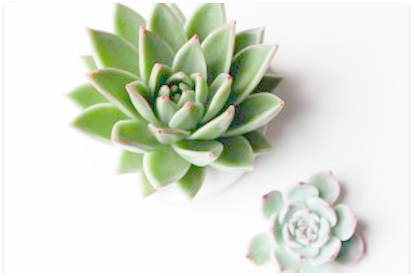 Click here to join the 30 Days to Organized Community!
Get weekly encouragement & 10 Minute Organizing Tips
PLUS access to our Organizing and Printable Library including:
10 Minutes a Day Declutter Calendar — focus on one small area each day of the month
50 Ten Minute Tasks – to organize your life one baby step at a time
10 Minute Task Calendar – blank calendar to fill in your own 10 Minute Tasks