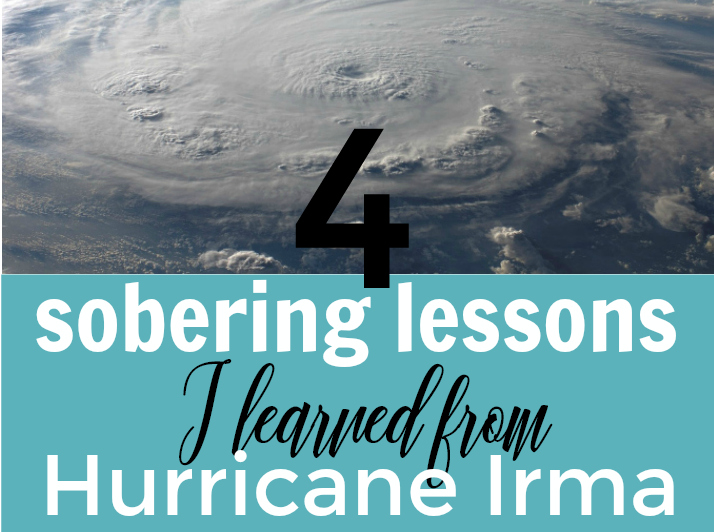 Are you ready for an emergency?
I thought I was.
As I'm sure you've heard, Hurricane Irma barreled through Florida this past week. It was a harrowing experience, but one which taught me some important lessons. I'm sharing a few of those lessons today so that maybe you can be a little more prepared for the next emergency in your life.
Buy Supplies Now
For most of my life I've ignored the advice of "experts" — advice like exercise three times a week for 30 minutes, drink eight glasses of water a day, and don't stick a metal knife in the toaster when it's plugged in.
Okay, so I never actually tried that one.
To be honest, I'm a rebel. (Just ask my poor mother who discovered that I had run away from a day camp she signed me up for at age 8 because she hadn't asked me if I wanted to attend.)
Because I didn't see any direct results from not doing what I was told, I continued on my merry way thinking I was exempt from the problems that plagued others.
Until I wasn't.
Thankfully I've changed my foolish ways in many areas, but one area I had continued to ignore was preparing for emergencies. After living in Florida for years without any hurricanes, last year we had a scare with Hurricane Matthew and I realized that I needed to take that "be prepared for emergencies" advice more seriously. (Download a printable Emergency Supply Checklist below!)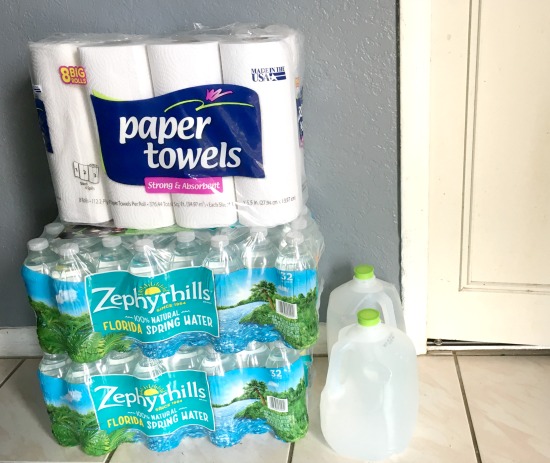 In the week before the storm was expected, I stocked up on some water, non-perishable food and paper goods, but as the time before the storm grew shorter, I became more anxious that I didn't have enough supplies to carry our family of five through a week or more of power outages, and who knows what else, so I returned to the store.
The thing is, everyone else in Florida was feeling anxious as well, which meant that water was in short supply. Thankfully I found a few more gallons before the shelves were completely wiped out, but what if I hadn't and we ended up needing them?
Lesson: Be prepared ahead of time while the supplies you need are available.
Decide What's Important Now
The great thing about a hurricane is that you have time to prepare.
The bad thing about a hurricane is that you have time to prepare.
We spent a week thinking about our options, wondering what we should do, and worrying about whether or not we would make the right decision. (Well, actually I was the one worrying.)
Then, as it began to look like we would be getting a direct hit from a Category 4 or 5 storm, we decided to evacuate. This meant that most of my previous purchases weren't really relevant any more.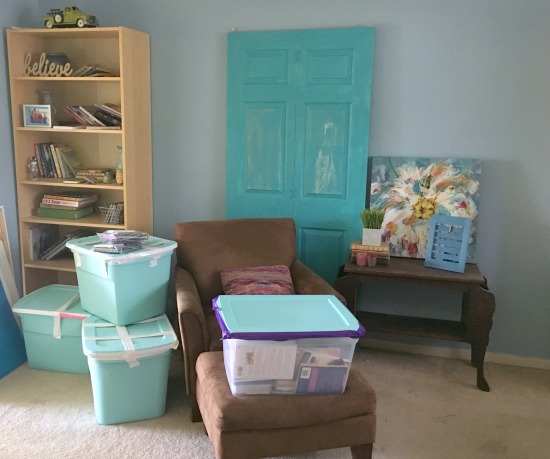 And now I needed to prepare the stuff in our house for the possibility of flooding or rain coming in if the roof was damaged because we wouldn't be there to do anything about it.
Thankfully I already had important papers like birth certificates and social security cards in plastic bags in our fire-proof safe, so I grabbed those to pack in my suitcase.
Then I began to pack up the contents of my house.
At that point everything seemed important, and under the stress I was experiencing it was difficult to decide what was actually something that I wanted to keep.
I started with packing photo albums and sentimental items in plastic bins and duct taping the edges of the lids so they would be as waterproof as possible. (I wanted to bring them with us, but we would be driving in our compact car and my daughter's compact car, so didn't have room for five people, a dog, basic necessities and my huge collection of photo albums.)
And then I just felt overwhelmed, so a lot of items were left unpacked.
Lesson: Gather important documents in one location and decide now what is important to you and really worth saving.
Declutter Now
In the middle of my overwhelm, I realized that I have a LOT of stuff hanging around that I don't use or love, but I kept it around because it "might" be useful or I was just too lazy to go to the trouble of sorting through it and getting rid of it.
The hurricane made all of this painfully obvious, especially at 3:30 in the morning when we were trying to leave and I was overwhelmed by the amount of stuff that I had not had time to pack up.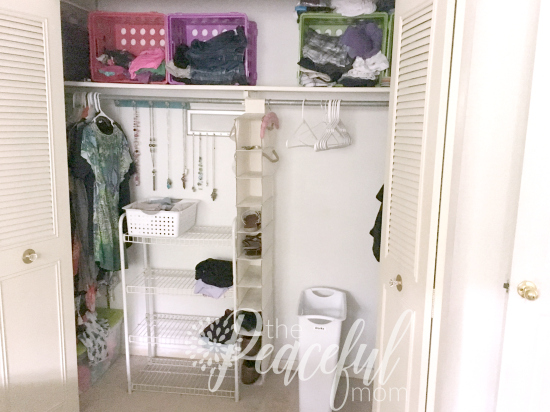 While we were away I determined to completely rid my life of the extra stuff that was weighing me down.
The afternoon we returned home, I started immediately with clearing out our master bedroom closet. I took everything out and only put back what I regularly use or absolutely love. I'm embarrassed to say that I ended up with a mostly full 30 gallon trash bag of items to donate.
And that was just one closet.
Lesson: Take the time now to purge the extra junk in your life. Donate it so that someone else can use it.
Save Money Now
You really do need an emergency fund.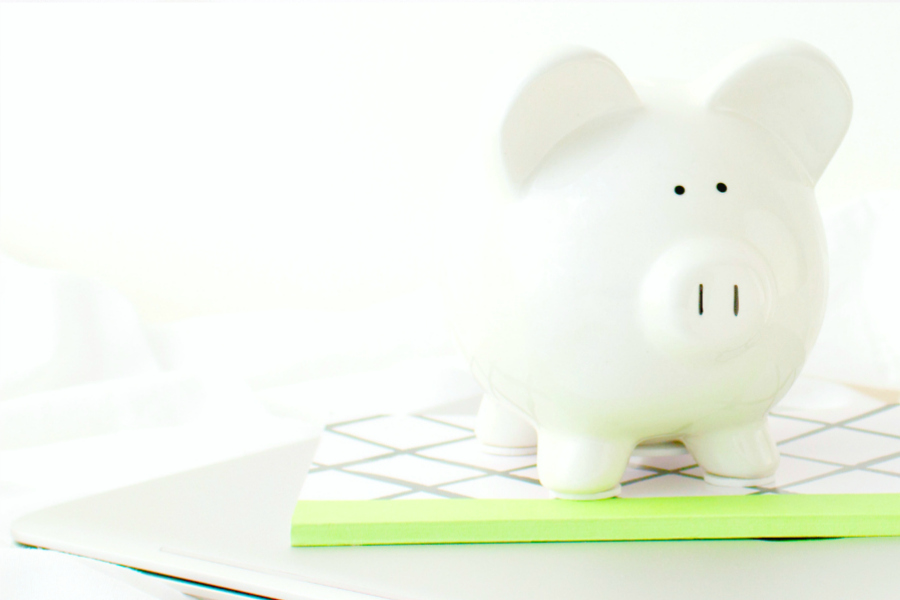 Saving up a bunch of cash seemed like a "good idea", but I have to confess that my commitment to adding money to our savings account has been weak. It was too easy to spend the money we had on "fun" like decorative items for the house, new clothes and convenience foods so I didn't have to cook.
But let me tell you how much more fun it was to be able to evacuate when we needed to.
My commitment to saving even more of an emergency fund is fully cemented now. If you'd like a little help to get started, check out 3 Reasons You Need an Emergency Fund (and How to Get One Fast).
And by the way, make sure you have cash (and some of it in small bills) on hand. On the way back home the gas station credit card machines were not working. If we had not had cash, we would not have had gas, which would have been an entirely new emergency to deal with.
Lesson: Make saving an emergency fund a priority now before you need the money.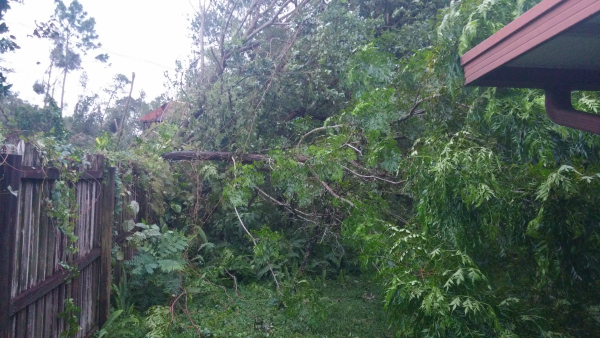 We are so thankful that we had minimal damage to our house and a tree that had fallen missed the house by a couple of feet. Many people suffered much greater losses and I continue to pray for them.
Let me know if you were affected by Irma or another emergency situation and any other emergency prep ideas you have.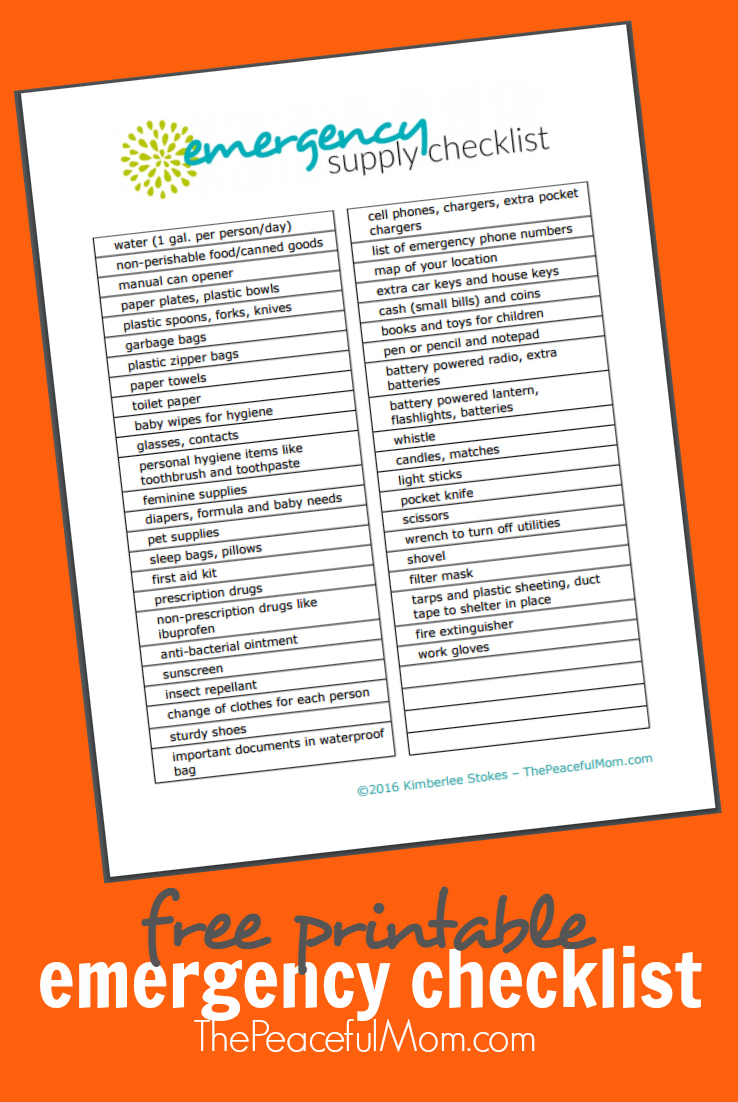 Here's to Being Prepared!
  
Want a simpler life?
Join our simplifying, organizing, life-changing community!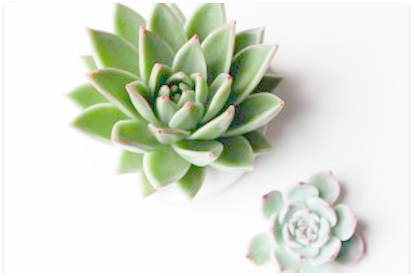 Click here to join the 30 Days to Organized Community!
Get weekly encouragement and real-life strategies to organize your life PLUS access to our Organizing and Printable Library plus:
10 Minutes a Day Declutter Calendar — focus on one small area each day of the month
50 Ten Minute Tasks – to organize your life one baby step at a time
10 Minute Task Calendar – blank calendar to fill in your own 10 Minute Tasks