Join us to make 21 tiny changes in your life to be happier and more intentional!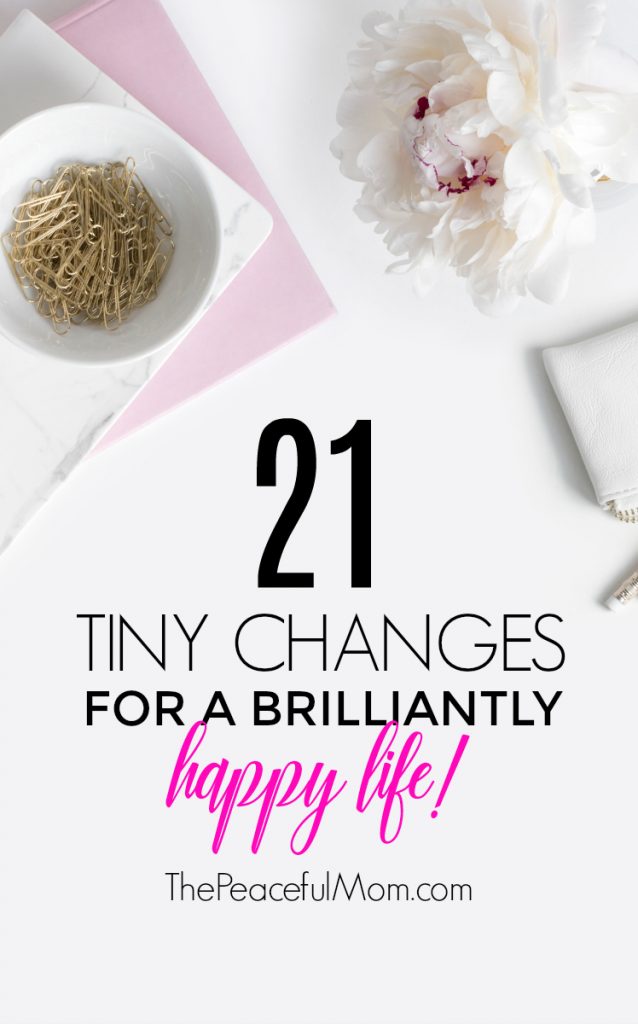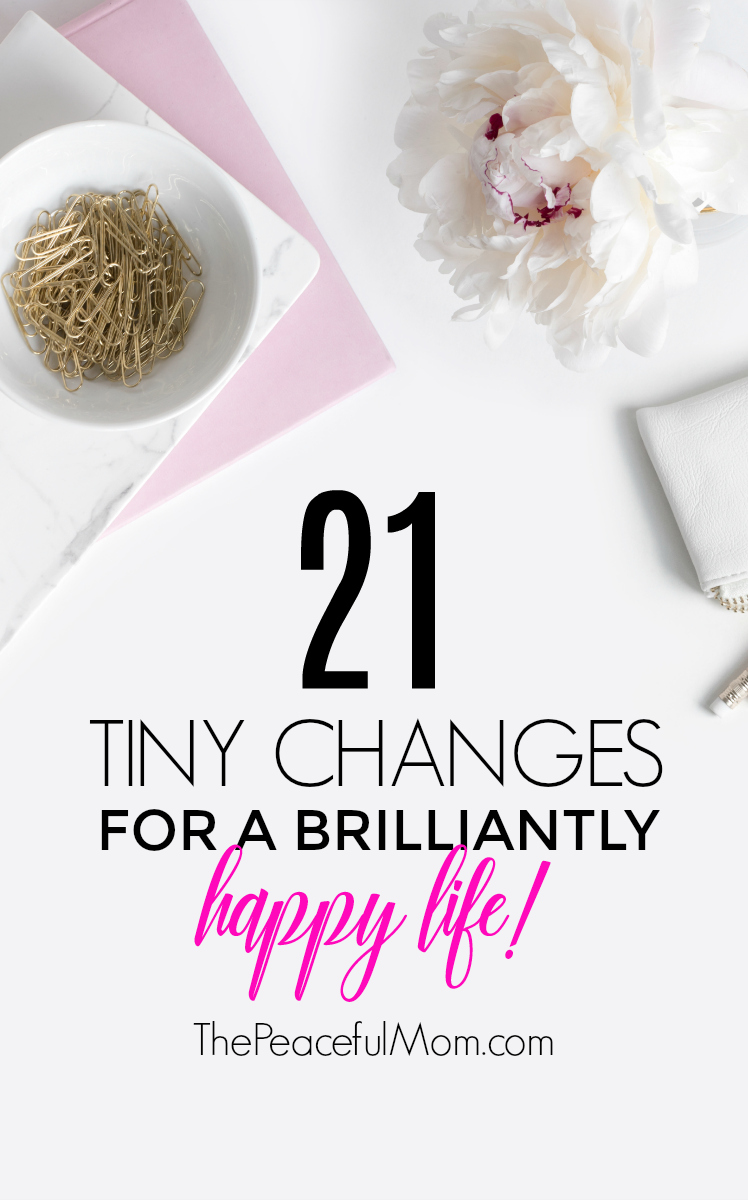 Happy New Year!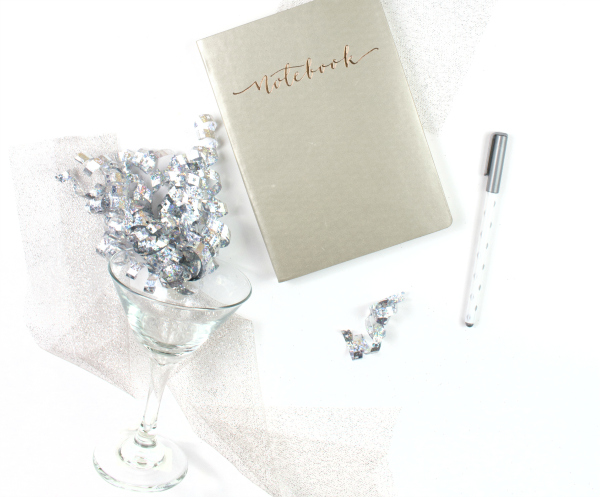 Well, it's not actually the "New Year", but I always feel like September is the second time of the year when I can "start over".
The back-to-school season and the hints of Fall in the air create an irresistible urge in me to get my life back on track, especially after the more relaxed summer vibe of the previous months.
In the spirit of the "new year, new you" idea, I'm hosting the SHIFT challenge this month.
A shift is a "slight change in position, direction, or tendency".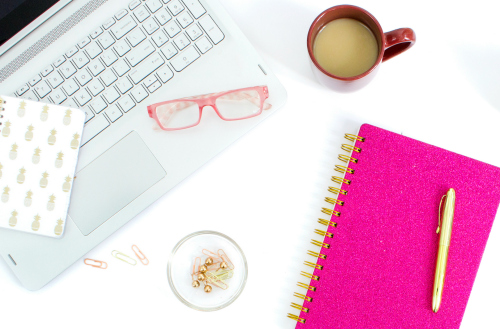 And just like the "shift" key on your keyboard capitalizes letters to show importance, we'll be shifting our lives to more accurately reflect what's truly most important.
Because I'm a former teacher and honestly, a little nerdy, SHIFT is actually an acronym for some areas we'll be focusing on this month:
Savings
Let's shift our money habits from aimless spending to purposeful saving.
Home
Let's shift our homes from cluttered chaos to beautiful calm.
Identity
Let's shift our mindsets from hard-driving performance to quiet acceptance of ourselves.
Family
Let's shift our focus from the distractions of life to engaging in our most important relationships.
T

ime

Let's shift the way we spend our time so we do more of what really matters.

Each week I'll share simple, tiny, practical steps you can take in each area. You can choose to try one, or try all of them.
But we're not simply adding more to the to-do list.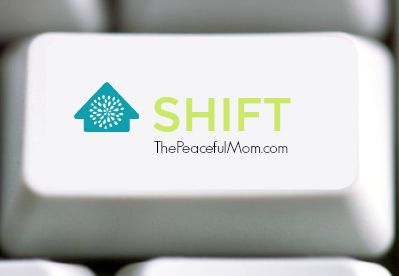 SHIFT is about refocusing on our top priorities and realigning ourselves with our values.
Ladies, we're gonna get our "SHIFT" together!
I'll share this week's tiny shifts with you tomorrow.
In the meantime:
Join The Peaceful Mom Community
Join The Peaceful Mom tribe for weekly 10 Minute Organizing Missions, free time-and-money-saving resources and more.
Click HERE to join.
Print the SHIFT Play Sheet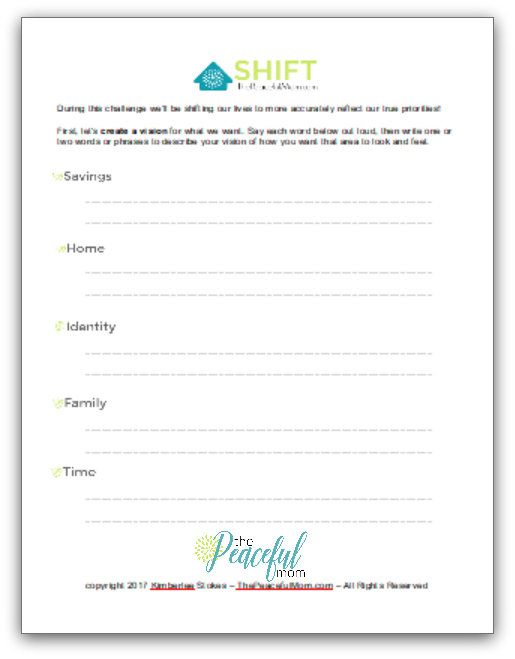 Once you've joined, follow the instructions in your welcome email to download the SHIFT play sheet and start envisioning what you want to change in the upcoming weeks.
Leave a comment to let me know if you'll be participating with us! (Everyone who joins and leaves a comment on this post will be entered to win $50 PayPal cash — woohoo!) [UPDATE: Contest Over. See the winner HERE.]
Check out the challenges:
SHIFT 4: Find a Higher Purpose
We can do this!

Want a simpler life?
Join our simplifying, organizing, life-changing community!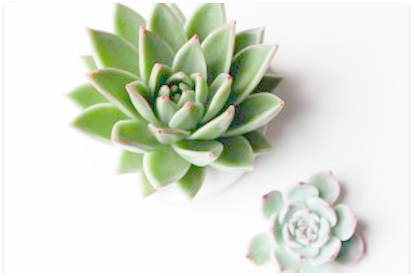 Click here to join the 30 Days to Organized Community!
Get weekly encouragement and real-life strategies to organize your life PLUS access to our Organizing and Printable Library plus:
10 Minutes a Day Declutter Calendar — focus on one small area each day of the month
50 Ten Minute Tasks – to organize your life one baby step at a time
10 Minute Task Calendar – blank calendar to fill in your own 10 Minute Tasks