The pictures coming from the Houston flooding are devastating, and it looks like there is only more rain in the forecast. It's absolutely heartbreaking, but we can help.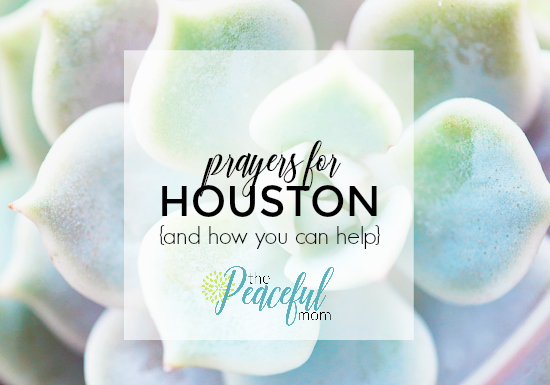 I'm praying for the people affected by the flooding, but if you're like me, you also want to do something tangible so I've  researched legitimate relief organizations who will give the money where it's most needed. (My sources are major news outlets including the Houston Chronicle's website).
[UPDATE: Scroll down to the end of the post for some specific prayer requests from Houston residents.]
GENERAL RELIEF
Direct Relief provides emergency health supplies to areas in need, including the parts of the Gulf Coast affected by the storm.
The Salvation Army says that team members are providing food and water to first responders and preparing for massive feeding efforts for residents.
Send Relief and Southern Baptist Disaster Relief reports that its teams began responding before Harvey made landfall and they continue on-the-ground relief work.
Samaritan's Purse, a non-denominational Christian relief organization (and sponsors of Operation Christmas Child), is accepting donations as well as volunteers for Harvey disaster relief for the coming months.
GlobalGiving has a goal of raising $2 million for its Harvey relief fund. Funds will be used first for immediate needs of food, water and shelter and then transition to long-term recovery efforts.
You can check out any charity's reputation with Charity Navigator HERE.
[UPDATE: Reader Polly had some fantastic insight into how specifically we can be praying for the people of Houston so I thought I would share it for those of you who are praying.
Kimberlee,
Thank you so much for this post and the call to prayer.

We are in Houston and my family is safe, but my in laws' house was chest deep in water. Thankfully, they are safe, but the devastation in our city is heartbreaking.

We need prayers for safety and wisdom as people are asked to leave neighborhoods that usually never flood. We need God's healing touch on everyone, because we all know someone who was affected by the waters.

We need resilience and strength, because once the camera crews leave town, the long process of recovery is only just beginning. There will still be water In some neighborhoods for weeks as the waters drain to the gulf.

Pray for wisdom as the organizations who are stewards of these large donations get the resources to those in need.

And pray for protection for the families in shelters, that the Lord keeps them safe from anyone who would try to take advantage of them.

Also, as we hear that there might be more storms heading our way, that the Lord would keep us safe from them.

Thank you to your prayer warrior readers. God is our strength and an ever-present help in times of trouble here in Houston."
Let's Do This!