Use these 7 genius busy mom organization tips so you can get it all done and stay sane in the process.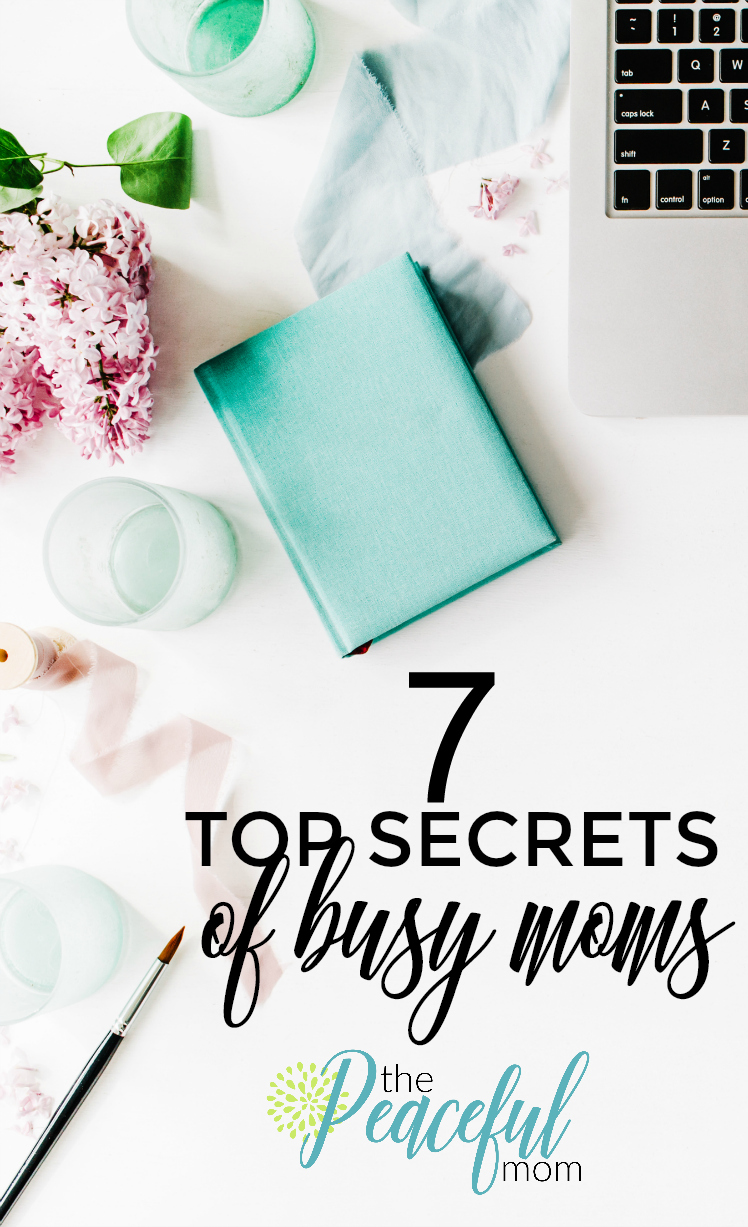 If you're like me, it seems like your to-do list keeps growing but your time keeps shrinking, right?
Our family is entering a really busy season right now with school starting again, and it makes things even more challenging because my husband and I share a car.
These essential organizing secrets keep me on track and enable me to stay on top of life without being overwhelmed, so hopefully they will help you too!
Drop the Mom Guilt
You've got a lot on your shoulders and the first step to getting it all done is realizing that you CAN'T get it all done. Some tasks will have to wait, and which tasks wait depends on what needs attention at the moment. My number one secret is keeping a Master To Do List in Evernote, then choosing my top three priorities every day.
Yes, I said "three" and yes, there are more than three items that could be done in a day and probably should be done in a day.
But let's be honest. Sometimes the list looks like this:
buy food
taxi the kids
don't hurt anyone
If you're having a day like that, don't worry about doing the laundry or decluttering your house. Do what you have to do so that no one dies and call it a day.
Think Tiny
So we both know that there are a lot more items on that list than feeding your kids and keeping them safe. In order to squeeze it all in, take advantage of those little moments in between tasks which I call "time pockets".
For example, order your groceries to pick up later and check your email while sitting in the car line after school; wash a few dishes while you cook dinner and write thank you notes while you're waiting in the dentist's office.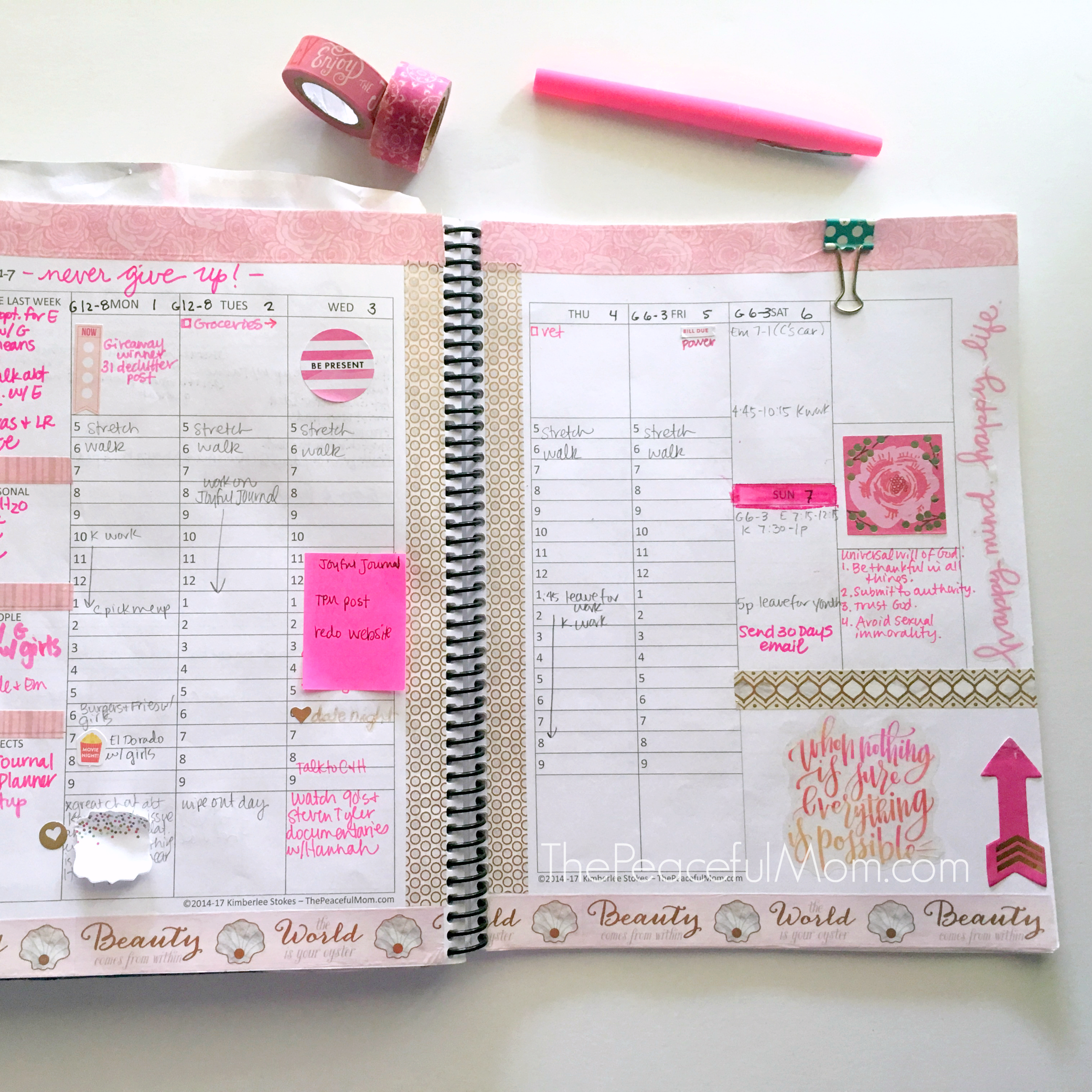 Choose Your Tools Wisely
Busy moms need practical, functional tools to stay on top of all the details. I use a paper planner, a bullet journal and the calendar app on my phone. The Joyful Life Planner (pictured above) is my big picture planner where I dream big, set my goals and priorities, then create a weekly plan to pull it all together. My bullet journal is for journaling and my morning brain dump.
And I use my smart phone calendar to set notifications and keep track of appointments.
This is the system that works for me, but you should find the best system that works for YOU. The benefit of electronic calendars like Google Calendar is that you can keep everyone's activities organized then share all of the info across devices.
Make an Appointment with Yourself
My absolute MUST DO secret for staying sane is scheduling a specific time each week to plan for the upcoming seven days. (That kinda' sounds like a tongue twister).
My planning time is Saturday mornings when I plan out:
My Calendar
I decide my goals, projects and top priority tasks then schedule them for specific time blocks on my calendar.
My Meals
I plan the meals for the week based on the calendar (slow cooker meals for those busy nights), then create my grocery list for the week. A meal plan and a shopping list can save you hundreds of dollars each month at the grocery store.
My Money
I make the weekly budget, transfer money to our second account, pay bills, and balance the checkbook.
By making this time a no-excuses, on-the-books scheduled event each week, I significantly lower the chaos factor in our life.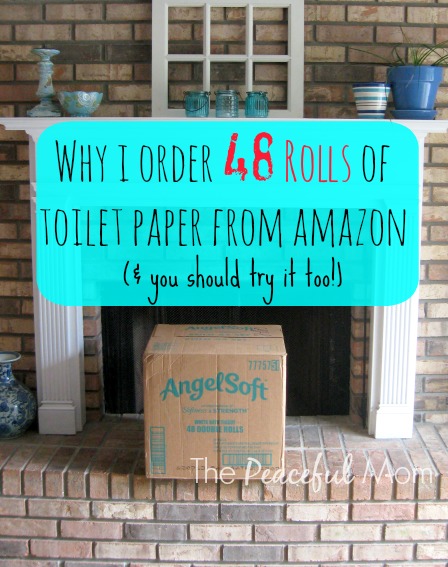 Stash Some Secret Weapons
Make your life as easy as possible by purchasing backups of items you need on a regular basis like copy paper, ingredients for a quick dinner and bath tissue (or order toilet paper online like I do).
You can also keep gift cards along with wrapping supplies for last minute gifts, and store extra poster board for those "surprise" projects your kid forgets to tell you about.
Buddy Up
I don't currently have neighbors that I can carpool with, but sharing the load with a friend is an excellent way to bring some sanity to your schedule. You take the kids to soccer practice on Tuesdays and she takes them on Thursdays. You watch your friend's kids while she runs errands, then have her do the same for you the next week.
If you don't have help, consider severely limiting your kids extra-curricular activities and your outside commitments. There's only one of you, ya' know.
Set Up Morning and Evening Routines
Routines make life SO much easier. I created a morning routine years ago when I first read the idea from Fly Lady.
Since then I've made some serious tweaks and now my entire morning is on auto-pilot.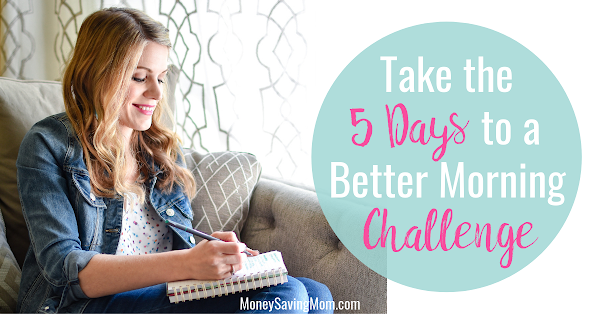 One big factor in my new-and-improved, awesome morning routine is Crystal Paine's Make Over Your Mornings Course. It's super affordable and gives you short 15 minute lessons over 14 days to transform your mornings from manic to marvelous.
You can take the no-cost 5 Days to a Better Morning Challenge HERE.
Remember What Matters
Okay, so this is tip number eight, but I can't help myself. Please remember what is really important and stop obsessing over little things that aren't going to matter in five years, or even one year.
So you forgot to make the cookies for the bake sale. Buy some at the store and consider it done. If other moms are judging you, that's their problem. You are doing the best you can do with everything that's on your plate.
I would love to hear what scheduling secrets you use to calm the chaos and maintain your sanity. Leave a comment. 🙂
We can do this!

Want a simpler life?
Join our simplifying, organizing, life-changing community!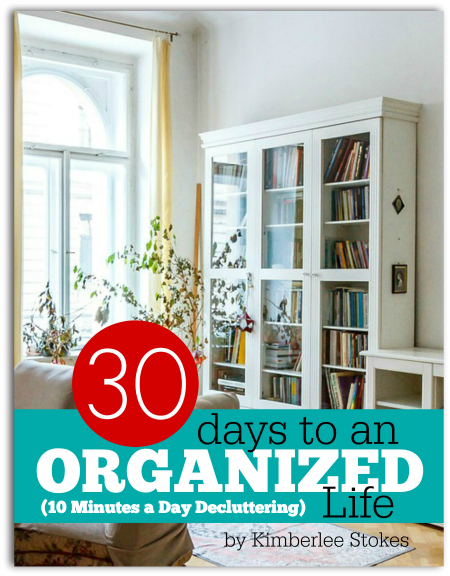 Click here to join the 30 Days to Organized Community!
Get weekly encouragement and real-life strategies to organize your life PLUS receive a FREE 10 Minutes a Day Decluttering Tool Kit!
You'll receive:
10 Minutes a Day Declutter Calendar — focus on one small area each day of the month
50 Ten Minute Tasks – to organize your life one baby step at a time
10 Minute Task Calendar – blank calendar to fill in your own 10 Minute Tasks